Wanted by the Marshal  by Ryshia Kennie is the first book in her new series, American Armor. In this story we meet US Marshal Travis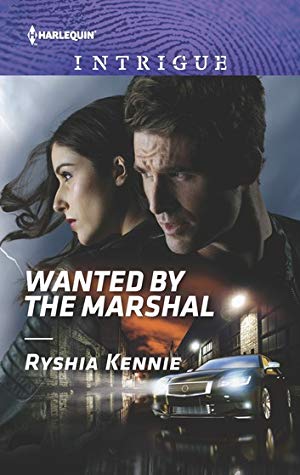 Johnson who is assigned to protect Kiera. Kiera is the only woman to have escaped this particular serial killer.
Kiera Connell is a nurse practitioner who works at the Prairie Seniors' Care Home in Cheyenne, Wyoming. She loves her job and often works extra hours. Her car is in the shop for repairs and even though it is almost midnight and she has worked a long shift she decides to walk home. Halfway home she stops to give some money to a seemingly harmless homeless guy sitting on the curb begging. Next thing she knows a hooded figure is approaching very quickly and then it is lights out. She wakes up to find her wrists and ankles tied with rope. She is very tightly bound. Then the threats of horrible things to come start. The next time she wakes up she is confined in a small space. She knows she needs to escape…
I really enjoyed meeting both of these main characters. Kiera is a stong woman filled with determination. Travis is a dedicated US Marshal who thinks fast on his feet. The path to Kiera and Travis' HEA is strewn with danger but these two won't let that stand in their way. There's lots of action and tense moments in this story so I am sure readers will enjoy this book.
Book Info:

Publication: September 1st 2019 | Harlequin Intrigue | American Armor #1
Can he keep the key witness from harm…before it's too late?
After escaping a terrifying encounter with a serial killer, RN Kiera Connell lands in the protection of US Marshal Travis Johnson. In order to make sure she stays alive to testify, Travis has to thwart whatever danger comes her way. Normally, for a pro like Travis, that's not an issue. But focusing on the mission becomes his greatest challenge as Kiera's exposure threatens to unravel all his best-laid plans.