In Werewolf in Las Vegas (Wild About You #6) by Vicki Lewis Thompson, Giselle Landry lives in San Francisco but must travel to Las Vegas to find her brother Bryce. She has several contacts in the area, one of them being the Cartwrights, a local family of werewolves…just like her family. Unfortunately, Bryce has become close to Cynthia Dalton whose family has been feuding for years with the Carwrights due to a spat between the families patriarchs. Giselle has little choice but to try to team up with Luke Dalton while he searches for his sister as well. Only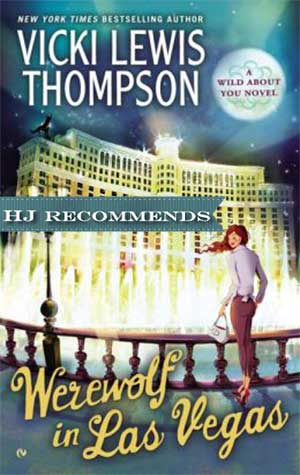 Luke has no idea the Cartwrights, or Giselle for that matter, are werewolves. Her strict stance on no weres dating humans is put to the test, as she and Luke are a perfect match. Try as she might, Giselle has a tough time keeping things platonic. Can she give in to her needs and chalk it up to simple curiosity without losing her heart?
'Maybe Luke Dalton was a test of her resolve not to get sexually involved with a human male. If so, it had turned out to be tougher than she'd ever imagined it would be.'
Luke Dalton just wants to get his younger sister back on track. She's so close to graduating with honors from Yale, a feat that would have made their father proud. But now she's running amok in Vegas with Bryce Landry carrying on about becoming a dancer. So when Bryce's sister Giselle visits him also looking for her sibling, Luke figures they can make better headway together. He didn't realize he would have such a hard time trying to concentrate on finding Cynthia because he would become seriously distracted by beautiful red-headed Giselle. Luke wants to get to know her better but feels she's hiding something from him. He's not sure he can trust her at first yet as they work together more closely, he's willing to take things further…if she'll agree to it.
'Looking at her, he felt a wave of desire that almost knocked him over. But one Dalton mixed up with a Landry was more than enough. He wasn't about to make it two for two.'
Werewolf in Las Vegas was a fun romance that kept me on my toes with scenes full of laughter, reminiscing, and passion.
Book six in the Wild About You series is complex with quite a few characters involved, but it can be read as a standalone if you are new to Vicki Lewis Thompson's series. This story focuses on Giselle and Luke tracking their siblings all over Vegas and the chaos (and pranks!) that ensue. I really liked the way in which Bryce, Giselle's brother, was rebelling against his family wanting him to become alpha. He didn't harm anyone, aside from Luke's ego once or twice, with the pranks and riddles he and Cynthia came up with. It was comical and such a werewolfy (is that a word?) thing to do, I thought. Some may find what Bryce did childish, but I just took it as his last bit of fun before deciding if he was ready to settle down as alpha of his pack.
Boy, Luke and Giselle were a great match together. It was an interesting mix with Luke being a bit old fashioned and Giselle a feminist of sorts. Their verbal sparring was heated yet fun. And their romantic scenes were very steamy and…creative. Let's just say that I will never look at chocolate mousse cake the same way again. 😉 I do wish there would have been a little bit more about the werewolves in their true form earlier in the story, but the end makes up for it. I did think it was nice how Giselle and Luke had a rather insightful nature, and could help each other overcome certain issues during their time together. Nice to see our protagonists problem-solving instead of tearing each other apart.
I think paranormal romance fans will like Werewolf in Las Vegas. Vicki Lewis Thompson gives us a rock solid story with memorable characters and events.
Book Info:

Published March 4th 2014 by Signet
Win it all, or lose it all…
Giselle Landry is in Las Vegas to haul her wayward brother back home. But casino owner Luke Dalton is also looking for her brother, who has run off with his little sister. The two should join forces, but Luke is unaware that Giselle's brother is also fleeing his duties as the future alpha of the Landry werewolf pack—which includes his Were bride.
The Landrys don't believe in Weres mating with humans, and Giselle is no exception. Though Luke is wealthy, gorgeous, and protective, Giselle can't let herself get close to him, even to solve their shared dilemma. But the tension wears away her resistance, and after a wild night with Luke, she is shocked to find she's fallen for him.
But Luke still doesn't know Giselle's true identity. And once their siblings are found, Giselle must return to San Francisco. Can they overcome the odds—or will what happened in Vegas stay in Vegas?