West End Earl by Bethany Bennett is the second book in the Misfits of Mayfair series but was good as a stand-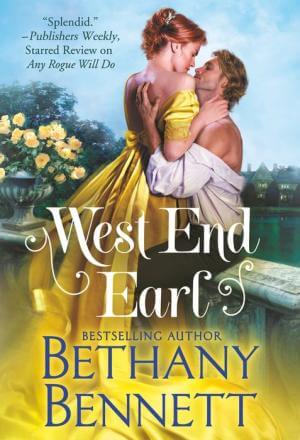 alone. This is the first book I have read by this author, and I was intrigued by the blurb. The plot of the heroine dressing up as a male to hide from a hideous guardian can be tedious so I was not sure if it would work out. I was extremely surprised and WOW'd by how memorable it was.
Ophelia "Phee" took on the life of Adam, her twin brother when he died at the age of thirteen. She continued to live as Adam for eleven years without being discovered until one night she was robbed. She was close to reaching the age to receive her inheritance but until then she had to continue living as Adam. She dreamed of the day she could return to being a female again, but for her safety, she had to keep the ruse up. Calvin agreed to keep her secret when he discovered the truth however the attraction between them made it complicated.
Calvin, Earl of Carlyle, was the heir to the Marquess of Eastly who was always into trouble. Calvin wanted to find his sister Emma a stable and reliable husband except for the attention she was receiving from scoundrels concerned him. Calvin had spent years cleaning up Eastly's messes so Eastly's wager of his hand for a horse did not surprise him. He plans a house party hoping Miss Cuthbert can find another man and free them from their father's agreement. He kept dodging his father and the wedding plans hoping Miss Cuthbert would succeed.
I liked the originality of the identity switches for Phee, they were unique and worked well with the storyline. The book was well written, the pacing was perfect, and the characters were charming. Calvin hid his big heart behind humor and wanted to solve everyone's problems. Once he discovered Phee's secret he wanted to fix all her problems but lack of communication with her created problems. Phee was accustomed to relying on herself so trusting and sharing her secrets with Calvin was difficult. This was an amazing book, and I can't wait for Emma's story.
Book Info:

Publication: June 29, 2021 | Forever | Misfits of Mayfair #2
While most young ladies attend balls and hunt for husbands, Ophelia Hardwick has spent the last ten years masquerading as a man. As the land steward for the Earl of Carlyle, she's found safety from the uncle determined to kill her and freedoms a lady could only dream of. Ophelia's situation would be perfect—if only she wasn't hopelessly attracted to her employer.
Calvin, Earl of Carlyle, is determined to see his sister married this season. And he'll do it with the help of his trusted right-hand man. But when he finds out his man is a woman, and that her life is in danger, his priorities change. Their attraction is passionate, all-consuming, and if they aren't careful, it could turn downright deadly—for both of them.