Hope on the Range by Cindi Madsen is the second book in the Turn Around Ranch series. I read it as a stand-alone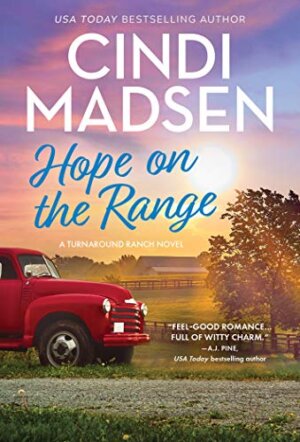 and had no trouble following along with the story.
The series is based on the Dawson family who owns the Turn Around Ranch in Colorado. The ranch is a place that helps troubled teens and gives them a safe and positive place to change their lives for a better future. The Dawson family were generous people, supportive of each other, and committed to their mission of helping teens. There were two romances taking place in the book which made it even harder to put down.
Tanya and Brady were childhood friends that were hiding their attraction for each other. They were scared to cross the line to lovers because neither wanted to ruin their long-standing friendship. Tanya decides she has wasted enough time and with the help of a book she tries to win him over. Brady was wary of her flirty comments, thinking he was just reading into them. Realizing she has started to care about her appearance more and that he might have competition he knows he needs to step it up. Tanya has a soft heart and to her dad's dismay, she keeps bring home mistreated horses. Tanya and Brady are both compassionate; she rescues horses and he rescues teens.
Maddox was a troubled teen who has been sent to the Turn Around Ranch. Over the years he has been let down so much that he keeps himself closed-off to protect himself. He had no interest in ranch life and just wanted to do his time so he could return to his life, that was until he met the feisty Harlow. She is not afraid of telling it as she sees it and is exactly what he needs. They are paired up as a team for a local rodeo and with Harlow's cheerfulness and patience, he finds himself enjoying it and wanting to improve for her. His fears make him think he was not good enough for her and she would leave him behind like everyone else in life had but she would not let him push her away. Harlow saw beneath his tough-guy exterior and saw the real him. They encourage and buildup each other up and together they make a perfect team.
When I first started reading the book, I was frustrated with all the excessive "cowboy twang" the author used. The conversations seem forced and not natural but eventually, the language returned to normal, and the flow of the interactions got smoother.
I enjoyed reading the book and getting to know the Dawson family. After meeting Wade Dawson and Jessica, I have added their book to my TBR list. Jessica was such a sweet character and I really want to know her story of how she adapted to ranch life. It sounded like there were a lot of kitchen casualties in her story.
Book Info:

Publication: June 29, 2021 | Sourcebooks Casablanca | Turn Around Ranch #2
An adorable cowboy romance from USA Today bestselling author Cindi Madsen featuring fan-favorite tropes: Friends to lovers, The girl next door
Brady Dawson grew up in the Colorado heartland running the Turn Around Ranch with his parents and his brothers. The Turn Around offers safety and rehabilitation for troubled teens, and doesn't leave a lot of downtime, so it's lucky his best friend is the girl next door, Tanya Greer. Everyone tries to label them as more than friends, but they've never crossed that line. Well, except that one time…
Tanya's family's dude ranch isn't attracting a crowd any more. Tanya would love to turn the ranch into a summer riding camp for city kids, but her parents refuse to consider her idea. They still seem to think of Tanya as a kid herself. So when they get an offer from a slick businessman, it looks like they're going to sell. And when Tanya is offered a well-paying job in the city, she knows it's time to forget her dreams for the ranch, and her hopes of being more than friends with Brady.
Brady doesn't want Tanya to go, but he doesn't want to hold her back either. The thought of losing Tanya has Brady's cowboy heart in knots. He realizes he'd better take his own advice, cowboy up, and confess his feelings. He only hopes it isn't already too late.