What He Wants for Christmas by Brenda Jackson brings us back to the Westmoreland family. Sloan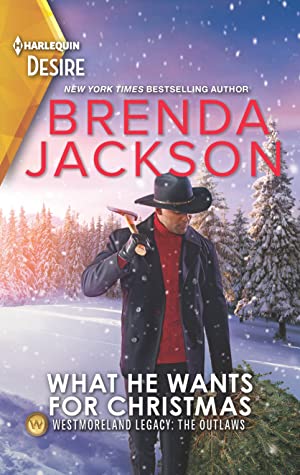 Outlaw has a reunion with the past. Leslie Cassidy, the woman who broke his heart ten years ago, returns to his life in an unexpected way… and this time to stay, as he discovers that Leslie is in danger of losing the cosmetics company she inherited from her father thanks to a hostile takeover. Sloan decides to help Leslie to avoid the takeover, with one condition: she must spend a week with him —and in his bed— at the cabin that the Westmorelands have on an island in Alaska.
Sloan has been a bit resentful for years because of what happened with Leslie, that's why his condition to help her is a kind of revenge to be able to close the cycle and move on with his life. However, he still wants Leslie and as he spends more time with her, emotions from the past awaken in him. The problem is that Sloan no longer trusts Leslie, as she left him back then believing a lie. Leslie, on the other hand, suffered a lot from the separation, especially after discovering that it was all a lie from her former roommate. Plus, she never stopped loving Sloan. Despite the circumstances, she accepts Sloan's condition, at the risk of losing her heart again. Because she too ended up heartbroken ten years ago.
The days spent in the cabin relive old feelings, now mature and stronger than ever. In turn, some truths come to light, causing both of them to reflect on their lives and emotions. The burning-pages -type sparks explode with the first glance they intertwine and increase as the pages go by, until they become an explosion of sensations mixed with the love that is palpable between them, in order to reach the happily ever after they always wanted.
I liked the way the story unfolds, without extravagance but with a lot of intensity. The way in which the events and secrets behind Sloan and Leslie's breakup intertwine is complex but easy to read, leaving no loose ends, and the details are very well taken care of. The secondary characters play a fundamental role in the plot, thus showing an interesting and exciting story.
There is no doubt about one thing: Ms. Jackson knows how to tell stories, and she does it perfectly. Not to mention the setting. It made me want to visit Alaska; the scenes are so well described that you feel like you are in that cabin with Leslie and Sloan.
The best thing about this book? The author knew how to handle the surprise factor very well, and the plot twist at the end was the icing on the cake.
Book Info:

Publication: November 30, 2021 | Harlequin Desire | The Westmoreland Legacy: The Outlaws #3
A blizzard has trapped this rancher with the one thing he wants under his tree—his ex! Don't miss this sizzling Westmoreland Legacy: The Outlaws novel by New York Times bestselling author Brenda Jackson.
When a holiday blizzard traps him with his ex
things really heat up!
It's been ten years since she broke his heart, but Leslie Cassidy's elegance still stuns rugged Alaskan executive Sloan Outlaw. Now, thanks to a ruthless enemy targeting Leslie's company, Sloan can use his wealth and influence for something nice—and something naughty. He'll save her company—if she'll spend a week with him at his luxurious winter retreat! But when a snowstorm keeps them cabin-bound, this notorious Outlaw will discover that getting what he wants for Christmas might be more than he bargained for…
From Harlequin Desire: A luxurious world of bold encounters and sizzling chemistry.
Love triumphs in these uplifting romances, part of the Westmoreland Legacy: The Outlaws series:
Book 1: The Wife He Needs
Book 2: The Marriage He Demands
Book 3: What He Wants for Christmas
Book 4: What Happens on Vacation…