What I've Done (Morgan Dane #4) by Melinda Leigh: Attorney Jordan Dane is one smart cookie! Good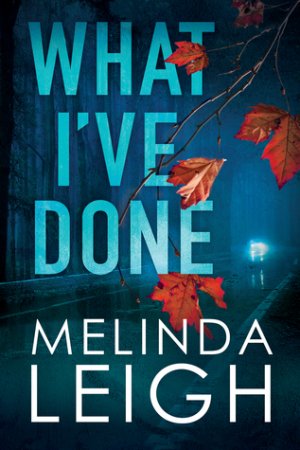 thing because her career change from prosecuting attorney to defense attorney is putting her life in danger. First her client punches her in the face at the county courthouse and the assistant DA adversary, Anthony Esposito comes to her rescue. That's not at all cool in Morgan Dane's eyes. Forget that client. Then her good friend, Lincoln Sharp calls and asks for her help.
A very good friend from Sharp's past, Eliza Powell shows up at his office looking for his advice for a good defense attorney. Her daughter, Haley is being held for murder and it doesn't look at all good. She has been found next to the dead body of Noah Carter, dried blood all over her body, his blood, and the murder weapon has her fingerprints on it. Only her fingerprints. Oh! And she has no memory of the night this happened. For the police and the district attorney's office this is an open and shut case. Jordan Dane believes in Haley's innocense so along with Lance Kruger, the love of her life and the P.I. she works with, they set out to prove Haley's innocense. There are various deadly attacks, but nothing will stop Jordan and Lance from finding the truth though.
What I've Done is the 4th. book in author Melinda Leigh's Morgan Dane series. The imagination of this author awes me. She has written some amazing suspense stories. And they always keep me guessing. This story is very suspenseful with lots of action. If you can put this book down and walk away from it before getting to the thrilling end, you're a better person than I am. I couldn't stop reading this story (until the wee hours of the morning) until the exciting conclusion. Melinda Leigh has done it again! Here's another excellent book in her Morgan Dane series.

Book Info:

Publication: September 18th 2018 | Montlake Romance | Morgan Dane #4
Morgan Dane's new client has blood on her hands—and no recollection of what happened—as the #1 Amazon Charts bestselling series continues.
Haley Powell wakes up covered in blood, with no memory of the night before. When she sees a man lying in the backyard, stabbed to death, she has only one terrified thought: What have I done?
Agreeing to take the case as a favor to her PI friend Lincoln Sharp, Morgan must scale a mountain of damning circumstantial and forensic evidence to prove her client innocent. Haley couldn't appear more guilty: her bloodstained fingerprints are on the murder weapon, and she has no alibi. But Morgan can't shake the feeling that this shocked young woman has been framed.
Someone out there is hell-bent on sabotaging her defense, targeting Morgan, her partner, and especially Haley. Someone who will stop at nothing—and whose next move will be deadly.