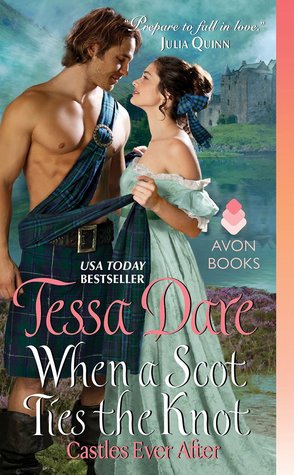 In When a Scot Ties the Knot (Castles Ever After #3) by Tessa Dare, When Miss Madeline 'Maddie' Gracechurch began her farce, creating a young man out of her imagination and writing romantic missives to him, she never dreamed he would turn out to be real. She only wanted to avoid having to appear at society events which were torturous thanks to her anxiety issues. But a few years after she informed her family she was going into mourning over the supposed loss of her fallen soldier, Captain Logan MacKenzie shows up at her castle door in Scotland with her letters in hand. And demands that she marry him or he will tell the world of her deceit.
"You were undressing me with your eyes."
"What?" The word came out as a strange little squeak. She cleared her throat and tried again. "Even if I were–and I wasn't–it would be purely out of artistic interest."
"Artistic interest, my arse."
"Sorry to disappoint you, but I have not, as of yet, developed an artistic interest in your arse."
Logan's plan may not be entirely honorable, but desperate times call for desperate measures. And desperate he and his fellow soldiers are. After returning from war and upon finding most of their families have passed on and their land taken, they are in need of somewhere to rest their weary selves. Knowing he can use Maddie's fake letters to his advantage, he intends to use them as blackmail to secure land for his brothers-in-arms. Logan didn't expect to be instantly charmed and rather smitten with artistic beauty Maddie, though, and suddenly he revises his plan to include capturing her heart as well.
"What I'm saying isna romantic. It's raw, primal, and entirely crude." He lowered his voice to a growl. "You, Madeline Eloise Gracechurch, have been driving me slowly mad with lust. For years."
When a Scot Ties the Knot was a delightful historical romance with some of the funniest and most unique cast of characters I've read in a while. Tessa Dare outdid herself with this tale of longing and hope.
There's a lot to love about a romance set in the Scottish Highlands, and in a castle, no less. Here, we had a Scotsman with a tortured soul, Logan, and his band of fellow soldiers just looking for a place to call home after valiantly fighting for years against the French. This ragtag crew of gentlemen stole my heart with their bravery, humility and positive outlook despite their situation. The way Tessa Dare was able to show how they helped each other out while never ceasing their joking was very believable. Plus it made the guys that much more likable.
I thought the premise behind the storyline was a pretty inventive one. Maddie was a clever young woman who used her imagination to her advantage, sending the fake love letters to her 'sweetheart'. I really loved that the letters turned out to help both she and Logan in the long run. He was lonely, never having a family to call his own until he was in the army, so Maddie's letters were a connection to someone, making him feel special and cared for. And Maddie's anxiety issues made it near impossible to meet a suitor, so when Logan appeared it was like her dream come true. Well, once her shock wore off and they quit arguing. 😉
Do you enjoy a romance with teasing and flirting, tender moments, and memorable characters? If so, I think you'll have a fantastic time reading When a Scot Ties the Knot.
Book Info:

 August 25th 2015 | by Avon | Castles Ever After #3
On the cusp of her first London season, Miss Madeline Gracechurch was shyly pretty and talented with a drawing pencil, but hopelessly awkward with gentlemen. She was certain to be a dismal failure on the London marriage mart. So Maddie did what generations of shy, awkward young ladies have done: she invented a sweetheart.
A Scottish sweetheart. One who was handsome and honorable and devoted to her, but conveniently never around. Maddie poured her heart into writing the imaginary Captain MacKenzie letter after letter … and by pretending to be devastated when he was (not really) killed in battle, she managed to avoid the pressures of London society entirely.
Until years later, when this kilted Highland lover of her imaginings shows up in the flesh. The real Captain Logan MacKenzie arrives on her doorstep—handsome as anything, but not entirely honorable. He's wounded, jaded, in possession of her letters… and ready to make good on every promise Maddie never expected to keep.