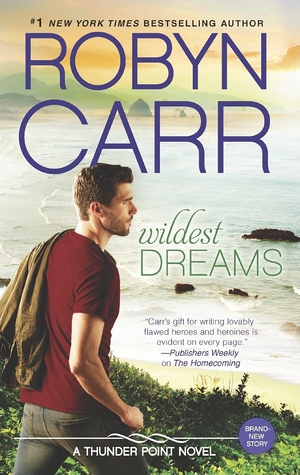 In Wildest Dreams (Thunder Point #9) by Robyn Carr, Becoming Winnie Banks' home health nurse in Thunder Point was one of the best things to ever happen to Lin Su Simmons. She's making good money and has excellent health benefits for her teenage son Charlie who has asthma and a host of allergies to contend with. But Winnie's new next door neighbor, hunky triathlete Blake Smiley, is a complication. Lin Su is independent and will never depend on a man for anything. But somehow Blake keeps sneaking in under her defenses. Is it really weakness to want some happiness and tenderness in her life?
'She wanted this. She had wanted this for years. She had so wanted to be held, to be loved, to not be lonely, to have ballast in her life, to have someone who really cared…For years she had dreamed of loving a wonderful man. She'd dreamed of him.'
Blake chose Thunder Point as his first ever real home thanks to the great people and ease with which he can train for the Iron Man triathlons. A teenager who hangs out next door, Charlie, reminds Blake a bit of himself at that age so he takes him under his wing to help him improve his health and self-confidence. But Charlie's mom Lin Su is who really captures Blake's eye. Coming from similar backgrounds, he hopes to get her to open up and see where their attraction takes them. But Lin Su's fierce denial of her feelings and against Blake's involvement in Charlie's life proves to be more of a challenge than he first thought.
'How could he show Lin Su that he admired her? That he was attracted to her? That he thought maybe they came from the same place and would understand each other?'
Wildest Dreams was a slow-burn romance set in the idyllic coastal town of Thunder Point. Author Robyn Carr made her characters work harder than normal for their happy ending here, but it only made it that much sweeter.
'When a man protects you and your child, he owns a part of your soul. But then when he touches you with affection, he takes a piece of your heart.'
Thunder Point has been such a solid, well written series since it began. And I love that the books can be read independently or as part of a larger experience when reading them in order. Each time we get to play catch up with previous characters and sometimes they play important roles, such as with Grace, Troy and Winnie from One Wish. They were integral to Lin Su, Charlie and Blake's story this time around, especially Winnie who has become a bit more humble and looked out for Lin Su and Charlie.
When it came to Lin Su, I honestly had a love/hate relationship with her. I loved her strength, her tenacity, her fierce devotion to her awesome son Charlie. But I didn't like how her reluctance to trust and accept help made her become almost belligerent. She would just completely shut down emotionally. I got her abandonment issues and her lack of faith in others, but the fact that Lin Su froze Blake out after their first issue–once they finally began seeing each other–was almost too much for me. She did, however, eventually see the light, and in true Robyn Carr fashion, everything worked out. It was a bumpy ride, though.
Blake, on the other hand, I liked him more than I thought I would. I figured he might be standoffish, being a pretty big name athlete but he was down-to-earth and truly wanted to help others. I really fell for Blake after he put himself in harm's way and saved some items that meant the world to Lin Su after her home was broken into. And the way he and Charlie interacted was a hoot. Charlie himself was a cool teenager who was smart as a whip and knew himself pretty well. The hero worship he had for Blake turned out to be the start of a great friendship that they both benefited from equally.
Find out what happens when you mix an overprotective single mom and a persistent triathlete intent on helping her out in Wildest Dreams.
Book Info:

 August 25th 2015 | by Mira | Thunder Point #9
Blake Smiley searched the country for just the right place to call home. The professional triathlete has traveled the world, but Thunder Point has what he needs to put down the roots he's never had. In the quiet coastal town he can focus on his training without distractions. Until he meets his new neighbors and everything changes.
Lin Su Simmons and her teenage son, Charlie, are fixtures at Winnie Banks' house as Lin Su nurses Winnie through the realities of ALS. A single mother, Lin Su is proud of taking charge and never showing weakness. But she has her hands full coping with a job, debt and Charlie's health issues. And Charlie is asking questions about his family history—questions she doesn't want to answer.
When Charlie enlists Blake's help to escape his overprotective mother, Lin Su resents the interference in her life. But Blake is certain he can break through her barriers and be the man she and Charlie need. When faced with a terrible situation, Blake comes to the rescue, and Lin Su realizes he just might be the man of her dreams. Together, they recognize that family is who you choose it to be.