When in Rome by Sarah Adams: To anyone looking in Amelia Rose or as she is more commonly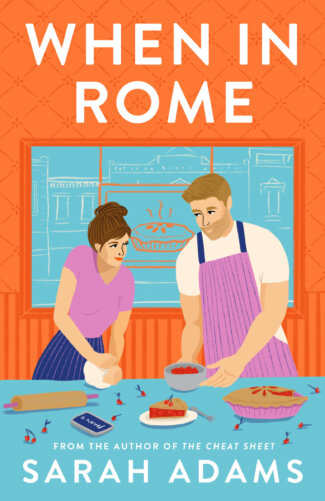 know Rea Rose is living her best life, with a hit record deal, more money than she could have dreamed off and tons of adoring fans. She really should be living the life but for some reason Amelia can't help but feel lost, burnt out even so much so that she has lost her passion of singing! And in true Amelia fashion when in doubt she turns to her ideal Audrey Hepburn, which is how she finds herself sneaking off to Rome, Kentucky. Hoping this little Roman break will help bring her some much needed rest and relaxation they way it had for Audrey in the movie Roman Holiday, Amelia just never expected her great adventure to start of with her car breaking down on a dark road in front of the home of grouchy baker Noah Walker…
The last thing that Noah needs is another out of town princess to come storming into his cute small town, steal the hearts of the towns people and winding up breaking his heart when she ultimately leaves! But there is just something about the pop princess that makes him want to throw out all of his rules and help her. Which is how Noah winds up inviting Rea Rose to stay in his guest room until her car is fixed. All he has to do is keep his heart safely locked away and he should be fine, right? Yeah, nope this is definitely not going to plan. With the more time Noah spends with Rea the more he gets to know the real Amelia and he can't help but feel drawn to the woman behind all the fame… but what happens when Hollywood comes looking for their pop princess? Can Noah and Amelia make this connection that is brew between them work or are they doomed to face the same fate as Audrey and Gregory?
I loved every minute of Noah and Amelia's story, this was easily one of the cutest small town romances ever! I just love the way the sunshine meets grump trope was incorporated into this book and that it added just that extra layer of cuteness to an already sugar sweet story. I have come to really love Sarah Adams books, there is just something so easy about her books that makes getting invested invertible.
For a pop star Amelia was one of the most down to earth characters that I have read in this type of trope. I really liked that all she wanted was to really be normal for a change, but not in a condescending or arrogant way. I really liked that the crux of this story was about caring for her own mental health and that she did what she needed to do to ensure that she didn't have a full meltdown like so many people do in her industry. I just loved that she was actually a really sweet person and that her image is not all just an act. I loved how easily she fit into life in Rome and bonded with the Walker sisters as well as the rest of the town.
I think its pretty safe to say that I'm a sucker for the grumpy hero trope and that was our guy Noah down to a tee. But beneath all his grouchy exterior he was a big ole softie and this just made me love him all the more! I loved getting to see him slowly warm up to Amelia and having her invade his personal space and bring a new sense of being to his life. Noah was definitely a sweet character, I loved getting to uncover his story and what made him so guarded and reluctant to let someone else into his heart. I absolutely loved his connection to his grandmother and the pies, and gosh his tattoo only just melted my heart all the more!
The chemistry between Noah and Amelia was HOT!! I just loved their connection and that both of them had been fighting it all along, this only made their story all the more enjoyable. Aside from their undeniable chemistry there was just something very playful about them that made rooting them feel so natural. I loved getting to see them opening up to each other and really being their true selves while together. In a large way they helped each other heal in their own way.
I have to mention the secondary characters in this book, not only were the towns people of Rome absolutely hilarious and nosy but they were so completely welcoming and protective of Amelia. I just loved that this small town was so connected to each other and that they all had each others backs. I really liked the way they were all so invested in finding out if Noah had finally found love again and making sure that Amelia didn't break his heart. As for the Walker sisters, well they were just hilarious, I loved how over invested they were in Noah and Amelia's relationship. And that they made sure to make Amelia feel like one of the girls.
When In Rome was one of the cutest small town romcoms that will melt your heart while having you giggle at Noah and Amelia's silly antics! This book is a total must read! I do hope this won't be the last time that we get to visit Rome, Kentucky!
Book Info:

Publication: September 20, 2022 | Dell |
Amelia Rose, known as Rae Rose to her adoring fans, is burned-out from years of maintaining her "princess of pop" image. Inspired by her favorite Audrey Hepburn film, Roman Holiday, she drives off in the middle of the night for a break in Rome . . . Rome, Kentucky, that is.
When Noah Walker finds Amelia on his front lawn in her broken-down car, he makes it clear he doesn't have the time or patience for celebrity problems. He's too busy running the pie shop his grandmother left him and reminding his nosy but lovable neighbors to mind their own damn business. Despite his better judgment, he lets her stay in his guest room–but only until her car is fixed–then she's on her own.
Then Noah starts to see a different side of Rae Rose–she's Amelia: kindhearted and goofy, yet lonely from years in the public eye. He can't help but get close to her. Soon she'll have to return to her glamorous life on tour, but until then, Noah will show Amelia all the charming small-town experiences she's been missing, and she'll help him open his heart to more.
Amelia can't resist falling for the cozy town and her grumpy tour guide, but even Audrey had to leave Rome eventually.