In When Sparks Fly by Helena Hunting, Avery Spark has been best friends with Declan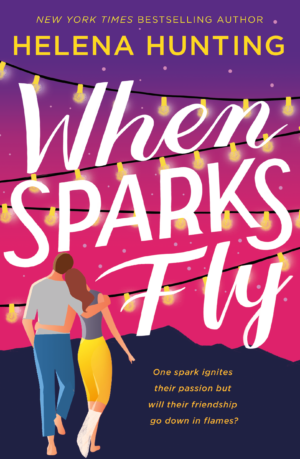 McCormick since college. They get along so well, in fact, that they've become roommates. They might spend time playing sports and spending time with each other, but they've never pursued anything romantic together. Something that changes completely when Avery is stuck at home recuperating after a car accident, needing help with the most basic tasks. Declan steps in to assist, probably partly to assuage his guilt for backing out of going with her that fateful day, but the additional time together fans the attraction she's always felt. What started off as Avery just wanting to recover enough to get back to her family's event business, Spark House, turns into her wanting more–much more–sexy private time alone with Declan.
"What exactly are we doing here Deck?" The question comes out an uncertain whisper.
"I don't know. I guess it really depends on what you want this to be." He flips my hand over and presses his lips to the inside of my wrist.
Declan will be the first to admit that he's averse to serious relationships with women. He didn't have the best role models in that regard growing up so he makes sure anyone he dates knows it will only be casual. The one woman who has been a constant in his life is Avery. She's the best friend Declan's ever had, which means acting on the growing feelings he has for her–as he helps take care of her after the car wreck–scares him. Not just because it would likely change their dynamic, but also because he's apt to mess things up. Big time. But Declan can't disregard their chemistry any longer. And it turns out that being with Avery is *everything*. He can only hope they have what it takes to make it for the long haul because he can't imagine not having her in his life should they part ways.
'I have feelings for Avery. Non-platonic, very unfriend-like, and nowhere in the realm of brotherly.'
Helena Hunting's newest flirty romance, When Sparks Fly, was aptly named because boy didn't things get sizzling hot between best friends–who were also roommates–when they decided to give a relationship a try.
'…His trust issues mean there's a very good chance we're heading for disaster, and this time the collision isn't going to end in broken bones–it's my heart that could be the casualty.'
It's no secret that I'm a fan of well-told friends to lovers romances. And Helena Hunting had a solid storyline, likable yet flawed characters, and a good amount of real emotions in this book. There was also an interesting backstory for both Avery and Declan in regard to how Declan was raised, and a tragedy that befell Avery's family. It explained a lot about their relationship hang ups. And it was unfortunately part of what caused some of the friction between Declan and Avery as they tried to navigate their friendship-turned-romance.
It was a lot of fun getting to know all of the cast. Avery was athletic, great with people, adored her sisters, and was a wonderful asset to their family business, Spark House. Some of the events Hunting created for them to host…oh my word did they make me laugh. And I have a feeling that the antics were probably based on true events, which made it even funnier. (lol)
Declan was a smart guy who worked in finance, was also athletic, and was fairly laid back. He was definitely a charmer. And was the king of casual hookups–nothing too emotional for him. I'll be honest that it was Declan I became the most frustrated with over time, but it was one of those situations where as a reader I knew it would work out and had to see where Hunting took his part of the story. I'm so glad I persevered because I loved the ending. The grand gesture fit Avery and Declan to a T and had a swoony feel to it that gets me every time. *sigh*

QOTD: Are you a fan of the "grand romantic gesture" element in a romance?
Book Info:

Publication: September 21st, 2021 | St. Martin's Griffin |
Charming, hilarious, and emotional…When Sparks Fly is Helena Hunting at her very best!
Avery Spark is living her best life. Between her friends, her sisters, and Spark House, the event hotel her family owns, she doesn't have much time for anything else, especially relationships. She'd rather hang out with her best friend and roommate, Declan McCormick, than deal with the dating scene. But everything changes when she is in a car accident and needs someone to care for her as she heals.
Declan avoids relationships, giving him a playboy reputation that he lives up to when he puts a one-night stand ahead of a promise he made to Avery. While he may not have been the one driving the car, he feels responsible for Avery's injuries and is determined to make it up to her by stepping into the role of caretaker.
Little did they know that the more time they spend in compromising positions, the attraction they've been refusing to acknowledge becomes impossible to ignore. When they finally give in to the spark between them, neither is prepared for the consequences. Their love is fragile and all it will take is a blow from the past to shatter it all.