In When Stars Collide (Chicago Stars #9) by Susan Elizabeth Phillips, As the (backup) quarterback for the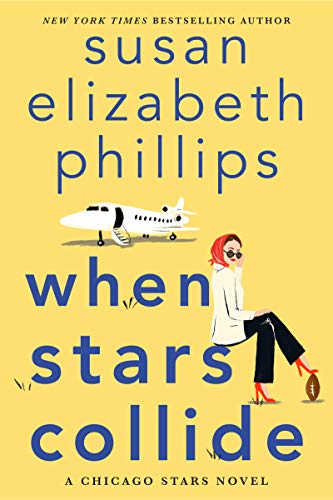 Chicago Stars, Thaddeus Walker Bowman Owens has met his fair share of famous people. And thanks to his southern upbringing he can usually charm them without breaking a sweat. Then mezzo-soprano opera superstar Olivia Shore barges into his life and throws Thad into a tailspin. He and The Diva are traveling together on a US tour to promote luxury watches. And they couldn't be two more different people. Or so he thinks. As the tour marches on and Thad begins to chip away at Olivia's defenses, he uncovers a whole lot of scintillating chemistry between them. Something he would love to explore–as long as it stays casual. It's when he finds out that Olivia's life could be in danger that Thad realizes how gone for her he is. And he's not entirely sure what to do about it.
'He liked Olivia. He liked her smarts and her quirky sense of humor. So what if she was a little high-strung? So was he. He just hid it better.'
Olivia's life is in shambles at the moment. Her career has been skyrocketing, but after a tragic event in her personal life, performing the lead in an upcoming opera production might not be an option. If she can just get through this promo tour with The Quarterback, Olivia will regroup and fix things as best she can. But she somehow stupidly finds herself falling for Thad's good natured joking and smoking hot physique. The last thing she needs is more chaos in her life. Although when things take a scary turn, with someone messing with Olivia's mind–and possibly her physical well being–Thad steps in to protect her. Who wouldn't want such a handsome white knight saving the day, right? Well, maybe not. After recent events, she's determined to be the one to save herself. But if Thad wants a mere fling while on tour? Olivia might have to give that some thought.
'Throwing herself into an ill-fated affair with a man she was growing increasingly fond of–no matter how tempting–would take her into a whole new universe of self-destruction.'
When Stars Collide brought us back to Susan Elizabeth Phillips' beloved Chicago Stars series–and gave us one very fun couple. With wonderfully dry-witted banter, sizzling attraction, and an exciting thread of suspense, this was a page-turner of a novel.
He didn't move. "I think I might be having second thoughts."
"Afraid to be seen with me?"
"I'm afraid of you in general."
"You're not the first."
It was such a blast to revisit the Chicago Stars universe. And who better to have his own story than backup quarterback, Thaddeus Walker Bowman Owens (aka: Thad). He's Cooper Graham's best friend (see First Star I See Tonight for Cooper & Piper's romance) and is known to be a bit of a male fashionista with his decadent wardrobe and exquisite good taste. But most of all, Thad was a terrific guy. Fiercely loyal to his teammates and loved ones, a helpful coach to the newer players, and always willing to go above and beyond, he had the southern charm and manners one would expect for a man from Kentucky. Who would have guessed it would take an opera diva to shake up Thad's world?
Olivia Shore kind of threw me at first, to be honest. She seemed standoffish and entitled when she and Thad first met, which didn't necessarily endear her to him (or me). But of course once SEP rolled out Olivia's backstory–particularly the current issues she was fighting–it became clear why her defenses were up. I truly came to like her a lot. She was incredibly talented and was a warm hearted, generous person overall. My heart broke for what Olivia had been through recently in her personal life. That was also where the suspense came into it all, with someone targeting her with cryptic letters and photos. I figured out part of what was going on/who was behind it, but SEP threw some extra twists in that will keep readers guessing.
The best part for me, though, was watching the verbal battles between Thad and Olivia as The Quarterback and The Diva tried to best one another with their intellect and flirty teasing. It's admittedly very dry humor–so you have to pay close attention–but SEP outdid herself with their lively dialogue, making me giggle (and giggle-snort) more than once.
If you're a fan of opposites attract couples, forced proximity setups, and road tripping across the US, When Stars Collide will be a highly entertaining read for you. A not-to-miss new release from the one and only Susan Elizabeth Phillips.
QOTD: When Stars Collide had one foot in the music world and one in the world of sports. Are you more of a sports fan or of music? (Or neither–let us know if you're a fan of something else!)
Book Info:

Publication: June 29, 2021 | by William Morrow | Chicago Stars #9
Thaddeus Walker Bowman Owens, the backup quarterback for the Chicago Stars, is a team player, talented sideline coach, occasional male underwear model, and a man with a low tolerance for Divas.
Olivia Shore, international opera superstar, is a driven diva with a passion for perfection, a craving for justice, too many secrets—and a monumental grudge against the egotistical, lowbrow jock she's been stuck with.
It's Mozart meets Monday Night Football as the temperamental soprano and stubborn jock embark on a nationwide tour promoting a luxury watch brand. Along the way, the combatants will engage in soul-searching and trash talk, backstage drama and, for sure, a quarterback pass. But they'll also face trouble as threatening letters, haunting photographs, and a series of dangerous encounters complicate their lives. Is it the work of an overzealous fan or something more sinister?
This is the emotional journey of a brilliant woman whose career is everything and a talented man who'll never be happy with second place. Tender and funny, passionate and insightful, this irresistible romantic adventure proves that anything can happen…when two superstars collide.