Where the Road Takes Me by Jay McLean: Chloe is distraught by the anniversary of her mother's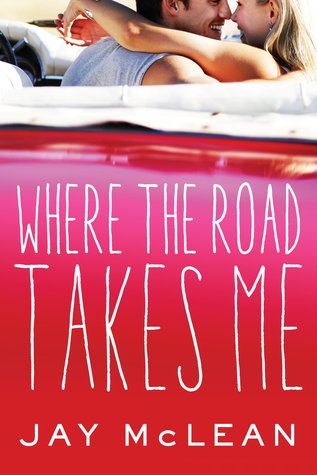 death. After getting into some trouble, she is helped by Blake. The two hang out that one special night. Afterward, Blake can't get Chloe out of his head, even though he has a girlfriend. He discovers he and Chloe actually attend the same high school. Chloe, newly hired at a bowling alley, finds out one of her new co-workers is Blake. Chloe is scared to get close to anyone, including her foster family and Blake. Both her mother and her aunt died of breast cancer and she feels she will die the same way. She prefers to be mysterious and live in the shadows of life. Blake, a star basketball player, isn't close to his parents, or his girlfriend. Slowly, they both learn what matters in life. "It's just moments like this- you make me not want to miss out on anything. You make me want to live forever, Blake."
Where the Road Takes Me tackles tough issues like cancer, suicide, alcoholism, and addiction. I enjoyed the romance between Blake and Chloe. I also really liked many of the secondary characters. Josh, their co-worker at the bowling alley, is a great guy and a great father to his son, Tommy. Blake's mother supports the relationship between her son and Chloe and helps them in many ways. Sammy, Chloe's foster brother, is adorable. I haven't read Jay McLean before, but I would certainly read another of McLean's books. While tough issues are brought up, the book never get overly dark.
I recommend Where the Road Take Me to those who don't mind reading about the issues listed above and who enjoy teen romance.
Book Info:

Published February 10th 2015 by Skyscape
Chloe has one plan for the future, and one plan only: the road. She's made a promise to herself: don't let anyone in, and don't let anyone love her. She's learned the hard way what happens if she breaks her rules. So she's focused on being invisible and waiting until she can set out on the road—her dream of freedom, at least for a little while.
Blake Hunter is a basketball star who has it all—everything about him looks perfect to those on the other side of his protective walls. He can't let anyone see the shattered pieces behind the flawless facade or else all his hopes and dreams will disappear.
One dark night throws Chloe and Blake together, changing everything for Blake. For Chloe, nothing changes: she has the road, and she's focused on it. But when the so-called perfect boy starts to notice the invisible girl, they discover that sometimes with love, no one knows where the road may lead.