In Wicked Beauty (Dark Olympus #3) by Katee Robert, Helen Kasios was born into the tumultuous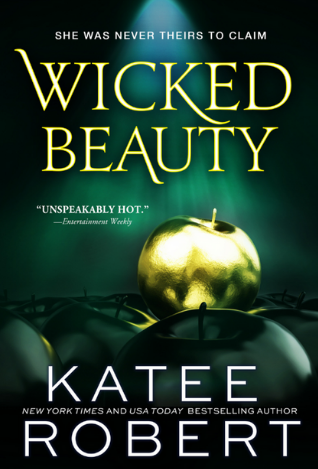 world that is Olympus, seeing firsthand what power does to those–like her father Zeus–who can wield it. When her brother Perseus took over the title of Zeus after their father's death, a part of Helen hoped her brother would be different. That he could balance the good of the Thirteen while keeping his family's best interest in mind. Unfortunately that didn't happen. Instead, her brother offers her hand in marriage to whomever wins the title of Ares–without her consent or alerting her to his decision. Which leaves Helen to seek revenge. And what better way than to win the trials and become Ares herself, right?
'No one believes I can pull this off. Not my enemies. Not my family. Not even my friends. No matter what words they mouth, they're all waiting for me to fail. They're sure of it.'
One big complication in Helen's plans is the gorgeous duo of Achilles Kallis and Patroclus Fotos. The men are soldiers in Athena's army, with Achilles being her second-in-command. They are also a couple who have an open but extremely loving and caring relationship. Both men are drawn to Helen. And not just physically. No, there is something Patroclus and Achilles notice when the three of them are together–they make a terrific team, in *and* out of the bedroom. But how can a triad romance work when they're all vying for the same title? If one of them wins, what will become of the other two?
'Enemy feels like a strong word, but what else do I call her? She wants to snatch away the thing I desire most in this world, the title I've spent my entire life chasing. Enemy is the only label that does her justice.'
A sexy poly romance with three big personalities drawn to each other in the midst of a fierce competition to become one of Olympus's Thirteen, Wicked Beauty thrilled and heated up the pages in true Katee Robert style.
'A shiver of foreboding goes through me. We will pick up the pieces. The three of us together work, and that's rare enough that I'm not willing to give it up without a fight.'
I'm loving this Dark Olympus series. So much. Katee Robert, as I've said before, has somehow managed to take a retelling of Greek mythology and put a modern spin on it. But with Wicked Beauty, she also created a triad romance that was every bit as heartfelt as it was erotic. Not an easy feat. It became an interesting mix of the growing relationship between Achilles, Patroclus, and Helen while also following the trials to become Ares, plus some new happenings in Olympus itself.
The three POVs this was told from were Achilles, Helen, and Patroclus–or who I've come to think of as: The Brawn, The Beauty, and The Brains, respectively. Their connection was palpable. Robert sure threw a wrench in the works when established couple Patroclus and Achilles both fell individually for Helen. It was extremely complicated. And not only because they were all part of the competition to win the title of Ares. It was something new for the open couple to have feelings involved when it came to exploring their sex life.
Achilles and Patroclus already had a unique dynamic–with Achilles being a dominating, no nonsense soldier and Patroclus, yes also was a soldier, but he was a genius at strategy and plotting things out. Adding Helen to the mix, who was also very forthright as well as intelligent–particularly when it involved politics, changed their whole power balance. The results were nothing short of wonderful, thankfully. And the way it all worked out in the conclusion will likely create ripples in upcoming installments as the Thirteen faces down outside threats…
QOTD: Have you read any books with polyamorous relationships? If so, do you like them with lots of emotions and a solid storyline? Or are you there for the, ahem, romance?
Book Info:

Publication: Published June 7th 2022 |  Sourcebooks Casablanca | Dark Olympus #3
She was the face that launched a thousand ships,
The fierce beauty at the heart of Olympus,
And she was never ours to claim.
*A scorchingly hot modern retelling of Helen of Troy, Achilles, and Patroclus that's as sinful as it is sweet.*
In Olympus, you either have the power to rule…or you are ruled. Achilles Kallis may have been born with nothing, but as a child he vowed he would claw his way into the poisonous city's inner circle. Now that a coveted role has opened to anyone with the strength to claim it, he and his partner, Patroclus Fotos, plan to compete and double their odds of winning.
Neither expect infamous beauty Helen Kasios to be part of the prize…or for the complicated fire that burns the moment she looks their way.
Zeus may have decided Helen is his to give to away, but she has her own plans. She enters into the competition as a middle finger to the meddling Thirteen rulers, effectively vying for her own hand in marriage. Unfortunately, there are those who would rather see her dead than lead the city. The only people she can trust are the ones she can't keep her hands off—Achilles and Patroclus. But can she really believe they have her best interests at heart when every stolen kiss is a battlefield?