Wicked Heat by Kelli Ireland: On an island, a beautiful amazing spectacular getaway island and it just so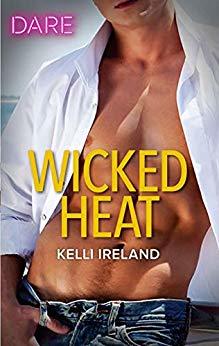 happens the guy on the plane you were making eyes with, he is who you will be working with for the next several days? So is work the plan? Or pleasure?
Ella Montgomery knew there was no choice. She had to do the job the right way. This job was all that was breathing life into her dying career. If she wanted any sort of future in event planning she knew it was going to have to be all business, no matter how hot Liam was.
Liam Baggett knew nothing of the sort. He was very easily able to compartmentalize especially when his true motives for helping the bride were not going to be revealed for a while, so why not get all the pleasure he was able to before the event? After all between his money and his connections he could fix anything that went wrong, right?
First stumbling block, they are working together. Second stumbling block, they are sharing a room. Third stumbling block – getting to know each other. With all of these stumbling blocks will they be able to separate work from pleasure? Or will everything start to blend into one?
Wow Ms. Ireland doesn't hold much back with this story. There is plot, depth and heat all combined into a novel just over 200 pages. It's a story about dominating males who don't think they are dominating but by the end have it more or less figured out. The nice part about this story is the backbone of Ella. She is so well written and so fierce that I wish she were real so she could teach me how to be like her. For her and her alone I would give this story 5 stars. Overall this is a 4 star story, now go pick it up.

Book Info:

Publication: April 1st 2019 | Harlequin Dare |
A destination wedding…where anything goes!
A top-secret celeb wedding could turn struggling event co-ordinator Ella Montgomery's life around – but the mystery bride's gorgeous brother, Liam, secretly wants to sabotage the ceremony. When Ella and Liam meet at the resort in Bora Bora, their immediate chemistry leads to a scorching encounter in the honeymoon suite. As the week goes on, Liam turns up the heat, and Ella soon falls under his spell…but will his hidden agenda ruin everything?