Wicked Pleasure by Taryn Leigh Taylor: Break into a party, hack a security system and still have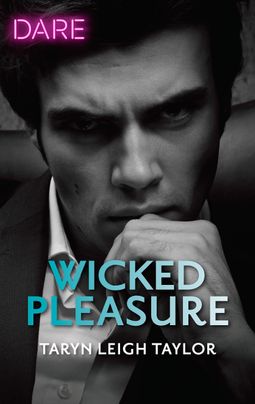 time to have fantastic sex, oh yes, that is one hell of a night.
AJ was sure that that wasn't her plan for the evening, well not her entire plan and yet that was her evening. She was going to make the most of it though and get to the bottom of this problem of who was hacking her "bosses" company. She was going to make him pay for certain.
Liam Kearney knew someone had hacked his system. He didn't know how or why, but when he saw her, admittedly he stopped using his upstairs brain. The good thing was he couldn't completely turn it off and he could multitask with the best of them.
AJ and Liam may have been brought together with some interesting influence but the chemistry was undeniable. How long could their secrets stay hidden though and would their release end up releasing them?
OMG this is a run don't walk to go pick up. The story has everything from intrigue to panty melting heat to damaged souls. Ms. Taylor has always written amazing stories but this one she manages to jump into heights that her readers haven't seen before. The depth she is able to give her characters is truly amazing and the story line is just so hooking that from page one you just won't want to put this down. The best way to describe it is this, go pick it up, set aside a block of time and indulge in this story. You won't regret it.
Book Info:

Publication: Published August 1st 2019 | Harlequin Dare |
AJ should definitely not be here. Breaking into enemy territory—especially a billionaire tech playboy's home—is foolish…and just the sort of thing hacker AJ lives for. To get the dirt on Liam Kearney, she poses as a guest at one of his lavish, decadent parties. Nothing prepared AJ for a man this gorgeous, this charming and whose devilish eyes promise oh-so-much trouble.
A hot fling with her sexy enemy was never part of AJ's master plan…nor is this insatiable craving for more.
This isn't just a game anymore. As the stakes get higher, so, too, does the white-hot attraction sizzling between AJ and Liam. Loyalties, reputations, careers are all on the line. But AJ is a survivor. She's always known how to walk that dangerous line and not get burned. Only, this time she might be in way over her head.