The McAvoy Sisters Book of Secrets by Molly Fader is a sometimes tragic, yet compelling story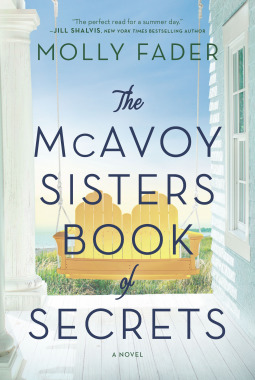 about family dynamics, the destructive nature of some secrets and learning the value of forgiveness.
Lindy McAvoy left home seventeen years ago and has only been home one time. That was Christmas five years ago when her sister, Delia told her to get out. She is surprised when her phone rings one day and she sees her mother's name so she answers her phone. She is even more surprised when the caller introduces himself as Police Chief Garrett Singh. Garrett explains to Lindy that he is calling for her mother and that her mom has had a stroke and also is experiencing some dementia issues. Then Garrett puts her mom on the phone and her mom begs her to come home. Lindy has just lost her job and been kicked out of her latest ex-boyfriend's apartment so a trip home it is. Whether Delia likes it nor not! Lindy and Delia were the closest of sisters until seventeen years ago when disaster struck. Maybe it's time to get over the past, forgive and get the family back together.
All the characters in this story have something to learn about love, life and secrets. I enjoyed reading about the journey to family renewal in this book. Molly Faber has a talent for writing about sensitive subjects and character interactions. Life lessons are sometimes very hard. The McAvoys make great strides in this area. A very enjoyable read!
Book Info:

Publication: July 16th 2019 | Graydon House |
What drove their family apart just might bring them back together… It's been seventeen years since the tragic summer the McAvoy sisters fell apart. Lindy, the wild one, left home, carved out a new life in the city and never looked back. Delia, the sister who stayed, became a mother herself, raising her daughters and running the family shop in their small Pennsylvania hometown on the shores of Lake Erie.But now, with their mother's ailing health and a rebellious teenager to rein in, Delia has no choice but to welcome Lindy home. As the two sisters try to put their family back in order, they finally have the chance to reclaim what's been lost over the years: for Delia, professional dreams and a happy marriage, and for Lindy, a sense of home and an old flame–and best of all, each other. But when one turbulent night leads to a shocking revelation, the women must face the past they've avoided for a decade. And there's nothing like an old secret to bring the McAvoy women back together and stronger than ever.With warm affection and wry wit, Molly Fader's The McAvoy Sisters Book of Secrets is about the ties that bind family and the power of secrets to hold us back or set us free.