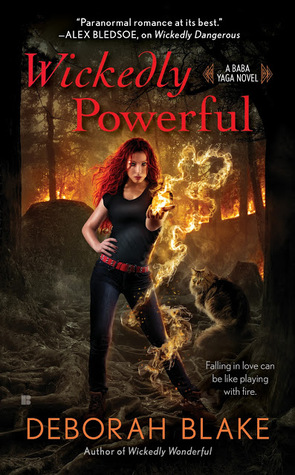 In Wickedly Powerful (Baba Yaga #3) by Deborah Blake, As the Baba Yaga in the Midwest, witch Bella Young has been called to the Black Hills in Wyoming, but for what reason she doesn't yet know. She has a feeling it has something to do with the strange forest fires that have been popping up lately. With her dragon-cat Koshka by her side, Bella begins searching for answers when she meets and falls for Sam Corbett who works in the fire tower. Humans and Babas don't normally mix. But she can't deny their attraction no matter how hard she tries.
'Bella didn't understand what it was with her and Sam; she was either completely at ease with him or falling all over herself like an idiot. This was what came of being raised in the woods by a Russian fairy-tale witch.'
Sam relishes his time alone in the fire tower, away from people who ask questions and shy away from the burn scars on his face. If they only knew what it was really like to live through an out of control wildfire, they would understand his need for privacy. Then Bella comes sweeping into his life and suddenly it's not so bad having someone close again. Sam can't quite get a grip on if he can really trust her or what she's hiding. But he knows he hasn't felt this strongly about a woman in a long time. And it scares him to death.
'…The sun slid through the trees and hit the exact spot where she rested, making her glow like an angel. Too bad he had a feeling she was anything but. In fact, he was certain she was trouble. But even so, trouble had never come in a more beautiful package.'
Wickedly Powerful is yet another winner in Deborah Blake's Baba Yaga series. Bella, Sam, Koshka and the whole crew made this story fun, definitely exciting, and also very heartwarming in its own way.
"Did that cat just talk, or am I losing my mind?"
Koshka laughed, a bizarre sound coming from something with whiskers and ear tufts. "So you believe in witches but not in talking cats? You have a very limited worldview, Human. You might want to work on that."
I really do love the whole world Blake has created for this series. There's something so intriguing about bringing a traditional fairy-tale to life in modern times and she has certainly done that successfully here. I've enjoyed how the tone of each Baba Yaga novel follows the personality of the particular Baba it is focusing on.
In this case, Bella was a little sarcastic (okay…a lot) and she was standoffish when it came to Humans, although she had her reasons. But she was also a do-gooder who felt the need to help people, so it was an interesting mix. Especially when it came to Sam. I loved that Bella didn't even give his scars a thought after meeting him and that she was more interested in what kind of a person he truly was. She turned out to be a very compassionate Baba, proving it time and again as the story progressed.
I think Sam was the kind of character that was easy to like. He was a complicated man with scars both visible and not visible after the tragic end to his Hotshots career. He was also a do-gooder. One who tried to live life by the rules. But Bella kind of threw his world out of whack with her mysteriousness and her beauty. Sam had some fun moments, too though, like when he realized that Koshka was a dragon-cat. I won't spoil the whole scene/set up, but let's just say that Koshka's snarkiness certainly came out in full effect. Loved it!
Imaginative and with an oh so satisfying HEA, Wickedly Powerful is just the type of Paranormal Romance I hunt for. Whether you read it as part of the series or as a standalone, I think this will please fans of the genre.
Book Info:

 Published February 2nd 2016 | by Berkley | Baba Yaga #3
Known as the wicked witch of Russian fairy tales, Baba Yaga is not one woman, but rather a title carried by a chosen few. They keep the balance of nature and guard the borders of our world, but don't make the mistake of crossing one of them…
The only thing more fiery than Bella Young's red hair is her temper. She knows that a Baba Yaga's power without strict control can leave the people she cares about burned, so to protect her heart—and everyone around her—the only company she keeps is her dragon-turned-Norwegian-Forest-cat, Koshka.
But when Bella is tasked with discovering who's setting magical fires throughout Wyoming's Black Hills, she finds herself working closely with former hotshots firefighter Sam Corbett—and falling hard for his quiet strength and charm.
Sam may bear the scars of his past, but Bella can see beyond them and would do anything to help him heal. Only before she can rescue her Prince Charming, she'll have to overcome the mysterious foe setting the forest fires—a truly wicked witch who wields as much power and even more anger than Bella…