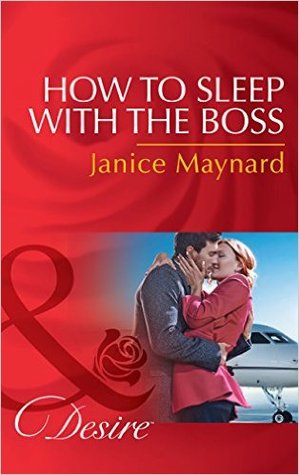 In How to Sleep with the Boss (The Kavanaghs of Silver Glen #6) by Janice Maynard, Libby Parkhurst has lost everything including her pampered princess lifestyle and her parents. Now she has to rely on the people closest to her to pick up the pieces, starting with Patrick Kavanagh. When he offers her a job, which she's certain his mother pressured him into giving her, she has no choice but to accept if she has any hope of supporting herself.
"I want you to push me to my limits. So I can prove to you that I can handle it."
Having not read the other books of this series, I was pleased by the fact that this story could be read as a stand-alone. From the very beginning, this book was fast-paced and engrossing due to the growing relationship between Libby and Patrick, the challenges they face to be together and the teasing banter between them that had me smiling. The opening line Libby tosses at Patrick proves how ready she is to face her biggest challenge yet.
I really liked the main characters. Despite the horrible situation Libby finds herself in – the one where she's gone from riches to rags – she's handling things quite well in trying to find her place in the world. She's strong, brave and tenacious in her need to be independent, especially when she's challenging Patrick. To show him how capable she is both at the job and then by facing her past
Libby clapped a hand over his mouth. "Watch your language, Mr. Kavanagh." She rubbed her thumb over his bottom lip. The simple caress sent fire streaking to his groin. "Are you planning to hurt me?"
He shifted from one foot to the other. "Of course not."
"Then relax and go with the flow. If nothing else in the last year, I've learned that's the only way to live."
While Patrick, I liked how he treated Libby the way she asked him to. He really pushed her limits when it came to the job, to make sure she could handle it. Which she proved she could during the unpleasant situation they found themselves in when he was showing her the ropes. Even though he's not looking for a relationship after how his last one turned out, Libby is good for him. They have such intense chemistry between them that can't be denied, and eventually spills over onto the pages in hot sex scenes.
Overall, I really liked this book where I enjoyed the secondary characters. Patrick's mom certainly wants her children to be happy, even if she has to do a little matchmaking to make that happen. The ending wrapped the story up nicely, because Patrick finally realizes how much he needs Libby in his life and gives his mom what she wants most for her birthday. I recommend How to Sleep with the Boss by Janice Maynard, if you enjoy second chance romances or heroines that face a tough challenge to achieve their happy ever after.
Book Info:

 February 1st, 2016 | Mills & Boon Desire | The Kavanaghs of Silver Glen #6
His new assistant isn't his type—until they work in very close quarters! From USA TODAY bestselling author Janice Maynard.
Inexperienced but out of options, Libby Parkhurst accepts Patrick Kavanagh's job offer—even though he's given it at his mother's request. Surely she can hide her attraction to the charming man she's trying to impress…
Patrick sees Libby as a family friend and hires her as a favor. But as their work brings them closer, he discovers the sensual woman she's become—even before a makeover takes her from dowdy to dazzling! Suddenly his interest is no longer platonic. Long-term is off-limits, but taking her to bed? He's making that his top priority!