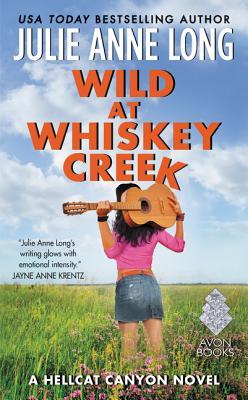 Wild at Whiskey Creek by Julie Anne Long ended up being a complete surprise to me. I've never read from this author before and didn't know what to expect, but I was extremely pleased with the outcome. The emotions I felt while reading were unexpected and unpredictable. I fell in love with the main characters at an alarming rate and lived through their feelings with them. Eli and Glory are certainly worth the read!
Eli and Glory have known each other since they've been kids. They have a history together that is unmistakable. They use to be friends and were on the verge of something deeper until situations out their control came between them. Eli is an officer. An officer who plays by the rules, even if that means arresting someone close to him. When Eli arrested his best friend, who also happens to be Glory's brother, the connection between them is damaged.
All Glory has ever wanted was to leave Hellcat Canyon. She wanted to make a name for herself singing/song writing and she would have made it out of town, but Eli ruined her chances when he arrested her brother. Now that her brother is locked up, it's up to Glory to pay her mom's mortgage. Glory is fiery, sassy, and very talented. She has the chops to make it big in the industry, she just needs the chance to prove it. Despite being angry at Eli, Eli understands Glory in a way, no one else ever has. Their attraction to each other goes beyond physical. It's like their souls are intertwined and meant for each other. When two newcomers come to town, Glory and Eli finally accept the truth about their relationship. Either they move on or they go for broke and fight for what they want. Their decision isn't an easy one and the answer takes the couple on many ups and downs that will have readers holding their breath.
The story did start off a little slow to me but the pace did pick up and once it did, I couldn't read it fast enough. Overall, Wild at Whiskey Creek is an enjoyable read filled with angsty emotions, enchanting characters, and a love so strong, it can overcome anything.
Book Info:

 November 29th 2016 | Avon | Hellcat Canyon #2
Everyone knows the Greenleaf family puts the "Hell" in Hellcat Canyon—legend has it the only way they ever leave is in a cop car or a casket. But Glory Greenleaf has a different getaway vehicle in mind: her guitar. She has a Texas-sized talent and the ambition (and attitude) to match, but only two people have ever believed in her: her brother, who's in jail, and his best friend . . . who put him there.
Sheriff Eli Barlow has secretly been in love with Glory since he was twelve years old. Which is how he knows her head is as hard as her heart is soft—and why she can't forgive him for fracturing her family . . . or forget that night they surrendered to an explosive, long-simmering passion. But when a betrayal threatens Glory's big break, Eli will risk everything to make it right . . . because the best way to love the girl from Whiskey Creek might mean setting her free forever.