Wild Wedding Hookup by Jamie K. Schmidt is a fun, steamy romance set in South Beach, Florida.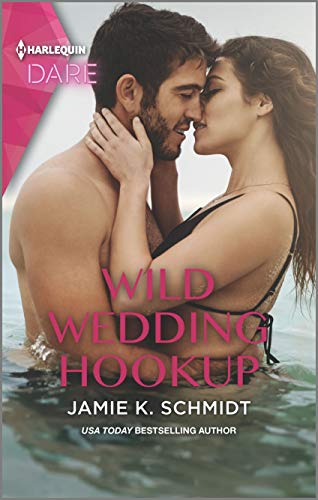 Mikelina Presley is a concierge at luxury resorts. With a bachelor party set to take over one of the exclusive vacation homes for two weeks, she's been working online with Bastian Ainsworth, one of the groomsmen and soon to be brother-in-law to the groom to set up all the details for their event. The night before the party, she goes out with friends to a club and meets a sexy stranger only to discover before things go too far that it's Bastian who has arrived early for the party.
But despite the complications – Mikelina is working for Bastian and he's the client- they can't deny the attraction between them for long. And when the groom keeps disappearing with his friends, Bastian and Mikelina end up using the tickets she's garnered for themselves, enjoying some time together in and out of the bedroom. But Mikelina has kept some things from Bastian and Bastian has gone through one divorce already where his ex-wife was keeping secrets. Will their affair get the chance to become something more?
This is my first time reading this author and I'll definitely be looking for more of her books! There are lots of steamy love scenes and the chemistry between Mikelina and Bastian is off the charts. But what makes the story enjoyable is the characters themselves. Mikelina is still dealing with the fallout from things her father did that have affected the whole family. Keeping the secret of her past from Bastian gets harder and harder as they grow closer.
As for Bastian, he discovered his now ex-wife had a gambling problem on their honeymoon, something she had kept hidden from him. He has difficulty trusting people now, especially women, so avoids any kind of commitment. He's also having troublewith his sister's fiance, not sure if she should trust him and his blowing off of Bastian's plans to do things with his friends isn't helping their relationship. With Mikelina he finds someone he can confide in, a partner he can see himself with for a longer term, and is already trying to figure out how to make things work when the bachelor party is done. Par for the course, the secrets start to come out and Bastian and Mikelina have to figure out if what they have is worth fighting for. Their happy ending is very satisfying. If you enjoy vacation type romances with strong and likable characters that can't keep their hands off each other, I highly recommend this story!
Book Info:

Publication: July 01, 2020 | Harlequin Dare |
Concierge Mikelina Presley works for a luxurious resort club in sunny South Beach, Florida. She's thrilled to land a two-week booking for a bachelor party at one of the resort's most expensive villas—not least because the fiery chemistry between her and best man Bastian Ainsworth is deliciously tempting.
When the groom-to-be suddenly disappears, Mikelina and Bastian team up to find him, bringing them closer together. Their irresistible desire for each other is dangerously distracting, but the stakes are high for both of them: if they don't bring back the runaway bachelor, Bastian's little sister will have her heart broken. And Mikelina's resort stands to lose out on the group's lucrative booking—which would be devastating for her career.
As the search takes them all over South Beach's sexiest hideaways, their racy fling becomes something much deeper and Mikelina finds herself falling for Bastian. But she hasn't told him everything about her past, and a shameful secret weighs heavy on her mind… Can their passionate affair survive the truth?