Today, HJ is pleased to share with you

Angelina M. Lopez's

new release: 

Hate Crush

A fake relationship could help Princesa Sofia save her kingdom. Only problem: She'll have to fake it with the man who broke her heart.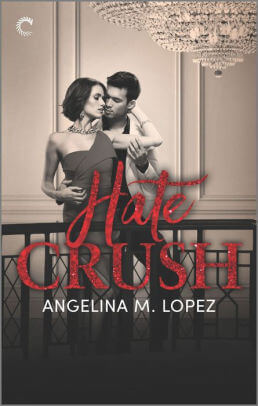 Ten years ago, wild child Princesa Sofia Maria Isabel de Esperanza y Santos fell in fast crazy love with heartbreaker Aish Salinger during one California harvest season. Now, all grown up and with the future of her kingdom on her shoulders, she hates him as passionately as she once loved him.

Even if her body hasn't gotten the hate memo.

Faking a relationship with the now-famous rock star for the press and public will ensure the success of her new winery and prosperity of her kingdom. All she has to do is grit her teeth and bear his tattooed presence in her village and winery—her home—for a month.

Trying to recover from his own scandal, fallen superstar Aish Salinger jumps at the chance to be near Sofia again. Leaving her was the biggest mistake he's ever made, and he's waited ten years to win her back.

He never counted on finding a woman who despised him so much she didn't want to be anywhere near him.

A war of wills breaks out as the princess and rock star battle to control their fake relationship. She wants to dictate every action to keep him away from her. He wants to be as close as he can be. She's already lost so much because of Aish—e won't be the reason her people lose even more.

But he also won't make her break her life's most important vow: To never fall in love again.

Read Filthy Rich Book One, Lush Money, available now from Carina Press!
Enjoy an exclusive excerpt from Hate Crush 
Immediately swept away when they meet during their first day interning at a California winery, 19-year-old Sofia and 21-year-old Aish have sex in a wine tank. When she discovers that the gorgeous up-and-coming musician knows she's a Spanish princess, she assumes the heartbreaker just wanted to add royalty to his long list of conquests. She wanted him for him, but he didn't want her for her. A week later, determined to avoid him for the rest of internship, Sofia finds Aish waiting for her…

Cross-legged on the bench in the bathroom, Sofia pulled her brush out of her hair and hit herself in the forehead with it. Stop thinking about it. Stop thinking about him.

She stashed her brush in her shower kit, drank out of the faucet to wash down her birth control pill, and walked out of the bathroom in her oversized black top and wide-legged black pajama pants, vowing to turn off her brain until dawn.

"Hey," a deep voice called, startling Sofia. There, standing barefoot on the old boards of the bunkhouse, was Aish Salinger in jeans and a black hoodie, his thumbs in his pockets.

Warm honey moved treacherously through her veins.

"I heard you were staying in," he said.

Her brain did an instant calculation: she was easy tail in a convenient location.

She smirked. "Oh, pobrecito. I'm tired and you're predictable. I'd rather lie on my mattress than bounce on you. Keep begging and perhaps—"

"No, that's not—" He took a couple steps forward then stopped, ran his hand through his thick black hair to get it out of his face. The overhead lights bounced off his fascinating combination of strong bones and velvety tanned skin. "That's not why I'm here. I…"

He jabbed his thumb back over his shoulder and, unable to help herself, Sofia looked. There, on his bed on the boys' side, was a giant pizza box, a bottle of wine, and a bunch of white daisies in a mason jar."

She'd known exactly where his bed was in the long bunkhouse.

"I heard you weren't going out, and you need to eat, so I figured…" He crossed his arms over himself and squeezed his left forearm with his right hand. It was a surprisingly boyish gesture on a man so big. "I figured I'd feed you. We're too tired to go on a real date."

Mentiras, a voice whispered. Lies. He lied to you. He doesn't want you. He just wants another go at a princess.

Sofia looked down at the ground, shaking her long, wet hair. "No, I…"

"I'm sorry," he said urgently. "John can be a prick and he totally was last time and, if it'll help, I'll get him to apologize because I've been on his ass about it and he feels really bad and…"

She scowled at him. "This isn't about John."

He let out a gust of air. "No, I didn't think it was." He took a couple of cautious steps toward her. "But to be honest, I'm not sure why you're so pissed at me." He put those big hands up when her eyes flared. "I want to know. I want to apologize and make it right. Can you tell me how I fucked up?"

A male had never talked to her like this before. Open, vulnerable. Her father barely acknowledged her, too caught up in his ego and his women and his efforts at whipping her brother into perfect princely compliance. Her brother Mateo was an incredible man and scientist, but he was so distant. He was halfway through his PhD work in America and seldom came home anymore. And she had more honest conversations with the men who made her café con leche in the cafeterías than the boys she slept with.

Out of her element, Sofia shook her head at Aish. "It doesn't matter," she said, turning toward her bed.

"It does," he said, moving closer to her before stopping, leaving a good two meters between them. Sofia realized he was trying not to get to close. This big boy was resisting making her feel forced or pressured. "Sofia, it really does matter. If it's the sex that's pissed you off, then I wish we hadn't done it. I don't want to do it tonight."

When Sofia peered at him, Aish stumbled. "I mean, I do want to. I want to every time I think of you, but not if… I mean not every time, but…most times. But…"

Sofia found it harder and harder to resist her smile.

Aish trailed off. "Tell me what I did wrong." He took another step closer and his black hair stroked his sharp cheekbones.

Sofia looked down to the shower kit in her fists. "I thought you didn't know who I was."

"I didn't. I don't," he said, sounding confused. "I mean, I knew you were that princess from Spain, but that's it."

"Then you knew about my parents' affairs and my tattoo and that stuff I did in Prague and…"

"Oh, that." She was surprised when he scoffed. "Look, in LA, everyone's got a story. My parents are public figures—they've got a story. It's got nothing to do with who they really are. All my friends whose parents are in the industry—they're either waaaaay crazier or way more boring than the public knows. I never thought twice about what the media says about you."

Sofia stared as he effortlessly lifted the weight of her history off her shoulders. "So you weren't looking to screw a princess?"

He showed a dimple as he shook his head, his big shoulders shrugging in his worn sweatshirt. "Justin was worried about you. I never thought I was going to run into a fairy I couldn't keep my hands off of." Those shoulders slumped. "But if not having sex with you means we could have been hanging out for the last week, then I wish we hadn't done it. As good as it was, I'd trade it in a second for time with you."

She could feel her heart growing with the sincerity of his words, like a vine unfurling toward the warmth of the sun. If she was honest, her heart reached for him the instant she saw him standing alone in the middle of the bunkhouse.

"Well," she said, catching her smile with her teeth. "You could bribe me with pizza now."

Delight burrowed in his dimple. "Yeah?"
Excerpt. ©Angelina M. Lopez. Posted by arrangement with the publisher. All rights reserved.


Giveaway:

One (1) Mass market paperback copy of HATE CRUSH by Angelina M. Lopez (open to North American mailing addresses).
To enter Giveaway: Please complete the Rafflecopter form and post a comment to this Q:

What did you think of the excerpt spotlighted here? Leave a comment with your thoughts on the book…
Meet the Author:
Angelina M. Lopez wrote "arthur" when her kindergarten teacher asked her what she wanted to be when she grew up. In the years since she learned to spell the word correctly, she's been a journalist for an acclaimed city newspaper, a freelance magazine writer, and a content marketer for small businesses. Finally, she found her way back to "author."
Angelina writes sexy, contemporary stories about strong women and the confident men lucky enough to fall in love with them. The fact that her parents own a vineyard in California's Russian River Valley might imply a certain hedonism about her; it's not true. She's a wife and a mom who lives in the suburbs of Washington, D.C. She makes to-do lists with perfectly drawn check boxes. She checks them with glee.
You can find more about her at her website, AngelinaMLopez.com.

Connect with the Author:
Website: http://www.angelinamlopez.com/
Facebook: https://www.facebook.com/AngelinaMLopezDC/
Twitter: https://twitter.com/AngelinaMLo
Instagram: https://www.instagram.com/angelinamlo/
Goodreads: https://www.goodreads.com/author/show/19213274.Angelina_M_Lopez

Buy Links:
Amazon: https://www.amazon.com/Hate-Crush-Filthy-Angelina-Lopez/dp/1335459502
B&N: https://www.barnesandnoble.com/w/hate-crush-angelina-m-lopez/1135551929
iTunes: https://books.apple.com/us/book/hate-crush/id1491603901
Kobo: https://www.kobo.com/us/en/ebook/hate-crush
Google: https://play.google.com/store/books/details/Angelina_M_Lopez_Hate_Crush?id=hDTEDwAAQBAJ