In This Time Tomorrow (Phenomenal Fate #2) by Tessa Bailey, It has to be a joke that the one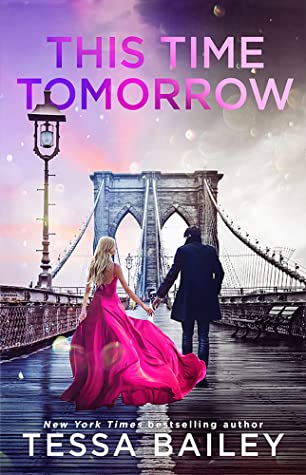 being that Roksana feels truly drawn to and trusts (almost) completely is a vampire, considering she is the daughter of the Queen of Shadows–a slayer of vampires. In her defense, though, Elias was a human when she first met him. When their connection first formed. But it didn't take long for the hottie to be changed into a vampire or for Roksana's mother to demand she kill Elias to prove her mettle as a slayer. And as much as she would love to take revenge on what she believes he did in Vegas, Roksana somehow can never seem to seal the deal and end his life.
She lifted the stake high and drove it down–
It froze, right above his heart, held in her shaking fist.
"Do it," she whispered to herself, then more forcefully, "Do it."
Elias has never been so conflicted in all of his life. And that's saying something, given his rough childhood and the decisions he had to make while on the SWAT team. Something tells him that he needs to constantly keep an eye on Roksana, to keep her from harm in any way possible. But she's a vampire slayer. And he's a new(ish) vampire on a mission to keep a war between their kinds at bay. Elias also knows things about Roksana's world that she's not been made aware of. Yet. The information he holds could change not only his relationship with the gorgeous woman, but between her and someone else she is close to. All Elias knows for certain is that their feelings for each other are real. And he's willing to put his life on the line to protect Roksana from those trying to harm her.
'He would lose her love to keep her safe, though he would live in hell for the rest of his life.'
This Time Tomorrow was an epic, angsty incredible ride of a paranormal romance. Tessa Bailey impressed me with this tightly woven storyline full of double-crossing, hidden truths, and a soul-deep bond that had the power to overcome any obstacle put in its path.
Eyes a bright, burnished gold, he kissed her pulse reverently. "Mine."
Tessa Bailey truly has a gift in creating characters who are relatable even in extraordinary circumstances such as we had in This Time Tomorrow. Plus, I love that her heroes can be all alpha, or tender and romantic, or (super) dirty talking–whatever the situation calls for. Boy didn't Elias fit the bill. He was a former SWAT member with a gritty background but he'd become an honorable man over the years which stuck with him after being turned into a vampire. The portion of the story about how he was turned and how it affected Roksana was sad and will tear the reader's heart out. But there *was* a happy ending. Or at least a HFN where this book sets the stage for the third installment which promises to be exciting and oh so complicated as well.
Vampire slayer Roksana was a hoot. She honestly was a mash up of a fun-loving twenty-something who wanted to hang with her friends, dance and have a good time. But…she was the daughter of the Queen of Shadows so she also had been brought up to see the darker side of the world. Those two sides of Roksana's life, the light and the dark, were constantly at war. Bailey still managed to bring some comic relief to what could have turned into a heavy story with Roksana's snarky comebacks and the way she teased Elias. Speaking of our couple, I really did cheer them on right away. But talk about complex! I don't want to ruin the surprises they both encountered along the way, so suffice to say Roksana and Elias each sacrificed a whole lot to get their HEA.
Swoon-worthy romance and thrilling action combined to make This Time Tomorrow a novel I couldn't put down. Tessa Bailey's storytelling was absolutely on-point and will definitely bring me back for more when the third book comes out.
Book Info:

Publication: Published June 22nd 2020 | Tessa Bailey | Phenomenal Fate #2
Roksana, heiress to the vampire slayer throne, has performance anxiety.
She's supposed to kill Elias, but so far she's only succeeded in maxing out his credit card. Now her failure to stake the brooding vampire has sent her back to Moscow in disgrace to face her mother's wrath. Expecting punishment by death, she's given a rare reprieve. She now has three tasks to complete, the last of which is to finally kill Elias. She will not fail this time.
If only the memories of one magical evening—back when Elias was human, would stop holding her back. He claims to have forgotten that night. Why can't she? Three years ago, Elias was a SWAT team member on a guy's weekend in Vegas. Playing poker and minding his own business, his life changed forever when a captivating blonde strolled past his table in a light-up bra. He followed Roksana as if compelled, his very bones demanding he do so, his soul resonating with the belief she would be important to him. Always. That turned out to be a vast understatement—and nothing has changed.
Roksana embarks on her mission, determined to win back her mother's approval, but when an astonishing truth emerges in the eleventh hour, will her stake pierce the very heart that beats in her honor? Or will love triumph over duty?