Wilder With You by Serena Bell: Who knew one innocent fib could spiral into such a huge snowball of feelings! Well when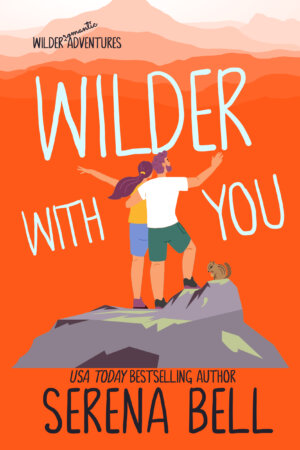 Clark Wilder claimed wedding planner Jessa Olsen as his new girlfriend in an effort to stick it to her no good cheating ex, he definitely did not expect their little lie to turn out to be a whirlwind of new emotions that he had not even dreamt of feeling after the death of his wife, much less that he would land up sharing a tent with the woman!
"The sight of him bent over and working breaks my brain. I'm still gawping when he turns around. I have to close my mouth and wipe away the drool."
After having her entire life turned up side down first with her cheating ex and then having her business taking a knock after some bad publicity, Jessa is ready to change it up for the positive and jump right out of her comfort zone and what better way than to join one of the Wilder Adventure's glamping trips! The last thing Jessa could have expected was to have her camping trip invaded by non then said cheating ex and his new girlfriend, fully ready to turn tail and head home Jessa is given an even bigger shock when Clark claims that they are dating! What was supposed to be a small fib to help her save face soon turns into the two fake dating to help get Clarks mother of his back, but what happens when their fake dates turn into very real steamy kisses, can these two really get a second chance at love?
OMG YES!! These Wilder brothers just keep stealing my heart one after the other! This is easily one of my favourite series of all time, I love that there is always this perfect combination of steamy slow burn realisation, loads of cuteness and one very invest family. Wilder With You was such a cute read, in fact this is the type of book you start and completely loose track of time, that is how invested in Clark and Jessa I found myself.
"I have terrible, um, beard allergies."
He gives me an incredulous look.
"It's a thing!" I insist.
"I'm hypoallergenic,"
The thing that I loved about these two main characters was that they had both been married and have had to deal with their own heart break, grant in different capacities. I love a good small town romance, this always ensures our leading couple would have a previous connection and this is definitely the case with Clark and Jessa, I loved that they both knew each other before hand and that their link was Emma – Clarks late wife – I have to say that Jessa handled this entire situation with so much grace and tact. She never once rushed him into putting Emma in his past or pushed him to move on. Jessa was genuinely such a great character, I loved that she was caring and kind and how easily she bonded with the Wilder clan. I loved getting to see her fall in love with her passion all over again thanks to Clark.
"There is a Wilder in my office. He is the most beautiful man I know. He kisses like a dream. And he is begging me to go to a party with him."
As for our boy Clark, gosh this guy my heart just hurt for him so much. Having lived all this time blaming himself for the death of Emma and not really allowing himself to move on. However it was impossible to deny his pull towards Jessa even when he wanted to put distance between them. I loved that Jessa almost gave him this breath of new life. The chemistry between these two was just perfect, I loved watching them fall in love.
One of the things that makes this series so great is having the entire Wilder clan so involved and this time was no different. I really liked that extra dynamic that we got to see uncover between Clark and his mother and her reasons for trying yo push Clark into opening up to love. It was also really cute getting to see the whole gang at Vegas and how easily they all welcomed Jessa into the family.
Wilder With You is an absolute must read, as far as fake turned real romances go this is top notch. This was such a fun read that I just could not put down, I can not wait to see Kane come face to face with his steamy Vegas one night stand in Bell's next book!
Book Info:

Publication: February 15, 2022 | Jelsba Media Group | Wilder Adventures #3
Who knew pretending could be so hot?
It started as a joke. After all, I'd never pretend to date a woman just to get my mom and sister off my back.
I would, however, pretend to date her to get her ex-husband off hers.
Now the two of us, the wilderness warrior and the wedding planner, are stuck sharing a very small tent. I had no idea how fast things would heat up in here, or how hard it would be to keep my hands—among other things—to myself.
I also didn't guess how quickly the news of our "relationship" would spread to my big, nosy family.
We can't "break up" yet, because she's planning my brother's wedding and I'm his best man. Through venue visits, DIY disasters, and Vegas trips, we're thrown together, and the chemistry's off-the-charts. But the kicker is, I feel like she gets me.
Maybe that's what scares me the most. I'm still reeling from the loss of my wife, and she's still hurting from her ex's betrayal. There's no way this can ever be real.
But what if I'm starting to hope it is?