In Wildflower Redemption by Leslie P. Garcia, Luz Wilkinson is trying to rebuild her life in a safe way. She did her best to love her husband and accept his newborn daughter he brought home a week after they married and balance her career as a teacher as well. She loved that little girl like she was her own, but when the biological mother took away her child and ruined her reputation, she also ruined her marriage and her career.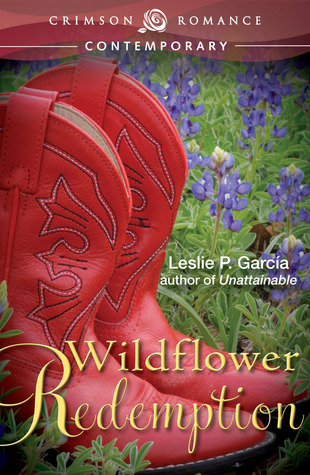 Now Luz wants no attachments and doesn't want to care about anyone again. It just hurt too much. So she spends her time on her ranch taking care of the horses she boards and the discarded animals people just mistreat or abandon.
Aaron Estes loves his daughter Chloe, but after the school shooting that killed his wife in front of his daughter, he knows that he needs to go somewhere new. Somewhere where people won't ask painful questions or judge without knowing the truth. He plans to drive far away and find a completely new place where no one will know them. But when he stops for gas, the gas station clerk offers him a place to rent and stay while he figures out his life. And that is how he finds himself in tiny Rose Creek with his daughter and not knowing if he will stay or move somewhere else yet.
Now prompted by the school counselor Esmeralda Salinas, Aaron takes Chloe to the Wilkinson place for therapeutic riding lessons. What he didn't expect was the really attractive Luz Wilkinson to be the type of woman he wants as mother to his child or that Luz's reluctance to interact too closely with Chloe. But the more that he sees them together the more attracted to her he is and the more he wants to date her.
Luz can tell that Esmeralda is interested in Aaron and she learned her lesson and she refuses to enter another relationship that involves another woman or another woman's child. But the mutual attraction is undeniable and Aaron won't give up so easily on getting Luz to date him. Unfortunately his protectiveness of his daughter and the manipulations of Esmeralda may just ruin the few steps forward that he has been able to take with Luz.
Aaron and Luz have a lot of issues to get past, and some truths to reveal in order to be able to trust each other as much as they should in order to be able to have any type of relationship succeed.
I honestly cried while reading some scenes in this story. Both Luz and Aaron as well as Chloe have suffered enough for a lifetime and deserve happiness, but until they both learn to trust they will not be able to get past mistakes, misunderstandings and manipulations. But when danger comes knocking to Luz's door, only the love of Aaron will be able to save Luz.
If you want a sweet, heart breaking and second chances love story, don't miss Wildflower Redemption by Leslie P. Garcia.
Book Info:

December 9th 2013 by Crimson Romance
You can't have it all. At least, not forever. Luz Wilkinson learned the hard way that balancing a career, marriage, and motherhood can end in absolute destruction of heart and soul. When the biological mother of her daughter tears the child away and ruins her reputation, Luz goes home to tiny Rose Creek to rethink life and ambition. She surrounds herself with discarded animals and plans never to care again.
Widower Aaron Estes lives for his daughter, Chloe. Fleeing from the horror of losing his wife in a school shooting, Aaron stops in Rose Creek on a whim and a random act of kindness from a gas station clerk–not a lot to build a life on, but a momentary redemption from his sorrow and fears for his daughter. Prompted by counselor Esmeralda Salinas, he takes Chloe to the Wilkinson place for therapeutic riding lessons, and finds Luz everything he wants in a mother for his daughter–but Esmeralda's open pursuit is a problem. Burned by her divorce, Luz refuses any relationship involving another woman or a man with another woman's child.
Unlimited love for their children comes easily–but will they ever be able to conquer past pain and love each other?