In With Love from London by Sarah Jio, Librarian Valentina "Val" Baker has had two spirit-crushing blows dealt to her back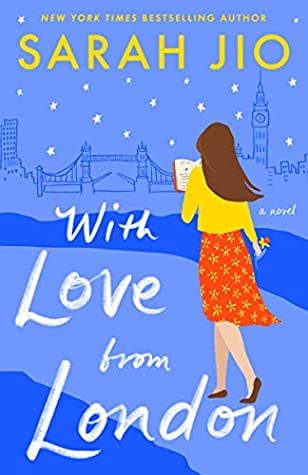 to back: her husband asked for a divorce, ending their more than a decade-long relationship together, and her estranged mother passed away, leaving Val her Primrose Hill, London, property. Something she knew nothing about considering the life her mother, Eloise, led once she fled from California to her hometown of London was an absolute mystery to Val. And not one that she's sure she wants to understand after years of sadness and anger over the abandonment.
"Even if you don't choose to forgive her, this place is about more than just her. The Book Garden has found its way into the community's collective heart–and that's worth fighting for, don't you think?"
When she arrives in London, Val is pleasantly surprised to find the charming Primrose Hill building includes a bookshop, which she knew was her mother's dream of owning one day. But the Book Garden is in financial dire straits. And that leaves Val with the tough choice of selling the building or trying to make the shop profitable. With the help of some of her mother's closest friends, the community, and a scavenger hunt taking Val across the city finding clues about Eloise's life, she learns that opening up to new experiences might just put her in the exact place she needs to be.
'I'll never again have to look for Mummy… She's been in my heart this whole time, the one place where we'll never be separated. I smile to myself, composing the letter I would send to her right now, with love–with so much love–from London.'
With Love from London was an emotionally-charged novel about paths not taken, starting over, and serendipity. Author Sarah Jio infused this story with enough heartache and loss to make a reader sob, but it was also filled with all the tenderness and unending love these memorable characters deserved.
'I held Val tighter, determined to set my daughter on a path toward happiness, one that mirrored the very best stories. Hers would have a happy ending.'
I'm still sniffling after reading the last couple of chapters (and after ugly crying), trying to wrap my head around all the threads of this story. It was a dual timeline, focusing on Valentina in 2013 and her mother Eloise, starting in 1968 then continuing forward through the decades. It honestly took me a little while to feel connected to both characters–particularly Eloise. Not because of the timeline but because I struggled with her actions and choices at first. It was once she got to America and started her life as the wife of a wealthy businessman that it all began to fall in place for me–while Eloise's life unfortunately began to unravel.
Valentina's part of the storyline found her at a crossroads as she forged a new life in London while getting divorced. She had a quiet strength, yet didn't think of herself as brave–although I did and think readers will as well. Val was understandably standoffish when it came to learning about her mother's life after she supposedly abandoned Val. The truth was heart wrenching. And I will not spoil it for you. But I loved the evolution Val went through in London. How she trusted herself more, opened up to new friendships and a completely new (SO lovely) community. And perhaps even to love…
With Love from London was quite sad in many ways–I won't lie that it was tough to read some parts. But the intricate way Jio wove this mother and daughter's stories together, sometimes mirroring each other with their losses in life, was very clever and all of which led to a touching ending that made the journey more than worth it.
QOTD: A scavenger hunt was involved in Valentina learning about her mother's life in London. Have you ever been part of a large-scale scavenger hunt?
Book Info:

Publication: Expected publication: February 8th 2022 | Ballantine Books |
A librarian inherits a bookshop from her estranged mother, leading her halfway across the world on a journey of self-discovery that transcends time and honors the unbreakable bonds of love and family.
When librarian Valentina Baker was a teenager, her mother, Eloise, unexpectedly fled to her native London, leaving Val and her father on their own. Now in her thirties and fresh out of a failed marriage, Val feels a nagging disenchantment with her life–and knows she is still heartbroken over her mother's abandonment.
In a bittersweet twist of fate, Val receives word that Eloise has passed away, leaving Val her Primrose Hill apartment and the deed to a bookshop Val never knew she'd owned. Though the news is devastating, Val finds herself more determined than ever to discover who her mother truly was. She jets across the Atlantic, departing Seattle for a new life in charming London.
Slowly but surely, Val begins to piece together Eloise's life in the UK, falling in love with her pastel-colored flat, cozy neighborhood, and tucked-away storefront. But when she discovers that The Book Garden is in danger of going under, Val must work with its eccentric staff to get it in working order. In the process, she learns more about Eloise than she ever thought possible. And as Val races to save the shop, Eloise's own story unfolds, leading both mother and daughter to unearth revelatory truths.