With The Lights On by Jackie Ashenden is a dark, highly erotic story that takes place mainly during one night at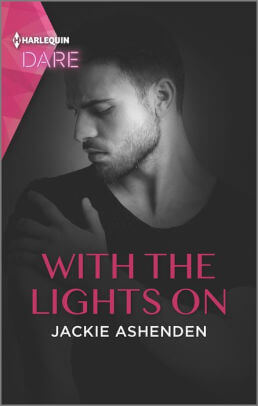 the hero's apartment. Trajan has become quite wealthy, but has to deal with a degenerative disease that is slowly destroying his vision. He has acquired the services of an escort service called Strangers to see if he can have function around someone and not let them detect that he is vision impaired.
Honey works for Strangers and Trajan has become a regular client. They usually just talk and have meals in his apartment. Trajan wants a last night where they can be "real" and explore their fantasies. Trajan has always used his real name, but Honey is really Magdalen aka Maggie. Maggie got into the escort business to take care of her grandmother and save to go to medical school. Will they both be able to move on after a night of passion?
This was my first Harlequin Dare. It certainly was 180 degrees from the Harlequin Presents I read in the 1980's. Author Jackie Ashenden is a very prolific author ,who I am sorry to say, I had never read before.
The author draws the reader into a tantalizing tale that sizzles. It is not always easy to write love scenes that are so highly charged, but Ms. Ashenden does a masterful job. The author's many titles in the Dare series shows she is at the top of her writing game. Trajan is an alpha male, but hides his hurt well. Maggie is a strong heroine who does things her own way.
If you want something to heat up your reading life, be sure and get a copy of With the Lights On.
Book Info:

Publication: April 15, 2021 | Harlequin Dare |
One night to be herself…
Trajan is a gorgeous Manhattan billionaire. He's also Maggie's client, so she shouldn't be falling for him. They agree to one night of exquisite pleasure, and then she can never see him again. But will the man who clings so fiercely to control let her in for more than one night?