Don't Be Silly! At My Age? by Jacqueline Diamond is the second book in her Sisters, Lovers & Second Chances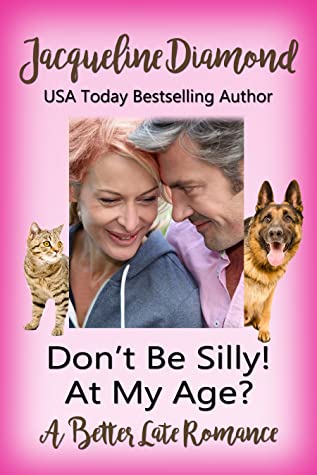 series.
Mandy Matchett is the nursing director at Rancho Allegro Medical Center. Fresh off being dumped Mandy decides she wants to write a book. That would be a good distraction. Now Mandy is far from being a young ingenue. She's fifty-four years old and has never been married. No guy she has dated seemed to be the "one."
Following a showdown between her cat and an elderly German Shepard being walked by mystery writer Richard Forbes sparks were flying. No just between the cat and dog. How could she be attracted to this arrogant guy? How could she agree to take a writing class he teaches? Getting to know Richard means revising her opinion of the man. He's not arrogant. He's a really nice guy. And the sparks are starting to be fiery attraction. Could she be falling in love at her age?
Richard Forbes is a mystery writer. He is working on the next book in his Drake Decker mystery series. Following the death of his wife Alice his father-in-law, Dean Conrad, who owns a book store talked Richard into doing weekly writing classes. Richard is thrilled to find that Mandy Matchett will be joining his class. A perfect opportunity to get to know her better. He never thought he would fall in love again after Alice's death but Mandy fills his heart with love.
This is a wonderful golden years romance. The main characters are realistic and very likable. I enjoyed the feeling I got throughout the book that these two mature adults took their budding relationship seriously. They both had realizations that were thought provoking and added to the solidness of their relationship. There are fun scenes, serious scenes and emotional scenes. I enjoyed the scene where Richard's dog encountered Mandy's cat for the first time. One of the best scenes in the book was Richard's proposal. Quite a unique one!
QOTD: Are you ever too old to fall in love?
Book Info:

Publication: June 9th 2021 | K. Loren Wilson | Sisters, Lovers & Second Chances #2
At 54, the strong-minded nurse doesn't believe in romance. At 60, the successful novelist is sure he knows all about it. They both have a lot to learn, mostly from each other!
Nurse Mandy Matchett dreams of writing a book. Why not take a class taught by her neighbor, mystery writer Richard Forbes, even though she finds him arrogant and her cat hates his dog? This outspoken duo is on course for a collision that will rock both their worlds.
Don't Be Silly! At My Age? is the second book in the Sisters, Lovers & Second Chances series. Reviewers raved about Really? At Your Age?, which features Mandy's sister, Dr. Cody Matchett. J. Molynick called it "…a riveting read! I finished it in a matter of a few hours." Irene S. wrote, "This is a book that I will keep and reread again."
Both novels are part of the Better Late Romance line featuring older couples. USA Today bestselling author Jacqueline Diamond has sold more than 100 novels, including romantic comedies, medical romances, mysteries and Regency romances.