With This Man by Jodi Ellen Malpas, brings fans another book dedicated to Ava and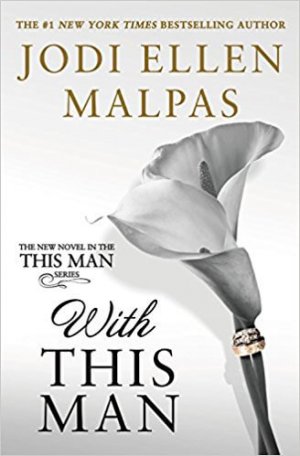 Jesse Ward. For those who have read the "This Man" series, news of this book either made you jump for joy or made you rock back and forth in a corner somewhere. This author decided another look into Ava and Jesse's life, after their happy ending, was something that needed to be done and here we are. For those who aren't familiar with The Lord and his wife, don't worry, you can still enjoy this book!
Jesse "The Lord" Ward is turning fifty and fifty looks mighty good on him. Everything in his world is going right. His wife, Ava, and the twins are still by his side. But one life changing phone call threatens to change that. Ava was involved in a car accident and well, she doesn't remember anything. And by anything, I mean her life with Jesse.
Jesse has his work cut out for him. He has to make Ava fall for him, all over again. Not only that, some familiar characters show up and make his job that much harder. Poor Jesse. He's not easy to love and his alpha ways, do get to be a bit too much, but that's what Ava first fell in love with and he's going to have to trust that it will happen again. One thing readers will never have to question, is Jesse's love for Ava. It's unbreakable!
Ava is determined to remember Jesse. The photographs and glimpses of her memories that randomly pop up, only make her crave her life back, and Jesse holds nothing back.
"Oh, you're kinky, lady. And in a whole league of your own.
"What do you mean?" Her cheeks flush. I haven't seen embarrassment on my wife for years. It still looks good her. I relish the sight, leaning in toward her to get close. "You're a teasing temptress, baby. A savage when you want to be."
Knowing how Jesse and Ava get down, it would knock anyone for a loop, but Ava takes it well. While Ava and Jesse work on her past memories, they also create some new ones, and it only adds to their amazing love story. Devoted fans of Jesse and Ava will eagerly devour every word from this book.
Book Info:

Publication: March 20th 2018 | Forever | This Man #4
Jesse Ward is back in the newest novel in the Sunday Times and New York Times bestselling This Man series!
Life is good for Jesse 'The Lord' Ward. Perfect, actually. He still has the charm, he's in great shape, and he still reduces his wife, Ava, to a pool of desire with a mere look. He's in full control, just how he likes it.
But Jesse's perfect world falls apart when a terrible accident lands Ava in hospital with a life-threatening head injury. Devastated and angry, he feels like his entire existence hangs in the balance. He cannot survive without this woman's love. So when she finally comes around, his shaking world begins to level out. But his nightmare doesn't end there. It's only just begun. Because his wife can't remember the last sixteen years of her life. That's all of him. All of their time together. He is a stranger to her.
Now Jesse must do whatever it takes to find her memories . . . and help her fall madly, passionately in love with him all over again.