In Wolf Rain (Psy-Changeling Trinity #3) by Nalini Singh, When wolf-changeling Alexei Harte, a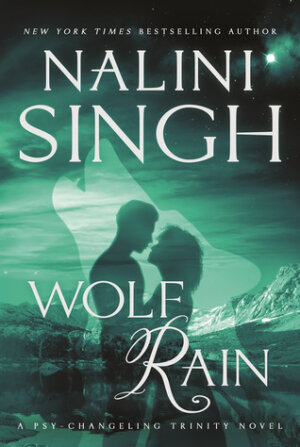 lieutenant in the SnowDancer pack, picks up the scent of a woman in utter despair and in need of help, he doesn't think twice about going to her rescue. But what he finds is even worse than he imagined. A beautiful, frightened empath appears to have been held captive for years in a bunker built into the earth. Alexei knows that after her ordeal, freeing Memory from her prison will only be the first step of many to getting her used to the world as it is now. He'll do whatever it takes, though, to prove to his little E that she has the heart of a warrior and the kindness of her designation. As long as Alexei doesn't lose his heart to her, so he can avoid the curse that plagues men in his family, then he'll be satisfied.
'Right then, all he wanted was for her to know pleasure, know that the world could be better than horror and darkness and a cage.
Dropping his head, he kissed her.'
Memory hoped, planned and dreamed of the day she'd finally get to try to break free of her underground prison. That it was a wolf-changeling who saved her was certainly a surprise, but she couldn't be more thankful to Alexei. So much has changed in the years Memory has been held captive, including the fall of Silence. As an empath, she's never really had a chance to develop her abilities, but now she has a chance to explore life as an E. Although with the PsyNet in danger of collapsing, an evil man hunting her down, and a dark power threatening Psy all over the world, Memory and her rescuer have their work cut out for them. Not to mention the crackling attraction between them. If only she can make Alexei understand how she sees him, maybe they can have a chance at a real future–together.
"You're mine, Alexei." She was through playing by his rules; what lived between them had nothing to do with gratefulness or imprinting. It had to do with Alexei and Memory.
A compelling addition to the Psy-Changeling Trinity series, Wolf Rain brought fans back into SnowDancer territory. (Finally!!) With wolves, Psy, a fated romance, and not one, but two evil minds at work, Nalini Singh pulled out all the stops in this heart-pounding novel.
'But empaths weren't the only ones who woke with the fall of Silence.
So did a power that should've lain dormant forever.
And that dark power…it screams.'
After reading (okay, devouring) Wolf Rain, I have to admit that, as always, I so want to live in the incredible world Nalini Singh has created for this Psy-Changeling Trinity series. She somehow made characters who, even though they are of course wild and at times untamed, there is something so elementally human about them that as a reader I can't help but relate to them. And that can be a pretty tough thing to do in a fantasy series. But Singh does it spectacularly. Especially in this book where we were immersed in the midst of wolves in SnowDancer territory, I could really see those intricate details she uses to enhance a character as well as a scene.
There was a whole lot that happened in Wolf Rain as you would expect with this continuing story arc. I don't want to give too much away. I can say that the fall of Silence and the issues with PsyNet were still being sorted out with possibly, maybe, some good news on the horizon for all involved. But we'll see. The main focus was with wolf changeling Alexei and his slow but steady romance with Memory, who was an empath. They definitely had their work cut out for them. There was a supposed family curse hindering our hero, and our heroine had to work through being held captive for most of her life.
I did love both Memory and Alexei right away and thought they made a terrific couple. I was pleasantly surprised that Memory was such a kickass woman! Although being kidnapped for so long caused its problems as expected, she was strong, resilient, didn't take any guff from Alexei (lol), but had that wonderful caring, giving nature inherent to Es. And our naughty, brooding wolf, well, he was just as strong and loyal as Memory was, plus Alexei took on the weight of others' problems and loved helping his pack. I just adored them both. And I think the fitting ending will have readers sighing happily and excited to see what will happen next.
Huge emotions and powerful connections were just the beginning of what made Wolf Rain an unputdownable book. This is a series–and an author–that never lets me down with its smart, complicated arc and the many diverse and dynamic characters. Highly recommended.
Book Info:

Publication: June 4th 2019 | Berkley | Psy-Changeling Trinity #3
New York Times bestselling author Nalini Singh takes us on a new adventure in this next novel of the Psy-Changeling Trinity series…
The end of Silence was supposed to create a better world for future generations. But trust is broken, and the alliance between Psy, Changeling, and human is thin. The problems that led to Silence are back in full force. Because Silence fixed nothing, just hid the problems.
This time, the Psy have to find a real answer to their problems–if one exists. Or their race will soon go extinct in a cascade of violence. The answer begins with an empath who is attuned to monsters–and who is going to charm a wolf into loving her despite his own demons.