In Working With Heat by Anne Calhoun, Milla Jackson has created a name for herself by traveling the world and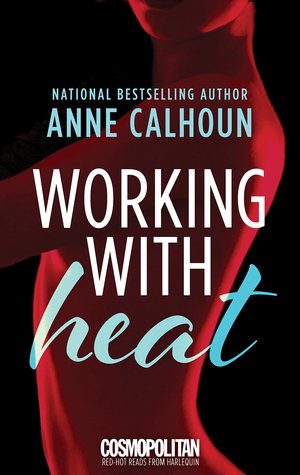 blogging about it. Currently, her home base is in London's East Side, where she rents a flat with two great roommates. The building's owner, Charlie Tanner, has become a good friend as well. But lately Milla has noticed a spark between herself and Charlie that she didn't see before. And when their chemistry turns them into friends-with-benefits, she expects they'll be able to remain friends no matter what. Her heart, however, may have other plans.
'She didn't want to just be his secret. She wanted to share his secrets. But she liked what was happening between them too much to risk upsetting the balance by demanding he reveal more than he wanted to.'
Glass artist Charlie has spent years focusing on honing his craft after a disastrous relationship imploded publicly, leaving him unwilling to enter into a relationship again. Spending a bit of time here and there with Milla and her roommates to blow off some steam seems relatively harmless. Until the night that Charlie and Milla take advantage of the attraction between them. They agree to keep things casual, but he's already in too deep by the time he realizes how important she's become. Now Charlie has to decide if he can be with someone always in the spotlight, sharing their lives with the world, or if his privacy is more important.
"We're friends," he growled, his forehead pressed to hers. "I don't want to lose this."
"You're not going to lose me," Milla said. She gripped his hair in her fist and tugged gently until he looked at her. "You're not going to lose me, Charlie. We will always be friends."
Working With Heat was a very fun and sensual novella set in London's East End. Part friends-to-lovers story, part self-discovery, Milla and Charlie's relationship and inner struggles had me glued to the pages.
I loved the easy way author Anne Calhoun set up the scenes in this short story. There was a twenty-something vibe amongst the characters, and that fresh look at the world was reflected in the dialogue and the way they all interacted. Milla's addiction to her mobile and tweeting about her life was comical, but also seemed quite realistic given her penchant for traveling and blogging. I thought it was so refreshing that she could see the beauty in her travels and wanted to share that with the world. However, I also understood Charlie's need for privacy, focusing primarily on his art.
The chemistry between Charlie and Milla was both intense and a whole lot of fun. There was a warmth they shared that was so appealing, basically where they had started off as friends. The love scenes didn't seem forced or unrealistic. They were natural, along with the problems that happened after the fact. You just know when it's a friends-with-benefits story that drama will undoubtedly occur at some point. Again, I thought the way this was written, especially the ending, didn't seem like we skipped some steps, even though this is a novella. I liked how it ended and felt it was perfect for our protagonists. And perfectly romantic, too!!
Readers are always guaranteed a sexy story with Cosmo Red Hot Reads. Here we definitely got that, but so much more with this lovely romance that blossomed between friends.
Book Info:

Publication: May 12th 2015 by Cosmopolitan Red-Hot Reads from Harlequin |
For now, Milla Jackson is an American in London, but she's also been an American in Paris, Rome, Prague and more. She's working hard to combine her love of travel and growing social media presence into a career, even involving her followers in her (somewhat dismal) dating life. When the combustible heat between her and her best bloke, Charlie, explodes, she's unprepared for the secrecy of "friends with benefits." Charlie's an artist who's already been burned by one woman who used social media against him. He's determined to keep his hands on the glass he works with–and off the irresistible Milla, who's sure to share every detail with her followers. Will their best intentions survive a secret relationship? Or will the heat transform their fling into something that can overcome Milla's fear of permanency and Charlie's reluctance to trust again?