Worth the Trouble by Jamie Beck: Cat has lived her life as a world-famous model whose life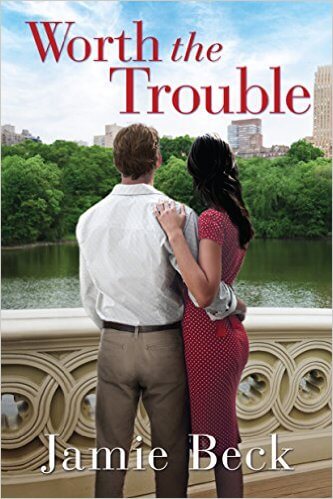 appears picture perfect, meanwhile she's still recovering from her previous relationship and a new secret. She's thrilled to see her brother and best friend so happy and in love, but their joy highlights how empty her life is.
Hank dreams of crafting furniture for a living, but he's responsible for his ailing mother and raising his sisters. He's had to set his own dreams aside to take care of his family. Hank and Cat have crossed paths previously, and they clearly have unfinished business.
"Why do you get such a kick out of taunting me?" he finally asked.
"I like the way you blush." She grinned, waiting for the appearance of the dimple on his left cheek. "Keeps you honest, and reminds me of Vivi. Neither of you hide your emotions well."
Cat is looking for a new challenge and planning for a life after modeling. She's determined to focus on work, except she can't stop thinking about Hank. She regrets her previous choices, but she doesn't know how to move forward. But when she sees his custom made furniture, she envisions a new business partnership that can fulfill Hank's dreams while giving her the new challenge she needs.
"Maybe you should stop thinking about the risks and focus on the opportunities."
She dragged her gaze from his mouth to his eyes and held it there, linking him in her intensifying energy.
Before it ebbed, he hauled her closer to deliver his own dare. "I could say the same thing to you about relationships, Cat."
Hank is loyal to his family and his responsibilities. Cat tempts him like no other and pursuing this new business venture may be a way to build the romantic relationship he wants with her. Cat and Hank have great chemistry, but Cat tends to be more reluctant and closed off to the idea of love.
Worth the Trouble is a sweet, yet sexy, opposites attract romance. Cat could be challenging to relate to, as she can come across as selfish and manipulative. Jamie Beck creates an interesting pairing in Cat and Hank that lives up to their potential from Worth the Wait. Ms. Beck provided interesting secondary characters in Hank's family and Cat's neighbor. Worth the Trouble can be read as a standalone book in the St. James series. Fans of Tracy Solheim and Mari Madison will enjoy Worth the Trouble.
Book Info:

Publication: Published February 23rd 2016 | Montlake Romance | St. James #2
Cover girl Cat St. James's picture-perfect life is anything but flawless. Luckily, she's a master of hiding the truth from the camera. Relying on that skill, she conceals her latest secret from her family while attending her brother's wedding. Her only trouble now is Hank Mitchell—the soft-spoken carpenter she'd once brushed aside. Seeing him at the reception underscores her private heartache and ignites unwelcome longing, which she promptly drowns in champagne.
Hank is no stranger to sacrifice, having set aside his own ambitions to take care of his family. One thing he won't forsake is his pride, which Cat already wounded once. But when the maddening beauty's reckless behavior forces him to rush to her rescue, he sets in motion a series of events that leads Cat to make a business proposal granting him his dream job.
When Cat and Hank mix business with pleasure, promises and secrets unravel, and each must decide if and what they'll surrender for love.