In You Are Invited by Holly Jacobs, Mattie Keith has been traveling the country her entire adult life, meeting new people and working different jobs. She loves to have new experiences and to make a connection with others. However she gave that up willingly to help take care of her sick best friend,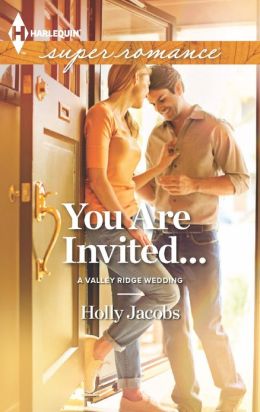 Bridget, and her three children. She is left as their guardian after Bridget passes away and finds herself overwhelmed with grief and in dealing with the children, whom she adores. Mattie is unsure of the right way to handle things and finds herself asking, "What would Bridget do?" over and over.
"The secret fact of the matter was, Mattie didn't want to be here. She felt guilty admitting it, even to herself, but there it was."
To make matters worse, the children's uncle Finn is suing her for custody. She is determined to prove that she is more than capable of taking care of the children and can provide the time, support and love they need in a caregiver. She is convinced that due to her lack of solid finances or a career, Finn will win out as he always does. Mattie tries her best to protect the children but also allow their uncle into their lives in case he does win custody. She wants to make this as easy as possible for them considering all they've been through. As Finn spends time with them, though, she has to admit he is really trying and handles them better than she expected. She also finds herself caring more about him than she should allow herself to.
"She didn't want to like the man who was suing her. She certainly didn't want to be charmed by him."
Finn Wallace is a first-class surgeon in Buffalo, New York, where he devotes his time to his career. The recent passing of his sister has hit him harder than he thought it would and he wants to do what he feels is right for his nieces and nephew: get custody of them and bring them to live with him in Buffalo. He tried convincing Mattie it is the best option, but she refuses to give up guardianship so he decides his only choice is to sue her. He knows he wasn't there as much as he could have been when his sister was sick and this is his way to make amends. He can provide for them financially in ways she can't but as he spends more time with the kids, he wonders if that will be enough. They need someone they can trust and a nanny or babysitter may not be the best option. Finn soon realizes that his sister's childhood friend has grown into a beautiful, caring and incredible woman who he finds himself drawn to. They both have important decisions to make that will change not only the children's lives, but of course their own.
Holly Jacobs has a wonderful writing style. The story switches back and forth between Mattie and Finn's point of view, which I found incredibly satisfying. She manages to take a story of loss and grief and somehow make it full of love and a sense of togetherness. The secondary characters in the book added depth to the plot and leaves room for the possibility of more books…hopefully!
If you're looking for a romance that pulls at your heartstrings and will have you crying, laughing and sighing, this is definitely recommended.
Book Info
Publication Date: April 2, 2013 | Series: Harlequin Superromance (Book 1846)
Valley Ridge, New York's most unlikely couple!
For Mattie Keith it's the best 
and
 the worst of times. She should be reveling in the joy that one of her closest friends is getting married. Instead, she's being sued. All because of the three kids she recently inherited. She's trying to do what's best for them…even if it means fighting in court with the children's uncle, Dr. Finn Wallace. None other than Mattie's first and 
last
 crush.
Yes, Finn's heart is in the right place. But can't he see that by living with him, the kids won't have what they have here in Valley Ridge—a real home? While Mattie's trying to show Finn what he's missing, she's also trying to fight her growing feelings for him. Is he standing in the way of her happiness, or is he her happiness in disguise?