In Send Me No Flowers  by Trish Jensen "Jumbo" Jenny returns to her hometown of Daredevil. Now thin and successful, she opens a flower shop and sends a lot of 'Dear Jane' bouquets to the ladies in town, courtesy of her childhood crush, Sheriff Rob Townsend. He was the first boy to show her kindness, and she wasn't fond of his apparent playboy ways. Especially when it meant that the women of Daredevil took off running when they saw her coming.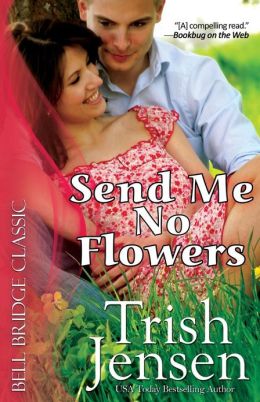 Rob doesn't recognize her at first, and she isn't quite sure how to feel about it. She's torn between being flattered about her new appearance and sad that he can't see the little girl he once defended. After spending the day with her during the town's Founder's Day festivities, he finally recognizes her – but realizes he desires her as well.
She comes clean rather quickly, and he doesn't hide the fact that he knows who she is – so no angst there. She is convinced, however, that the town will ridicule him if they find out he's dating one of the strange Farnsworths. Rob has his own issues stemming from the censure of his brother, Trey. Trey was a firefighter who was badly burned. Upon learning that his recovery wouldn't be quick or total, his wife leaves him. The person that helps her leave? Rob's fiancee. So Rob is very careful not to let any woman close to his heart or his family.
In a bit of a test, he arranges a dinner at his brother's house for the three of them, and Jenny (of course) passes with flying colors. She could never be someone who judges based on looks. Her reactions to and conversations with Trey rang true – it wasn't all hearts and flowers – she didn't mince words or step delicately. In fact, she follows in her family tradition of doling out home remedies by giving Trey burn cream.
A cute little romance, it was a fun and fast read. I enjoyed the relationship between Jenny & Rob, and by extension, Trey.
There were a couple of little things that bugged me. The story's pacing was faster than I would've liked. Another 100 pages and some plot points could have been fleshed out. More dating between Jenny & Rob, more of a story for Trey, learning more about the townsfolk – all of that would have made a more well-rounded story.
Also, I wasn't fond of the use of southern speech. I don't mind a little, but a few times it seemed slightly excessive. Rob started out calling her 'Miz Creighton', and there were a lot of 'darlin's'. A little is okay, but when it distracts from the story instead of adding to it, I have to call that one for the 'don't' column.
Overall, it was very pleasant. Not hard to read in one sitting if one is so inclined.
Book Info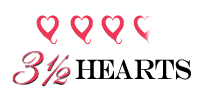 Publisher: Bell Bridge Books (February 5, 2013)
When she was known as an overweight kid from a "loony" family, he often rescued her from bullies. Now she's come back home all grownup and gorgeous, and he's the one who will need rescuing.
Sheriff Rob Townsend of Daredevil, South Carolina remembers Jenny Creighton as the girl mean kids called "Jumbo Jenny." He was compelled to protect her on more than one occasion, a brand of heroic kindness Jenny never forgot. Jenny's returned to the small town to claim an inheritance and open a flower shop. On the inside, however, she's still the chubby girl who doesn't want anyone to remember her humiliating past.
Rob has turned into a hunk with a painful history of his own—one that makes him the biggest heartbreaker south of the Mason-Dixon line. When he becomes her best customer—buying flowers as goodbye gifts for a growing line-up of ex-girlfriends—the women in Daredevil begin to run from Jenny and her kiss-goodbye bouquets. How can she build a business when all the single gals in town are scared to see her on their doorsteps? And what are the secrets behind her childhood hero's love-'em-and-leave-'em lifestyle?