You're Still The One by Erika Kelly: Stella Cavanaugh has always had a knack for knowing what people truly want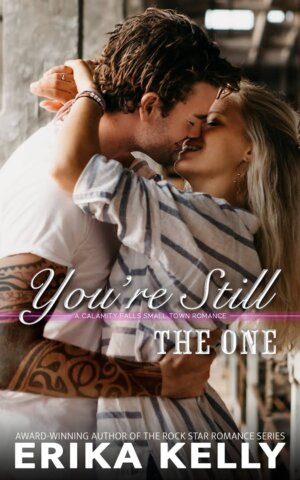 even before they do, her delivery however hasn't always been so great. After the aftermath of her actions involving her sister Lulu, Stella has really tried to learn from her mistakes and uses her seven years of self imposed exile to work on her impulsive nature, which is exactly why she decides to take a leap and take the job as a wedding planner in her home town of Calamity Falls. The only question is how will her family react to having her back home and where will things stand with her one true love Griffin James, especially now that Stella has once again acted without thinking her actions through?
"They were doing this whole fake engagement thing—that meant they had to be together. When had she ever accepted defeat? It wasn't in her DNA. She'd use this time together to get to know him again, flirt her ass off…and she'd win Griffin James back. Because he was her one and only. She'd known it then, and she knew it now."
All Griffin wants to do is make the next few months as fun and normal as possible for Austin while his father is out on deployment, however with Austin's crazy controlling maternal grandparents breathing down Griffs neck at every turn threatening to take Austin away, things are proving to be more of a challenge than Griff had expected. On top of this the last thing he expected was to have Stella steamroll her way back into his life with her grand schemes and plans to save everyone, and as much as he wants to push her away and rebel against it Griffin just can't seem to stop his heart from wanting to follow along with all of Stella's well meaning plans.
"She wasn't going anywhere. She wanted to live in his scent, in this lush kiss that hinted at the barely restrained desire rumbling under the surface. She wanted to kick down the barriers, let out the carnal man who took what he wanted."
You're Still The One was even better than I could have hoped for, after reading Lulu's story and getting a glimpse of the whirlwind that is Stella, I could not wait to get fully invested in her story. And let me just tell you, it was even better than I had expected! Kelly combines two of my favorite tropes the small town romance and a second chance romance, both of these played out so perfectly together with Calamity Falls being the perfect backdrop for Stella and Griffin to fall in love with each other all over again.
"Stella, you are the party. You're the focal point in any group. You're the brightest light and the warmest heart, and I will always love you…"
I will be honest at first I was not to keen on Stella after all the image we had of her was this crazy impulsive chick who smashed her sisters heart, however once you get to know Stella it is impossible not to love her! I will agree that she was a bit extreme with what she did to Lulu but her intentions were good and this holds true for everything that she does. My heart just broke for her and the fact that she shut herself out from her family for so long, but I loved the way they all welcomed her back once she explained everything even the whole situation with Griffin and their fake engagement.
"His love, it was like a blanket on a cold day. It was like hot cocoa in front of a fire. It enveloped her, comforted her, and strengthened her. Griffin James was the fabric of her soul, and she would never be complete without him."
Oh gosh, Griffin! I just wanted to give him a big hug and then shake some sense into the big tattooed biker! I loved that he was such a protector, be it to his family or with Austin, all he wants is to keep the people that he loves safe. Where Stella was impulsive and spur of the moment, Griffin was the planner, talk about major opposites attract! After having faced a major shock as a teen it is easy to see why Griff is so cautious, but to some extent I did feel that he let this fear hold him back for way too long. This is exactly why I loved seeing Stella storm her way back into his heart and life.
"You make me feel alive. Swear to God, Stella, I've been idling since you left."
Family was a major theme though this novel and there were three very distinct types here; the Cavanaugh and James warm tight knit units, the overbearing and strict Pilsons and then there was the self created unit that was Stella, Griffin and Austin. I absolutely adored the way Stella instantly connected to Austin and wanted to bring out the best in this shy boy. I loved watching Austin open up and come into his own thanks to Stella. It was such a treat getting to catch up with some of the old characters that we have come to know and love.
You're Still The One is an absolute must read, Kelly has fast come to be a must read author for me and the Calamity Falls Series will always have a special spot in my heart! This is one second chance romance that you do not want to miss!
Book Info:

Publication: July 8th 2021 | Erika Kelly | Calamity Falls
✔️ Hot, inked, motorcycle-riding hero
✔️ Sexy wedding planner with a whole lot of explaining to do
✔️Steamy, small town romance
✔️Second chance romance
✔️And lots and lots of make-up sex
When Stella Cavanaugh gets the chance to come home after a seven-year, self-imposed exile, she takes it. She was born to be a wedding planner, and she hopes creating her sister's wedding might just earn her the redemption she's been hoping for.
The only thing holding her back is the fear of running into Griffin James, the love of her life. Because she not only hurt her family, she destroyed their relationship. Burned it right to the ground. And she just doesn't know if she can bear to find out he's moved on. She sure hasn't.
Griffin James has a roommate. The fourteen-year-old's staying with him while his dad's on deployment. Sounds simple, but the boy's grandparents are looking for any excuse to pull him out of the clutches of the big, tattooed owner of a bike shop. If Griffin can just stay under their radar, everything should be fine.
But that's just not possible when Stella bursts into their lives. Her sparkly spirit, her big, splashy ideas, and her impulsiveness always lead to disaster. He knew that…but he couldn't resist her.
And now she's on the run again, because…
The very things they love about each other are also what tear them apart