In You're the One by Robin Kaye Bad Boys of Red Hook (Book 2), Logan is back in Red Hook to help run the bar while his foster father Pop recovers from a heart attack and bypass surgery. He doesn't expect to be in Red Hook long, before heading back to Napa and the successful vineyard owned by his fiancee's family.
Skye is escaping from her well known family, looking to make her own way when she ends up in Red Hook. As the fates would have it, the chef at Logan's family's bar/restaurant has just quit, and Skye is a chef. With no one else able to take on the job, Logan hires Skye, with no clue who she is. Skye is determined to make a name for herself without her family connection.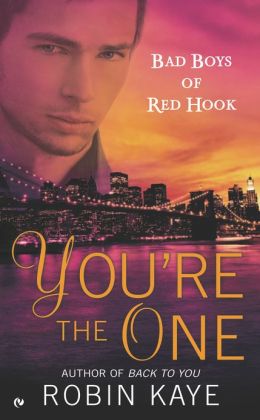 Skye is just as determined to be all business with Logan, despite the unwanted attraction she feels for him. After all, he is engaged…to a socialite who he feels connected to, but not in love with.
Logan feels more comfortable and happy being back in Red Hook than he thought was possible. This is his home, his family, their business. There is also little Nicki, his new foster sister who has made her way into his heart. Logan starts to see his life with his fiancee Payton in a whole new light, how superficial it is. Unfortunately Logan has hidden his past from his fiancee, and she is not too happy about it, or the place Nicki has in his heart when she finds out! Logan is no push over and when she makes him pick, he does not pick her!
Neither Skye nor Logan can deny their attraction to each other any longer…whether they work together or not. Skye learns that jumping to conclusions and first impressions can be way off as she sees Logan relax more and more in his home town, and gets to know who he really is. Skye wants to keep their relationship under wraps for now, but in a small town like Red Hook that's impossible! Soon Skye starts to feel like she's finally found a place.
Skye has not been honest with Logan about who she is and her past, and Logan's work at the vineyard causes them upheaval. Once again we are shown that jumping to conclusions and not getting all the facts can ruin a relationship that's just getting started, and when Skye does this again, she doesn't wait for answers, she just runs away. And Logan lets her!! Does Logan love her enough to go after her? Can they both forgive each other, listen to their hearts and work towards a future together?
You're the One was a great visit to Red Hook again! Skye and Logan have a tumulous relationship, full of ups and downs, very emotional at times. I didn't get that Skye had really had any long term relationships, and you could tell! Even at the age of 30 she seemed to be quite immature in some ways. I feel like she has a lot of growing up to do emotionally. I couldn't believe with all she had going for her in Red Hook at the first sign of trouble with Logan she ran off and wouldn't acknowldege Logan at all.
Logan did not have the best childhood in Red Hook, and at first he doesn't think he has it in him to love someone. But being around Skye sure changes that , and he soon finds himself in love with Skye. I get the feeling Logan is a great man to have, but I did feel like he should have stood his ground more firmly with his ex-fiancee. He finds himself in love very unexpectedly and is still trying to sort out his feelings and do the right thing, even if it's the wrong thing sometimes (like letting Skye run off without going after her!).
Logan and Skye are both strong, realistic people with realistic problems. I love both of their family's, how different they are, but at the same time how similar they are.
These two have a lot to work through if they want to have a chance together…but if can it will be worth it.
Robin gives us another wonderful romance with You're the One. I'm really hoping we'll get to read Slater's story soon! It was nice to catch up with everyone else, who are present but not overwhelming. This is definitely Logan and Skye's story! It's steamy at times, funny, a bit heart breaking at times, all wrapped around a good romance.
Book Info
Publisher: Penguin Publishing. Signet;  (June 4, 2013) Series: Bad Boys of Red Hook (Book 2)
Logan Blaise expected to be taking a quick break from his successful vineyard in Napa to visit his hometown of Brooklyn. But what he finds is a complete mess: His father is sicker than he'd imagined, and Logan is responsible for keeping the family restaurant running smoothly. When the chef quits, he's forced to hire the first person who applies for the job—Skye Maxwell, a beautiful enigma with great skills and gaps in her résumé.

Skye is determined to make it on her own, without trading on her famous family name. Working in the community of Red Hook offers the perfect opportunity to stay out of the limelight while pursuing her dreams. At first glance, charismatic Logan seems exactly like all the shallow men she knew back home. But as she notices his small-town roots and strong family ties, the Brooklyn bad boy and his restaurant start to feel exactly like where she really belongs….