In Haven Creek by Rochelle Alers, Morgan Dane grew up on Cavanaugh Island, South Carolina, intending to be an engineer but later changed her major to architecture. She recently started her own business and is now in charge of restoring beautiful Angels Landing Plantation on the island. She dreamed as a child of working on an important project like this and can't wait to get started. She knows she'll need an experienced crew to help her and she can think of no better group than Shaw Woodworking. She's trying to convince herself that her teenage crush on Nate Shaw has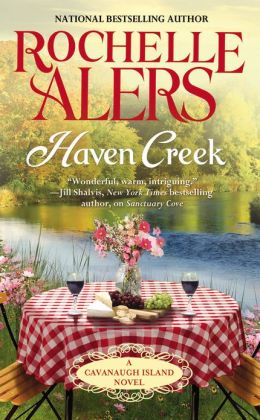 nothing to do with her choice. She hasn't had a chance to speak with him since he returned from the West Coast about six months before, after being gone for many years. Morgan wants to hear firsthand what he's been through considering the gossip that's spread across the island regarding his divorce from his model/actress wife in LA.
" 'Think with your head and not your heart. Love with your heart and not your head.' It was as if she could hear her grandfather and namesake whispering to her. She hadn't come this far, sacrificed a love life to advance her career, to let her heart overrule her head."
Morgan's old feelings start to resurface from the first moment of interaction with Nate. He's just as handsome as ever and is very interested in working together with her on the Plantation restoration project. She becomes confused when Nate gives her mixed signals on his feelings towards her and relationships in general. He claims he doesn't want to ever get married again after what he's been through, but he hints at dating her and about a possible future together. Morgan also finds she has some mixed feelings herself. She never planned on a long-term relationship at this time in her life, especially after just taking such a huge career leap. She finds herself wondering if she can balance a future with Nate along with her blossoming career. And can she overcome her childhood insecurities that create havoc with her self-confidence?
"He wondered if she looked at all men the way she looked at him. Did she realize how seductive she was? Morgan was the total package: intelligence, incredible beauty, a flawless complexion, a dimpled smile, and a drop-dead gorgeous body."
Nathaniel "Nate" Shaw has been working nonstop on the barn that will become the new home of Shaw Woodworking. He came back to Cavanaugh Island to get away from the mess that his life had become in California. He should have known that his marriage was doomed when his supermodel wife spent time partying instead of on a honeymoon with him. When she admitted to multiple infidelities, that was the final straw. He's now focusing on growing his father's business and he knows when Morgan asks him to work with her, that this is just what they need. Nate is astounded at how beautiful Morgan grew up to be. The more time he spends in her company, the more drawn he is to her and before long, finds himself falling for her. He still has trust issues after the fiasco that was his marriage and tries to deal with it on his own without really explaining it to Morgan. He wonders if he should take a leap of faith and open up to her, to trust that they can build a life together, or if he should pass it off as a fling and bury himself in work all over again.
Rochelle Alers has written a charming love story with characters that find themselves at a turning point in their lives. Morgan and Nate are watching their siblings and friends settle down and they must each decide if they can see themselves do the same. While there definitely is passion in their relationship, they try to be a bit more mature by talking through issues and spending time defining the ground rules ahead of time. Check this one out if you enjoy reading about island life, family traditions and a teenage crush coming true as an adult.
Book Info
Publisher: Forever. Release date: May 28, 2013 | Series: A Cavanaugh Island Novel (Book 3)
Home is where the heart is.
Architect Morgan Dane has always lived according to a plan, crossing off her achievements one by one. But when she's offered her dream job-the restoration of historic Angels Landing Plantation on beautiful Cavanaugh Island-Morgan's life takes an unexpected turn.
Carpenter Nathaniel Shaw once took a big chance on commitment-and lost. Needing the healing comforts of home, he returns to Haven Creek to join the family business. Nothing in the small town has changed-except for Morgan Dane. The wallflower he knew in high school has grown into a beautiful woman . . . and stirs feelings Nate isn't sure he's ready for.
Together Nate and Morgan find a happiness neither could have predicted. But when secrets from the past come to light, their budding relationship is threatened. Will they play it safe, or risk their hearts to build a life together?