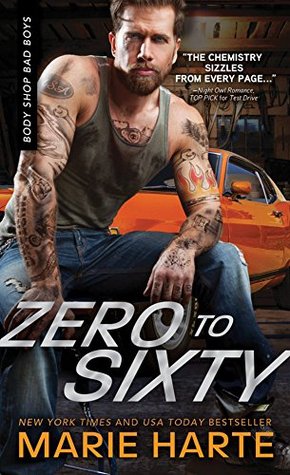 Zero to Sixty by Marie Harte is a sweet, emotional romance that has all the feels. Sam Hamilton is a bad boy who has never felt loved and never really had a family except for his best friend. He's feeling a little lost when his friend finds love and a steady girlfriend spending less and less time with Sam. He is scared of losing him and being alone, which is extremely painful considering he does not know his father and his mother is not a loving woman and only uses him for money.
Sam loves animals and has a passion for rescuing them. There is a stray puppy in the neighborhood that he is trying to save when he discovers the puppy found himself a home with massage therapist Ivy Stephens. Sam is protective of the dog and wants to make sure Ivy is a good fit; therefore, he sets out to check her out. He is instantly attracted to her but doesn't think a sweet, good girl like her would ever be interested in him. He is scared to take a chance and make himself vulnerable, but he slowly and steadily makes the attempt to get to know Ivy. She sees that Sam is a caring, nice guy under his tattoos and gruff exterior. The puppy provides the perfect excuse for them to both explore where this might go.
Sam and Ivy are a charming couple, and you cannot help but feel Sam's gut-wrenching loneliness and hope he can find a family and love with Ivy. Zero to Sixty is a heartfelt, sexy and emotional romance, and I really enjoyed it and definitely recommend it.
Book Info:

Publication: 2/7/17 | Sourcebooks Casablanca | Bodyshop Bad Boys #3
Bad boy Sam + Good girl Ivy + Stray puppy = Damaged hearts learning to love again
After her last relationship bombed, Ivy Stephens is doing her best to put her life back together. She's enjoying her job, her apartment-and the cute little puppy she's seen hanging around. When she goes looking for him, she finds the stray in the arms of a big, burly, devastatingly handsome man.
Sam Hamilton is lonelier than he's ever been after his best friend's engagement. To give himself a sense of purpose, he takes in a puppy that keeps showing up around the garage where he works. The puppy has another suitor though-one who happens to be blond and beautiful.