Great Summer Read! Slow Summer Kisses by Shannon Stacey was such a fun read; I couldn't wipe the grin off my face as I read this book.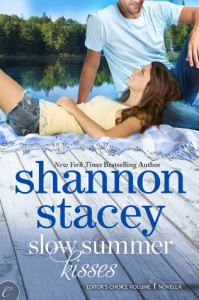 Cam and Anna spent a summer together as kids; Cam remembers Anna as the kid that annoyed the hell out of him. Fast-forward a few years and Cam learns that Anna is moving into the cabin next door while she evaluates her next career move and realizes that nothings changed she still annoys the hell out of him.
Cam with his laid back attitude and charm was just adorable, while Anna with her list and hyperactive personality drove Cam Crazy. It was fun watching Anna learn to relax and unwind as the book progressed. Anna and Cam are perfect for each other, it was fun to watch them fall in love. I couldn't help but wonder how they would work it out and get to their HEA but Shannon did an awesome job with it. This book was my first Shannon Stacey book; it's safe to say it won't be my last.
Slow Summer kisses was funny, heartwarming and sexy; a perfect summer read.
The banter between Cam and Anna was witty and humorous with plenty of Laugh out moments; Here are a couple of my favorite parts from the book.
"Do you have your phone with you?" she asked. "I need you to call me." "No, I don't have my phone. I'm fishing. And I'm sitting right next to you." "I think I have it set so it plays a certain song if you call me, but I'm not sure" He turned his head, scowling at her. "A certain song? Which song?" "Call me and you'll find out….. "whatever. If I want to call you, I'll yell out the window."

"What the hell is that you're wearing?
It's a Yankees T-shirt.
You're a Yankees fan." He could barely get the words out. "Yup." "I kissed a Yankees fan." "Yup. Really well, too." It was too late for mouthwash, so he did the next best thing and wiped the back of his hand across his mouth. "Get off my dock."

Cam: "Every time we sit on the dock, I want to strip you naked and take you right there." Anna: "And Yet we watch leaves float by instead"
Rating:

Published June 4th 2012 by Carina Press
Anna Frazier is used to living life at 100 mph, but being downsized out of a job in the financial industry has her permanently stalled. With nowhere to go, go, go, Anna hails a cab to her grandparents' neglected New Hampshire camp to plan her next move. It seems like a good idea—until she realizes there's no takeout to be had and the boy next door has grown into a sexy but surly recluse.
Cameron Mayfield knows he can kiss his peace and quiet goodbye when Hurricane Anna blows in. She was loud and bossy as a ten-year-old—and besides developing some attractive curves, she hasn't changed. Cam's not looking for a relationship, especially not with a woman like Anna. He nearly broke down on that road once before. So why can't he stop thinking about her?
It's not long before their sizzling attraction leads to smoking-hot kisses. But as the days get shorter, Anna must decide if she's found a new road to happiness, or just taken a detour.