Today, HJ is pleased to share with you

Monica Murphy's

new release: 

Close to Me

Asher Davis. My first crush.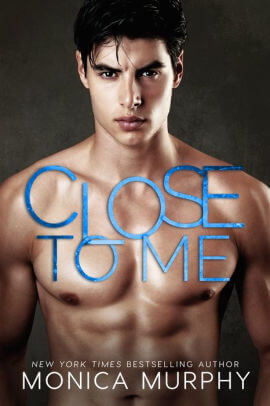 My first kiss.
The boy who ripped my heart out of my chest again and again. Over and over. I let him have it every single time.
Willingly.
We are that toxic high school couple you hear about, the one you witness in the hallway as they avoid each other. You laugh at them in class when they're forced to work together, their gazes full of hatred. We are the couple you gossip about when they win homecoming prince and princess their sophomore year…
The back and forth is what kills me the most. I'm not his princess, I'm the girl he toys with when he's bored. And he's definitely not my prince, no matter how badly I want him to be.
Finally it's our senior year and we're months away from never having to see each other again when disaster strikes—and brings us closer together. All it takes is one touch, and I'm burning for Ash. Hotter than I ever have.
But will that burn turn into a devastating fire? Or can we actually make it work this time?
Enjoy an exclusive excerpt from Close to Me 
The cool mountain air makes me shiver as I dart across the expanse of green lawn toward
the opposite side of the pool, where the in-ground hot tub is. The pool is dark, but the moon is
mostly full, casting its silver-white glow upon the backyard. I can hear the water bubbling and
swirling in the Jacuzzi, and as I draw closer, I see Ash sitting there.
Waiting for me.
Watching me.
I stop just at the edge of the tub, kicking off my flip-flops, tugging on the hem of my T-
shirt. How am I supposed to do this? Just whip off the shirt and toss it on the ground, then step
into the hot tub with confidence? I mean, that's what I want to do, that's what I envision. But I'm
not sure if I can pull that off…
"Callahan, what are you doing?"
I blink Ash into focus to see he's watching me with confusion. "I don't know. You make
me nervous."
He flicks water in my direction, wetting my feet. "You make me nervous too. Especially
when you stand there and stare off into space. Now come on. Get in here."
Deciding I have nothing to lose, I tear off my T-shirt just as I envisioned only a moment
ago and daintily step into the hot tub, gasping when the steamy water laps around my ankles,
then my knees when I take another step. I stand on the bench seat, trying to work up the courage
to submerge myself neck-deep in the water when I catch Ash whistling low, his gaze sliding over
me.
"Damn, girl, you are hot as hell."
I burst out laughing and duck myself fully into the water, more gasps escaping me as the
steamy water licks at my skin. "More like the water is hot as hell."
He laughs and shakes his head. "I'm trying to give you sexy compliments and you're
making jokes."
"How can I take you seriously when you say things like sexy compliments?"
He's grinning. He looks so cute, despite the wounds. Maybe the wounds add a certain
appeal, which means I'm weird, but I don't care. I think Ash is pretty weird too. "You are
definitely unexpected."
"What do you mean by that?"

"You keep me on my toes, Callahan." He somehow finds my hand under the water and
pulls me closer, so we're pressed next to each other, side by side. "I never know what you're
going to say or do."
"I feel the same exact way about you." I turn so I can really look at him, our thighs
pressed together. He stretches an arm along the rock edge that surrounds the Jacuzzi, and I lean
into him, my shoulder pressing gently against his chest. "This water is so hot."
"Give it a few minutes. You'll get used to it." He squirms a little, making the water slosh
around us. "I think it feels good."
"Is it helping ease your pain?"
Smiling, he taps the tip of my nose with his finger. "You're helping ease my pain, I know
that."
I lean my head back against his arm and stare up at the starry night sky. When I was
younger and we lived near San Francisco, I don't remember ever seeing the stars. The sky was
obliterated by city lights.
But out here, in the middle of nowhere, the sky is a black velvet background studded by
twinkling lights. The occasional plane. A racing satellite or two. Even with the shining moon,
which typically drowns out the stars, I can still see them tonight.
"The sky is so beautiful," I say on a sigh, letting the water keep me buoyant. My butt
rises off the seat and I stretch my legs out in front of me, kicking my feet a little.
"You're so beautiful," Ash whispers close to my temple before he drops a kiss there. My
heart squeezes at the sweet gesture. "And it's like you're trying to tease me right now."
"I'm not trying to tease you." I kick my feet again, harder this time, water splashing
everywhere.
"With these you are." He reaches around me to touch my chest, which is above the water.
He lightly traces his index finger up the length of my cleavage, leaving me breathless.
"I didn't mean to," I say softly.
"Hmmmmmm." He runs his finger back and forth, back and forth, drawing closer to the
right edge of my bikini top. Just the tip of his finger slips beneath the damp fabric, and I bite
back the moan that suddenly wants to escape.
No boy has ever made me moan before. Like, ever.
Excerpt. ©Monica Murphy. Posted by arrangement with the publisher. All rights reserved.


Giveaway:

One signed paperback of Close to Me by Monica Murphy
To enter Giveaway: Please complete the Rafflecopter form and post a comment to this Q:

What did you think of the excerpt spotlighted here? Leave a comment with your thoughts on the book…
Meet the Author:
Meet Monica:
Monica Murphy is the New York Times, USA Today and #1 international bestselling author of the One Week Girlfriend series, the Billionaire Bachelors and The Rules series. Her books have been translated in almost a dozen languages and has sold over one million copies worldwide. She is both self-published and published by Random House/Bantam and HarperCollins/Avon. She writes new adult, young adult and contemporary romance.
She is a wife and a mother of three who lives in central California on fourteen acres in the middle of nowhere along with their one dog and too many cats. A self-confessed workaholic, when she's not writing, she's reading or hanging out with her husband and kids. She's a firm believer in happy endings, though she will admit to putting her characters through angst-filled moments before they finally get that hard won HEA.
Connect with Monica:
Facebook: https://www.facebook.com/MonicaMurphyauthor/
Goodreads: https://www.goodreads.com/author/show/5934418.Monica_Murphy
Amazon: http://amzn.to/1YUl0Vm
Website: http://monicamurphyauthor.com
Newsletter: http://bit.ly/IW5U0y
Buy Links:
Download your copy today!
Amazon: https://amzn.to/366XMWB
Amazon Worldwide: mybook.to/CloseToMeMM
Applebooks: https://apple.co/2suJikE
Nook: http://bit.ly/2MDwGhP
Kobo: http://bit.ly/357PzQD
Add to Goodreads: http://bit.ly/37i8pG8