Adventure With a Secret Prince by Andrea Bolter: Prince Ras is traveling incognito for his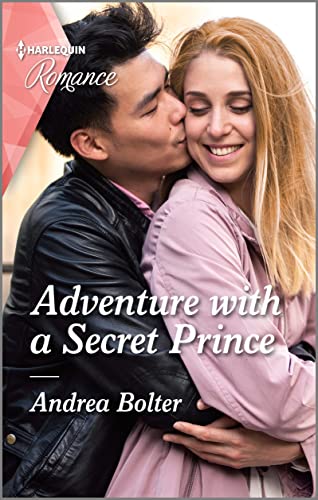 last few weeks of freedom before he has to commit to an arranged marriage. His father, the king of a small island near Thailand, wants to unite his country with another small kingdom for business purposes. Ras doesn't love, much less like his bride-to-be, but feels he must go through with a loveless marriage for the sake of his country. He runs away for a cruise along the United States East Coast to end in Miami.
Ras plans to stay to himself as much as possible try to allude the media. He is lulled out of his solitude when he meets the charming Gracie. Gracie is taking the cruise to help establish her own travel agency business. She and Ras have all sorts of adventures onboard. When they reach Miami, Ras asks Gracie to be his guide as he makes stops aboard a luxury yacht. Gracie loves this idea even after she learns Ras' true identity.
Even as they grow closer as the trip progresses, Gracie and Ras both know this luxurious getaway has an ending planned. Gracie has suffered disappointment several times in the past. She realizes this time has been a fairy tale affair and she will have to move on. Is it possible this fairy tale could have a HEA ending?
Even though Ras is a prince, you have to love him for his down to earth and caring nature. You also have to admire him being able to sacrifice his desires and needs for the common good. There are not as many arranged marriages in modern times, but they do still happen.
Gracie has a lot of emotional baggage from the past. She is s able to project a willing spirit to engage with others while protecting her damaged heart. She is also brave to be willing to pursue new ventures on her own to establish a business.
The author slowly builds the romance between the two protagonists and it feels authentic with just the right blend of spice.
It was fun to be part of a luxury trip while knowing that is not reality for most of us. The stops made along the way up the Eastern Seaboard added extra charm to the novel. I have visited both Charlestown and Savannah in recent years. The author perfectly captures the beauty and fun available in those two Southern cities.
Adventure With a Secret Prince will sweep you away from the stress of everyday and leave you with hope.
Book Info:

Publication: June 1, 2022 | Harlequin Romance |
They started in Miami…and found forever in New York!
Prince Ras has a few weeks of freedom left before he must marry for duty. He doesn't plan on wasting a second! But when he meets Gracie aboard a cruise ship, he recognises the same need for adventure in her eyes. As they travel the East Coast, Gracie welcomes the distraction, which takes her further from her disastrous past — and closer to Ras! Except the secret he's hiding could change everything…