Today it is my pleasure to Welcome author
Holly Castillo
to HJ!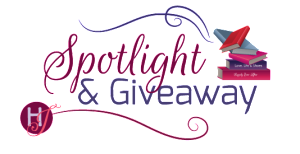 Hi Holly and welcome to HJ! We're so excited to chat with you about your new release, A SEAL Never Quits!
Please summarize the book for the readers here: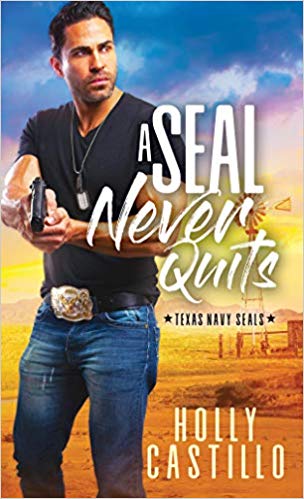 A SEAL NEVER QUITS introduces the Texas Navy SEALs and their driven leader, Stryker. Going undercover on a ranch in South Texas isn't a normal assignment for Navy SEALs, but they all know to expect the unexpected. Stryker, however, is blindsided by feelings for the energetic and passionate veterinarian serving their ranch. Anya Gutierrez loves her work and for years has put her attention on the animals instead of people. When she meets Stryker, she wants to get to know the mysterious man better, and finds herself falling for the heart of gold hidden behind a hard exterior. Stryker knows he's in danger of losing his heart to Anya with every passing day, but can't let her know he's really there undercover. When she confesses her love for him, he fears she'll turn away when she learns who he really is. A dangerous operation sends Stryker and his team to Mexico to take down a drug cartel they believe is part of a larger terrorist organization targeting the United States. Unknowingly, their actions bring repercussions, placing Anya directly in the cross-hairs of a revenge-driven terrorist. Racing against time, Stryker will stop at nothing to protect Anya, and prove to her he is the man she loves, with the added perk of proudly leading a group of extraordinary SEALs. A SEAL never quits giving all he has on a mission, and Stryker's mission is Anya's heart.

Please share the opening lines of this book:
"Hi!"
The cheery voice and enthusiastic wave of her hand did nothing to quell his temper. No one had told him when he took over this ranch that there were going to be other people—outside of the ones he had selected—working there. She could be a spy for all he knew.
Please share a few Fun facts about this book…
 Anya is based off a veterinarian I knew when I was a teenager—fearless, head-strong, great with animals, and clueless about men
All six SEALs on the undercover mission called Texas "home" before becoming SEALs
Hebbronville is a real town in Texas and is as wonderful as described in the book
If your book was optioned for a movie, what scene would you use for the audition of the main characters and why?
The scene when Stryker returns from his mission and visits Anya at her clinic. Anya has learned some dangerous things, and doesn't know Stryker is a SEAL, but knows he hasn't been completely up front about his life. This scene involves both of them longing for each other, but unsure how to give voice to their emotions. It's full of emotional tension, and Stryker must be vulnerable while Anya fears she may need the courage to remove him from her life forever. Having the auditions tap into these emotions and make you feel everything the characters feel is perfect!
"Anya, we have a lot to talk about."
She crossed her arms over her chest. "That might be the understatement of the year. I've missed you so very much. But I'm also terribly confused. Who sent me those awful photographs? And how are you mixed up in all of it? I've known all along you haven't told me everything about your past. I never imagined it could involve something this horrific, though."
"I just need you to listen. That's all I'm asking of you. I've made a lot of mistakes, Anya, and I want to make up for those."
Anya ran a hand through her hair and drew in a shaky breath. "Stryker…I don't know what to say. I don't know what to believe. I want to trust you—I've always felt safe with you. But after this—"
He took a step toward her and grabbed one of her hands in his. "I'm a very private man. You know that about me. Talking about my past…about who I really am…it doesn't come easy for me. Trust is a luxury I can rarely afford. But I want to trust you. I just…I just haven't told you everything about my team and what we do."
Excerpt. © Reprinted by permission. All rights reserved.

What do you want people to take away from reading this book?
A SEAL NEVER QUITS isn't just about a team of SEALs out to stop the bad guys and the leader falling in love. It's about never giving up on anything, whether you're a SEAL or civilian. I want people to laugh at the banter between the SEAL brothers and believe unconditional love is possible for anybody, even when it seems all hope is lost. And last but not least, I want people to take away a hunger to learn more about this intricate terrorist organization targeting the United States.
What are you currently working on? What other releases do you have planned?
I'm continuing work on the Texas Navy SEALs and writing Buzz's Christmas story. In November of this year a free Novella featuring all of the SEAL team as well as a SEAL from Coronado will be released (title will be forthcoming).

Thanks for blogging at HJ!
Giveaway:

Print copy of A SEAL NEVER QUITS (Texas Navy SEALs) by Holly Castillo
To enter Giveaway: Please complete the Rafflecopter form and Post a comment to this Q:

What makes you fall in love with the main characters in a book?
Book Info:
First in a thrilling romantic suspense series featuring a band of do-or-die Navy SEALs in Texas
A SEAL is ready for anything…except losing his heart…
Lieutenant Amador "Stryker" Salas and his tight-knit Navy SEAL team are undercover on a Texas ranch and tasked with covert ops across the border. It's an assignment that requires all their skills, all their secrets, and all their know-how.
Anya Gutierrez, the local veterinarian, has been serving the ranch for years. She loves the animals and ranching life, and Stryker finds her a breath of fresh air in his otherwise rigidly disciplined existence.
When Anya gets caught in the crosshairs of a mission gone sideways, Stryker must tell her the truth about who he really is, risking everything to keep her out of harm's way, even if it destroys him…
Book Links: Amazon | B&N | iTunes | Kobo | BAM |


Meet the Author:
Holly Castillo lives on an 80 acre ranch, surrounded by cattle during the day and hearing the howl of coyotes by night. She has endless inspiration for her writing. Holly's romantic suspense series about heroic Navy SEALs is set in her own backyard of south Texas. She lives with her husband and two children just south of San Antonio. Visit her online at Website | Facebook | Twitter |