Today it is my pleasure to Welcome author
Rachel Brimble
to HJ!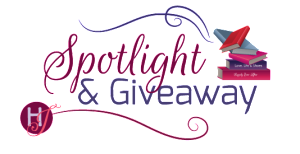 Hi Rachel and welcome to HJ! We're so excited to chat with you about your new release, A Shop Girl At Sea!

Thank you! I am thrilled to be here 🙂

Please summarize the book a la Twitter style for the readers here: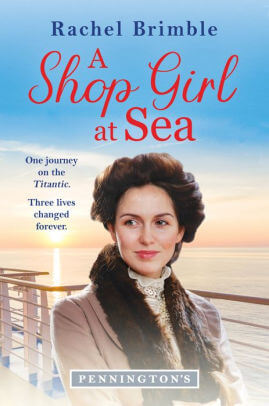 Join Pennington's assistant window dresser Amelia Wakefield as she boards the Titanic for New York – can Bath's finest department store really compete with America?

Please share the opening lines of this book:
Amelia Wakefield darted her gaze from Elizabeth Pennington's secretary to Miss Pennington's closed office door. Her summons to the fifth floor could only mean she was in trouble. Why else would a mere assistant window dresser be called to Pennington's executive offices? She searched her mind and conscience for any misdemeanour she might have unwittingly committed. Could she have arranged the dining set incorrectly in the west window?
Please share a few Fun facts about this book…
Amelia Wakefield was inspired by actress Rose Leslie
Samuel Murphy was inspired by actor Cillian Murphy
I have wanted to write a book set on the Titanic for over 10 years
The Pennington's series was supposed to be a trilogy but Amelia was shouting at me so loudly I had to write book 4, A Shop Girl At Sea
This books includes a same sex romance subplot which turned out to be one of my favourite relationships EVER!
What first attracts your Hero to the Heroine and vice versa?
Seaman Samuel Murphy is struck by Amelia as soon as she boards the Titanic – his attraction to her is at first physical but he is quickly intrigued by her sadness and underlying fire. For Amelia, her attraction to Samuel is provoked by his passion, attentiveness and intelligence. The interest and respect they have for one another is a beautiful basis for their burgeoning romance.
Using just 5 words, how would you describe Hero and Heroine's love affair?
Passionate, poignant, sensual, caring and eternal.

The First Kiss…
His lips were gentle at first, his hand moving from her face to lay softly on her cheek. An alien stirring twisted deliciously low in her stomach and she inched closer, pressing her mouth just a little more firmly to his. She wanted him to know, to feel, that she wanted this. Wanted to be in his arms, in his protection. He eased back and whispered, 'Amelia.' Indescribable power rippled through her body making her reach for him. She gripped his waist and pulled him back to her. This time, it was her leading the connection, the intimacy.
Without revealing too much, what is your favorite scene in the book?
This was a scene that was added after my editor read the book and she was absolutely right that it was needed! Throughout the book there is a secondary relationship between shop girls Ruby and Victoria which is tested by staff and Ruby's family – this is one of the scenes where her brother is under threat from their tyrannical mother:
Victoria walked slowly down the stairs, still holding Tommy's hand. Her skin was pale, but her face was so set in anger, it looked carved from marble. She suddenly seemed inches taller than she had before. More imposing. More threatening. 'Mrs Taylor…'
Ruby's mother visibly flinched and took a step back. Ruby couldn't contain her satisfaction and smiled. 'Ma, meet Mrs Victoria Lark. My… friend.'
Her mother's cheeks mottled as she struggled to recover her composure. She made a pathetic attempt to pull back her shoulders before she lifted her chin. 'You give me my son and I'll leave. I won't be going anywhere without my beautiful Tommy.'
Victoria smiled, her eyes icy-cold. 'Why don't we ask Tommy whether he'd like to leave with you or stay here with us?' With her eyes still on Ruby's mother, Victoria addressed Tommy. 'What would you like to do, my love? Stay here with me and Ruby? Or go with your mother?'
Ruby's heart pounded as she slowly walked forward and looked at her brother, her heart breaking for the predicament his mother was making him face. 'Tommy,' she asked, gently. 'Don't be afraid. Tell Ma what you'd like to do.' Love for her brother threatened to overwhelm her as tears stung Ruby's eyes. She had never considered that her hatred towards her mother could get any deeper but, in that moment, it sank to the darkest place Ruby could imagine.
If your book was optioned for a movie, what scene would be absolutely crucial to include?
As part of the book takes place on the Titanic, it would be crucial to include the scenes that take place after the sinking as they are so essential to the internal changes the hero and heroine go through – here is a snippet from when Amelia is aboard the rescue ship…
Sounds and smells that had enveloped Amelia during their horrifying escape and eventual rescue from the Titanic filled her senses, images floating behind her closed eyelids as she sat huddled beneath a blanket in the Carpathian's saloon.
Climbing aboard the ship under the brute strength of the crew, ropes and pulleys should have been a terrifying experience but gratitude she was alive, when so many were dead, had not left Amelia's heart or consciousness for a moment.
She squeezed her eyes more tightly closed, battling to keep her tears at bay. She hadn't cried once from the time she'd been in Samuel's arms when the iceberg struck to now, almost ten hours later. Convinced her grief had been paralysed by shock, cold or pure adrenaline, her tears had not fallen. But now, as they sailed towards New York, fear, confusion and desperation clawed at Amelia's psyche. What on earth would she do now? There had been no sign of Mr Weir and she would soon be forced to presume him dead.
Sickness unfurled inside her as Amelia opened her eyes and surveyed the desolation and grief surrounding her, men and women sitting and standing in dazed disbelief.
Readers should read this book …
If they enjoy historical romance that includes real-life events mixed with fiction and stories that include all types of people from every aspect of the early 20th century British class system – this book is about survival, hope and everlasting love, reminiscent of the TV series Downton Abbey and Mr Selfridge.
What are you currently working on? What other releases do you have planned?
I am currently working on the second book in a brand new Victorian trilogy set in a city brothel – book 1, A Widow's Vow releases in September and is available for preorder right now.
The series centres around three women from very different backgrounds who come together in a quest for independence, happiness and true love.
Thanks for blogging at HJ!
Giveaway:

A £15/$15 Amazon GC
To enter Giveaway: Please complete the Rafflecopter form and Post a comment to this Q:

Do you enjoy historical fiction that includes real-life events?? What are some of your favourite titles?
Excerpt from A Shop Girl At Sea:
Samuel looked at his mother. She looked tired and thin, her gaze so sad, it damn near broke his heart. Turning away to look at Fiona, he glared, searching for his inner strength. 'So, how much time have you given to thinking about the Titanic and the hundreds who died?' Dragging his gaze from her glare, he glanced at his mother and then Katherine who both seemed suddenly and intensely interested in the grime-covered window. 'I thought as much. You should be ashamed of yourselves. What we went through is a thousand times harder than a bit of hunger and a baby with an absent father and now I'm back, things are going to change because I don't intend staying here very long.' 'What?' 'You have to.' 'We need your wages!' Their voices raised like nails down a chalkboard, drilling through Samuel's brain. He squeezed his eyes shut. 'Enough!' Silence fell and he opened his eyes. 'You,' he said, pointing at Fiona, 'are going to leave this house every morning and not come back until you found the man you liked well enough to lie with. Try speaking to him with a little sincerity and love and maybe, just maybe, you can convince him to do the right thing by you. You—' he faced Katherine '—will find work wherever you can before the end of next week. No picking and choosing. A job is a job. And you—' he looked at his mother and softened his voice '—are going to spend the time cleaning this house while your daughters are out all day. I've never known you let it get this way. I can only assume worry for me was the cause and, for that, I'm sorry.'
Samuel swallowed, trying his best to keep his face impassive and not show his inner turmoil. How the hell was he was supposed to leave them with a baby on the way and his Ma so obviously struggling? Entrapment enveloped him making it hard to breathe, his dreams drifting like floating clouds out of his imagination, evaporating into dust. He had to remain strong in his words. For his family's sake, even more than his own. 'Nothing will change my mind about returning to New York as soon as possible.' He focused on his mother, ignoring the guilt weighing heavy on his conscience. 'I found work on the railway station while I was there, the money is good and I can regularly send money home, but I'm not staying here. Not anymore. It's time I started living for myself instead of for everyone else in this house.' He looked at his sisters, trying his hardest not to show how much Fiona being with child had affected him. 'I'll see you're all right with money, but I'm not staying. You find the father of your babe and persuade him to take responsibility. If he doesn't…' There was no need for Samuel to finish the sentence, they all knew he wouldn't leave without tracking the coward down himself. 'So, I'll leave you to think on that while I go and get something for our supper. I expect a cleared table and chairs by the time I get back.' He headed for the door. 'Oh, and some clean knives, forks and plates would be appreciated, too.'
Excerpts. © Reprinted by permission. All rights reserved.


Book Info:
Bath, 1912.
Amelia Wakefield loves working at Pennington's, Bath's finest department store. An escape from her traumatic past, it saved her life. So when Miss Pennington sets her a task to set sail on the Titanic and study the department stores of New York, she couldn't be more excited – or determined!
Frustrated with his life at home, Samuel Murphy longs for a few weeks of freedom and adventure. Meeting Amelia on board the Titanic, Samuel can't help wonder what painful history has made the beauty so reserved. But he already has too many responsibilities for love.
Ruby Taylor has always kept her Pennington co-workers at a distance. Making sure her little brother is safe has always been her priority. But when that means accepting Victoria Lark's offer of sanctuary, more than one of Ruby's secrets is under threat of being revealed…
A riveting and uplifting saga, perfect for fans of Elaine Everest and Fiona Ford.
Book Links: Amazon | B&N | iTunes | Goodreads |


Meet the Author:
Rachel lives with her husband and their two daughters in a small town near Bath, England. She is the author of over 20 published novels including the Pennington's department store series (Aria Fiction) and the Templeton Cove Stories (Harlequin).
Her next project is a Victorian trilogy set in a Bath brothel which she recently signed with Aria Fiction. The series will feature three heroines determined to change their lives and those of other women. The first book is due for release in September 2020.
Rachel is a member of the Romantic Novelists Association and has thousands of social media followers all over the world.
Website | Facebook | Twitter | | Instagram |