The Marriage Game by Sara Desai: After things and badly with losing her job and having had a bad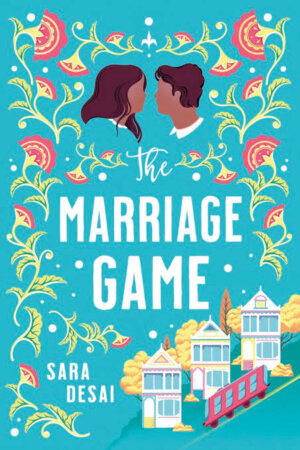 break up with her blogger boyfriend in New York, Layla finds herself back at home at her parents Indian restaurant planning on opening her own recruitment agency on the office space above the restaurant. This would have been the perfect plan had her father not already leased the office to Sam the C.E.O of a corporate downsizing company.
"Why did he have to be so gorgeous? All that tall, dark handsomeness, the mouthwatering body, the deep voice that caressed her skin like velvet … wasted on an arrogant, egotistical jerk."
When Layla realizes that her father had not gotten to informing Sam about the change in plan, the two lock heads as to see who gets to keep the office space. This is not the only surprise her father forgot to tell her about, turns out that he has been searching for a suitable husband for her, going as far as to set up a marriage profile on a arranged marriage site. Thinking that her father might know her better, Layla decides to go along with meeting the ten eligible bachelors that have been hand picked for her. Sam having had a bad experience with the system of arranged marriages, after his own sister married an abusive drunk. Taking it upon himself Sam decides to stand in as the male family member at the meetings and as a way to ensure Layla does not fall victim like his sister had.
"Layla made him feel things he wasn't ready to feel . She made him think about things he'd buried years ago. She was redemption made real."
The two strike up a deal of sorts in which if Layla finds a suitable husband amongst the ten candidates then Sam will get the office, however if Layla is unable to find a suitable husband then she gets to keep the office. What started as the two trying to find a way to win the office soon turns into Layla realizing that her perfect guy has been in front of her all this time and in away he to has been selected by her father.
"Sorry." Her throat worked on a swallow. "I wasn't planning for my fantasy to come true, so I didn't wear shreddable underwear."
I am of two opinions on this novel, it might just be a matter if personal preference but non the less The Marriage Game was a nice novel. I found that there was unnecessary over explanation and this took away from enjoying the actual story. I found it rather unnecessary for the constant movie references, but once again this is just a personal dislike. I will say Desai has done a brilliant job at showing the life of a Desi family and what an important role food and family play in this culture.
"Layla put down her phone and turned in her seat . "I pick Bachelor #11. Sam Mehta, will you marry me?"
I did find that the actual story line very enjoyable, the enemies to lovers trope is one of my favourites and Desai has done a good job at bring Layla and Sam together. I absolutely loved their constant banter. I think my favourite part of the novel would have to be the chaperoned dates, this was pure gold, they were hilarious. I really enjoyed the love-hate and constant banter between the two and the added fun of Layla's cousin poking fun at Sam.
I think this novel had a lot of potential and had a strong story that lost a little of it s charm with the over explaining.
Book Info:

Publication: June 9th 2020 | Berkley |
A high stakes wager pits an aspiring entrepreneur against a ruthless CEO in this sexy romantic comedy.
After her life falls apart, recruitment consultant Layla Patel returns home to her family in San Francisco. But in the eyes of her father, who runs a Michelin starred restaurant, she can do no wrong. He would do anything to see her smile again. With the best intentions in mind, he offers her the office upstairs to start her new business and creates a profile on an online dating site to find her a man. She doesn't know he's arranged a series of blind dates until the first one comes knocking on her door…
As CEO of a corporate downsizing company Sam Mehta is more used to conflict than calm. In search of a quiet new office, he finds the perfect space above a cozy Indian restaurant that smells like home. But when communication goes awry, he's forced to share his space with the owner's beautiful yet infuriating daughter Layla, her crazy family, and a parade of hopeful suitors, all of whom threaten to disrupt his carefully ordered life.
As they face off in close quarters, the sarcasm and sparks fly. But when the battle for the office becomes a battle of the heart, Sam and Layla have to decide if this is love or just a game