Today, HJ is pleased to share with you

Kimberly Kincaid's

new release: 

Better Than Me

A steamy medical contemporary romance from USA Today best-selling author Kimberly Kincaid. Watch this cocky hero fall head over scalpel for his sweet and sexy BFF. 

Remington's most notoriously single, notoriously sexy surgeon is about to fall for the one woman he can't have…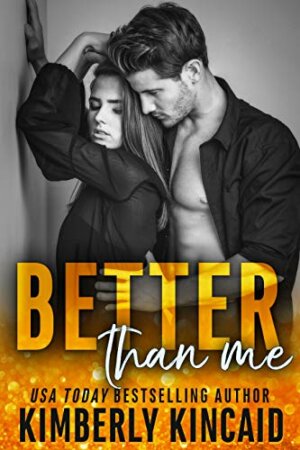 Did I mention that she's
A) his best friend
B) immune to his panty-melting charm, and
C) sleeping on his couch for the next six weeks?

But Jonah's not made for commitment, and a good man is the one thing Natalie deserves.
Not someone who can only offer up a couple of sizzling hot, no-strings-attached nights of pure pleasure.

Unless that's what she wants.

Because Jonah wants her. And with each moment they spend working together–
living together– the harder it is to resist temptation.

And even harder to resist the fall that might break them both…
Enjoy an exclusive excerpt from Better Than Me: 
Jonah reached for the drawer where he kept his workout clothes, cursing under his breath when he realized a second later that it was empty. He'd shoved a bunch of stuff into the dryer last night, then promptly forgotten about it. Padding down the hall, he tugged open the bi-fold doors keeping his washer and dryer neatly tucked from view and clicked on the light…

And found himself standing in a jungle of Natalie's unmentionables.

Jonah's pulse flared, his eyes going f***-me wide as he took in the sight in front of him. Red satin, teal silk, the pale pink lace that had peeked out from her T-shirt the other night, all of it was draped over the retractable laundry line spanning the space over the appliances, making the tiny closet look like a lingerie factory had exploded inside of it. He watched his hand reach up as if the arm attached to it was completely on auto-pilot, his brain telling it to cease and desist while his dick—the treasonous bastard—cheered the move on. His fingers brushed over the closest item (which was the petal pink bra, because of course it was), his blood heating and his imagination shoving the image of Natalie wearing it and a smile and nothing-freaking-else front and center.

"Mmm, morning."

Her sleepy voice floated up from the spot beside him, damn near sending him into A-Fib.

"Shit!" Jonah whipped his hand back to his side, jerking his chin to look at her. Get it together. Right. Now. "I mean, uh, good morning."

"I didn't know you'd be up so early," she murmured past a yawn, thankfully oblivious to his sort of startled, definitely aroused state. "Sorry for the mess. I'll just get this stuff out of your way."
She nudged closer to him, her forearm brushing his as she reached up to the line for a pair of red lace panties like nothing-doing. Her blond hair was sleep-mussed and loose around her shoulders, the very nipples Jonah had just banished from his imagination pressing against her tank top in the world's most provocative good-morning-to-you, and sweet Christ, he needed a way out of this, fast.

"I thought we had an agreement about…this stuff," he said, waving a hand at her ridiculously large collection of lingerie. But the joking nature with which he'd intended the words fell sadly flat.

"I promised not to put them over the shower curtain rod," Natalie reminded him, dropping her pink bra—his favorite, apparently—into the laundry basket beside her feet. "But I have to hang them up to dry somewhere."

Jonah exhaled, grasping for logic or air or, okay fine. Anything that would work to keep her thongs out of his brain pan. "Can't you just put them in the dryer like normal clothes?"

"If I want to ruin them." Brows creasing, she stopped what she was doing in favor of turning to look at him. "Come on, Jonah. It's not as if you haven't taken hundreds of bras off hundreds of women."

"Not you," he croaked. Do not look at the thong in her hand. Do not think of all the ways you could remove it from her hips with your teeth. Do not collect two hundred dollars.
Excerpt. ©Kimberly Kincaid. Posted by arrangement with the publisher. All rights reserved.


Giveaway:

A digital copy of BACK TO YOU, book one in the Remington Medical series (open to all, winner must be able to receive books from amazon.com)
To enter Giveaway: Please complete the Rafflecopter form and post a comment to this Q:

What did you think of the excerpt spotlighted here? Leave a comment with your thoughts on the book…
Meet the Author:
USA Today best-selling author Kimberly Kincaid writes romantic suspense that sizzles and contemporary romance with heart and heat. Equal parts action and emotion, her firefighters and first responders always save the day.
When she's not finding adventure with her husband and three daughters, she can be found practicing obscene amounts of yoga, whipping up anything from enchiladas to éclairs in her kitchen, or curled up with her nose in a book.
Kimberly's series include Station Seventeen, the Line series, Cross Creek, and her brand-new Remington Medical series. All titles stand alone for easy reading.