Today, HJ is pleased to share with you

Nana Malone's

new release: 

Big Ben

It began with betrayal. And ended in murder.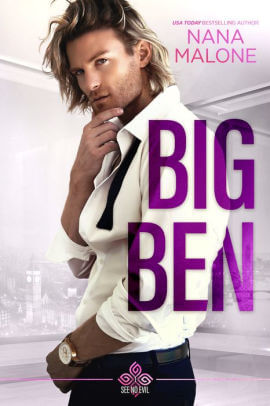 She was never supposed to cross my path.
She was never supposed to know about the currency of secrets or the oaths of blood.

But like a thief in the night, she stole my soul even if she wasn't mine to possess.

As a member of the Elite, I live by simple tenets. A gentleman above all. Private matters stay private. Secrets whispered are never revealed. Enemies and friends are of the same coin. And power is king.

My so called brothers killed my friend. I intend to make them pay. And before it's over, I'll bend all the rules of morality, decency and legality. I will borrow and steal to set the scales right. But begging–begging, you can forget about.

My name is Ben Covington and I know my sins.
Enjoy an exclusive excerpt from Big Ben 
I held my breath. Oh shit. Oh shit, oh shit, oh shit. I couldn't be caught in here. No way in hell could I explain any of this. There was no easy way to say, "Hey, sorry I broke your priceless statue's dick as I was running away from your party." So I was stuck. In a closet, in the dark. With a guy who could only be described as a Viking in a tux.
And was that his very large erection pressing against my belly? I swallowed hard. Oh yes, that was also most certainly his hand on my ass. I opened my mouth to bite his hand, and he admonished me with a whispered, "Shut up. Neither one of us wants to get caught, love."
He had a point there. But his hand flexed on my ass, and I was not okay with it.
Except… Somewhere deep down inside, my inner libido was absolutely fine with it. It had been six long months since I'd had sex, boyfriend notwithstanding, and I was craving a man's touch. But it was still wrong. The Viking wasn't Dexter. I needed to get the hell out of there.
But there was one slight problem; whoever was in the office wasn't going away, so I was stuck there with one of the Viking's hands on my ass and the other on my mouth, and I was too afraid to breathe.
"You need to moan. You had better be a damn good actress."
He couldn't see me, but I still furrowed my brow before I opened my mouth to protest. Then suddenly, he lifted his hand off my mouth, but he didn't release me. Instead, he slid that hand into my hair, angling his head so his face was in the crook of my neck. "You're going to have to moan now."
"What the—"
His mouth on my neck sent a spike of pure need that tugged low in my belly, and the moan that followed was completely involuntary. It felt good. Too good. His lips trailed along my collar bone. His teeth nipped my skin. I wanted to argue. To fight. To tell him to get his hands the hell off me because I had a boyfriend. But I was distracted by his mouth and the hand in my hair tugging it to the side, making a mess of what had taken me hours to artfully straighten and arrange.
But still the footsteps and voices grew closer, and the Viking whispered again. "Fake it till you make it, princess. Make me believe you."
His hand tightened on my ass, squeezing and pulling me flush against him. The hard length of his erection was like steel against my belly.
He throbbed against me, and before I could wiggle away, the door cracked open and light streamed in like a ray of sunshine. I finally understood what he was doing.
This was for show. This was our way out. Our way to keep from being caught. We had to fake this and fake it well.
I moaned loud enough to be heard. The door opened a little wider, and I ducked my head into his neck too. My breathing was ragged as he ravaged my neck. Later, when I came to my senses, I would tell myself I hadn't rocked against his erection.
All I heard then was a chuckle from someone, and muffled words as the door closed again and any hint of light was gone.
The Viking Adonis should have released me then, but he trailed his nose up the column of my throat again until he hit the shell of my ear, and then his lips whispered, "Very well done, princess."
Excerpt. ©Nana Malone. Posted by arrangement with the publisher. All rights reserved.


Giveaway:

One signed paperback copy of Big Ben by Nana Malone
To enter Giveaway: Please complete the Rafflecopter form and post a comment to this Q:

What did you think of the excerpt spotlighted here? Leave a comment with your thoughts on the book…
Meet the Author:
About Nana:
USA Today Bestseller, Nana Malone's love of all things romance and adventure started with a tattered romantic suspense she "borrowed" from her cousin.
It was a sultry summer afternoon in Ghana, and Nana was a precocious thirteen. She's been in love with kick butt heroines ever since. With her overactive imagination, and channeling her inner Buffy, it was only a matter a time before she started creating her own characters.
While she waits for her chance at a job as a ninja assassin, in the meantime Nana works out her drama, passion, and sass with fictional characters every bit as sassy and kick butt as she thinks she is.
Connect with Nana:
Website: http://nanamaloneromance.net/
Facebook: http://bit.ly/NanaMaloneFB
Goodreads: http://bit.ly/NanaMaloneGR
Twitter: http://bit.ly/NanaMaloneTwitter
Apple Books: http://bit.ly/NanaMaloneAB
Instagram: http://bit.ly/NanaMaloneIG
Amazon: https://amzn.to/2Wwz3t9
Bookbub: http://bit.ly/NanaMaloneBB

Buy Links:
Amazon: https://amzn.to/2tPIlni
Amazon Worldwide: mybook.to/BigBenNM
Apple Books: https://apple.co/2NksofN
Nook: http://bit.ly/2FHd60n
Kobo: http://bit.ly/37UQgyg
Add to Goodreads: http://bit.ly/2t1guAI