Colton's Deadly Disguise by Geri Krotow is the seventh book in Harlequin's series, The Coltons of Mustang Valley. Author Geri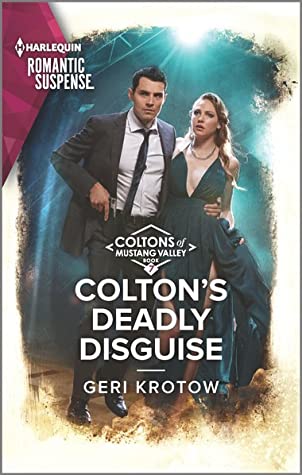 Krotow does an excellent job of continuing the overall story arc.
She was doing this for her deceased best friend Gio. Bella Colton filled out the form and is ready to turn it in. She is entering the Ms. Mustang Valley Pageant. Bella's friend Gio died due to malnutrition and complications from eating disorders. Gio had participated in this pageant a number of times. Shortly before she died Gio told Bella the people at the pageants pushing strict dieting and slim looks contributed to her eating disorder problems. Bella is entering the pageant to see for herself just what Gio was talking about. Then as a reporter for the Mustang Valley Gabber, and Bella considered herself an honest reporter, she intended to write an expose on the subject.
FBI Agent Holden St. Clair is undercover as security at the Ms. Mustang Valley pageant. Two contestants, one at each of two other pageants in Arizona have been killed, one shot and one poisoned. The FBI suspects a serial killer and so Holden is undercover to try to catch the killer before he strikes again. As it turns out the victims have been redheads with green eyes. Bella Colton dyed red streaks in her blonde hair to honor her friend Gio. Plus she has green eyes. Too bad this has placed her on the killer's radar. Holden steps in as her personal bodyguard to keep her safe. Bella trusts him since it turns out Holden was Bella's brother Spencer's best friend in the military when they served together. Sparks fly and the attraction is great but this is no time for romance. Or can they make this work?
The Colton patriarch is still in a coma, the Colton family is still searching for the true eldest Colton son and in this story there's a significant discovery about the nurse, Luella Smith who switched her baby son with the Colton baby in the nursery at the hospital and then disappeared.
Each story in the series provides more clues to solving the baby switch mystery. There's lots of excitement in this book. It's a super romantic suspense story!
Book Info:

Publication: April 1st 2020 | Harlequin Romantic Suspense | Coltons of Mustang Valley #7
For an undercover duo,
investigating a beauty pageant turns ugly.
When Bella Colton undergoes a makeover to enter a beauty pageant, she's on a mission. She's determined to find out why her best friend died. Enter undercover FBI agent Holden St. Clair. Holden's hot on the heels of a serial killer, who has Bella in his crosshairs. As the chemistry between Bella and Holden sparks, can they capture the murderer in their midst?