Today, HJ is pleased to share with you

Jayci Lee's

new release: 

Booked on a Feeling.

Jayci Lee's romcom Booked on a Feeling features an overachieving lawyer. A failing bookstore. A childhood friend. And the chance of a lifetime…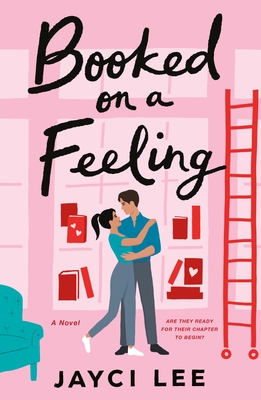 Lizzy "Overachiever" Chung, Esq. has her life mapped out neatly:
* Become a lawyer. Check.
* Join a prestigious law firm. Check.
* Make partner. In progress.
If all goes to plan, she will check off that last box in a couple years, make her parents proud, and live a successful, fulfilled life in L.A. What was not in her plans was passing out from a panic attack during a pivotal moment in her career. A few deep breaths and a four hour drive later, Lizzy is in Weldon for three weeks to shed the burnout and figure out what went wrong. And what better place to recharge than the small California town where she spent her childhood summers with her best friend, Jack Park.
Jack Park didn't expect to see Lizzy back in Weldon, but now he's got three weeks to spend with the girl of his dreams. Except she doesn't know of his decades-long crush on her–and he intends to keep it that way. She's a high-powered attorney who lives in L.A. and he's a bookkeeper at his family's brewery who never left his hometown. He can't risk their friendship on a long shot. Can he? When Lizzy decides that the local bookstore needs a little revamp, of course, Jack is going to help her bring it back to life. But the more time they spend together, the harder it becomes to ignore there might be more than just friendship among the dusty shelves and books…
Sometimes the path to the rest of your life has been in front of you all along.
Enjoy an exclusive excerpt from Booked on a Feeling
Chapter Two
Has the jury reached a verdict?" Judge Reiner swiveled his chair toward the jury box.
"Yes, Your Honor." The foreperson's voice rang with the excitement of someone who was nearly done with her jury duty.
Lizzy clenched and unclenched her hands beneath the table. Seven days of trial on less than four hours of sleep a night all came down to this single moment. She inhaled through her nose and subtly exhaled through her mouth. When she heard a small whimper from beside her, she snuck a quick peek at her associate, but Katie's expression remained calm and professional. Reassured that the younger attorney would retain her composure, she focused on her own.
Her blood was pounding in her ears, but she had taken a full dose of her anxiety medication this morning, so the walls refrained from closing in on her. Even so, she kept up with her deep breathing while she waited for the verdict to be delivered.
"The jury finds in favor of Defendant Jubilee Toy Company on all counts."
Heady relief filled Lizzy and she took in a lungful of air that even her deep breathing couldn't quite achieve before. But the thrill of the win that the other trial lawyers spoke of wasn't there. Shouldn't she be doing cartwheels in her head? Maybe it hadn't sunk in yet. She did feel a bit numb.
Before the odd sense of disappointment could take root, Lizzy smiled at Katie and extended her hand to her. "Congratulations. You did an incredible job."
"Congratulations to you, too. You were amazing," her associate replied, pumping her hand enthusiastically.
"Please make sure Michael interviews as many of the jurors as he can," she said, holding back a wince. She didn't relish giving the younger attorney more work even before the high of the win wore off. "Let's find out what made them rule in our favor."
"He's already on it," Katie said with a deservedly smug smile.
Lizzy laughed lightly. "You're the best."
She turned toward the plaintiff's table, but her opposing counsel refused to meet her eyes. Keeping her head resolutely lowered to the table, Carol Monty haphazardly stacked her files and forced them into her briefcase with short, jerky movements. Lizzy watched her for a moment and came to a decision. She didn't want to end the trial on yet another antagonistic note. The solo practitioner did an admirable job on the trial. They didn't have to hug it out and become social media buddies, but she wasn't going to let her go without at least shaking her hand.
Carol at last shouldered her briefcase and headed past her. When Lizzy reached out a hand to stop her, her opposing counsel shot her a bitter glance and nearly snarled at her. "I'll see you at appeals."
"Ms. Monty," Lizzy called after her quickly retreating back, but Carol didn't bother turning around. So much for an amicable end to the trial.
"Don't let her get to you," Katie said, having witnessed the brief exchange. "Hopefully, we'll be seeing a lot less of her for a while."
"I know, but I just don't see the need for all the personal animosity. Being a lawyer is hard enough as it is." Lizzy sighed and gathered up her purse and rolling briefcase.
They walked out of the courthouse together into the warm summer afternoon. With the trial, she hadn't seen much sun in the last couple of weeks. She squinted against the cheery glare, resisting the urge to block the light with her hands like a vampire. She dug in her purse for her sunglasses and her cell phone.
"I'll call the client, and you call Peter," she said as they headed toward the parking structure. They had driven in together for the verdict. "They must be dying to hear from us."
"On it," Katie said.
When her associate was gesturing exuberantly with her free hand as she spoke into the phone, Lizzy snuck a moment to text Jack.
Lizzy: We won.
Jack: What? Where are the exclamation marks?
Jack: Congratulations!!!
Jack: I knew you'd win after that opening statement. Better
than Law & Order.
Jack's texts arrived in quick succession, making her smile.
Lizzy: Thanks, Jack. I just wanted to let you know. Now I have to go and do lawyerly stuff.
Jack: Ok. I'm proud of you, Lizzy.
Her cheeks flushed with pleasure, and her heart pumped warmth through her. Sharing the news with her best friend made her happier than the actual win. Still smiling, she dialed the number for Jubilee Toy Company. Their HR director, Gloria, was supposed to be in court for the verdict, but she'd canceled at the last minute, saying the suspense would be too much for her. When Lizzy delivered the good news, Gloria was thrilled about the win, but she was more relieved than anything that the case was finally over. Lizzy couldn't agree more with the sentiment.
Even though they'd won, it still would've been better to settle the case months earlier. It didn't help that they had an unreasonable Plaintiff—who was fueled by an unreasonable Plaintiff's counsel—but her firm could've pushed a little harder for settlement. Alas, trials were what brought in the big bucks. The powers that be at her law firm didn't have the incentive to do more than what they'd already done.
Lizzy shook her head to disperse her bitter thoughts. The trial was over, and they'd won the damn thing. If anything, she should be ecstatic that she could finally get some sleep without anxiety jolting her awake at three in the morning—with her heart pounding and cold sweat soaking through her pajamas—thinking she forgot to file a crucial exhibit. Fun times.
"Peter wants to celebrate," Katie squealed. "He said to meet him at Skyline for drinks right now."
"It's barely two in the afternoon," Lizzy said, already thinking about all the work she had to catch up on. But she sighed when she saw her associate's wide, pleading eyes. Way to be a wet blanket, Lizzy. When had she become this boring workaholic? "No, scratch that. It's never too early for free alcohol. Let's go."
From Booked on a Feeling by Jayci Lee. Copyright © 2022 by the author and reprinted by permission of St. Martin's Publishing Group.
Giveaway:

One print copy of BOOKED ON A FEELING by Jayci Lee , US winner only.
To enter Giveaway: Please complete the Rafflecopter form and post a comment to this Q:

What did you think of the excerpt spotlighted here? Leave a comment with your thoughts on the book…
Meet the Author:
JAYCI LEE writes poignant, sexy, and laugh-out-loud romance every free second she can scavenge and is semi-retired from her fifteen-year career as a defense litigator. She loves food, wine, and travelling, and incidentally so do her characters, in books like The Dating Dare and A Sweet Mess. Jayci lives in sunny California with her tall-dark-and-handsome husband, two amazing boys with boundless energy, and a fluffy rescue whose cuteness is a major distraction.