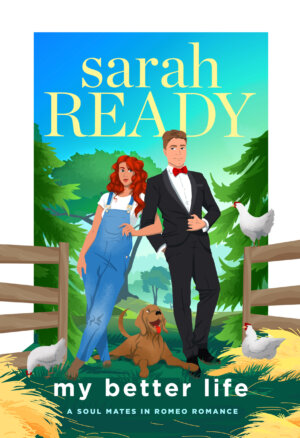 My Better Life by Sarah Ready: What was only supposed to be a silly game to teach a snooty rich out of towner a bit of manners soon begins to snow ball out of control into something that begins to feel very real for widowed single mother of three Jamie Sutton. All she wanted to do was recover some of the money that was due to her from mean richie rich Gavin Williams when he refused to pay for the glass sculpture that he had requested.
So when Gavin has a freak accident and loses his memory Jamie's family convinces her to claim him as her husband and get him to work of the money owed to her all while taking this mean rich guy a lesson but somewhere between creating new memories with Gavin and her kids the lines between their little rouse and real life begin to blur…and what happens when Gavin gets his memory back and realises that he is not actually some poor small town simpleton but actually a rich adventure junkie?
I think I can safely say that My Better Life was the best book in the Soul Mates In Romeo series, this book had just the right amount of sugar sweetness mixed in with cheeky little lesson on how to be more humble all tied together with one cute love story. Before I get into my thoughts on this book I have to mention this super cute cover, I just loved how accurately it depicted both Jamie and Gavin with all their farm animals and the big drooling doggo. I really liked that this book could be read as a standalone without you feeling lost or needing to much back story on the main characters.
I just loved our leading red head Jamie, she really had a full plate but not once does she complain or give up. I loved that she was trying her best to make life as normal for her kids as possible with the little that she had. I really liked her down to Earth personality and that even when trying to teach Gavin this lesson she felt so guilty for tricking him. Her passion of glass blowing was really interesting to learn about and getting to see her bring this things to life with glass really gave me a new appreciation for all the work that goes into creating these art works.
As for our hero Gavin or Billy as we got to see him for most of the book, well this really was his redemption story, I loved getting to see him appreciate the simpler things in life and finally finding a family that he could just be himself with – granted he really didn't know who he was but nevertheless it helped him find his true self. I think the thing that made me like Gavin so much was that even with his arrogant rich dude exterior he was a nice person, a bit lost but he had good intentions deep down. I liked that we got to see more to his character and that he was not some one dimensional rich guy with an attitude problem.
I absolutely loved the way Gavin built a relationship with the kids and tried to prove to Jamie that he was the best husband that he could be. Getting to see him finding his feet without any memories was both sweet and sometimes a bit sad, but overall I think his entire journey was very sweet and wholesome. I just loved Gran, the kids, Billy the agro rooster and the stinky dog! Each of these supporting characters brought so much to the story and really made it all the more entertaining to read.
My Better Life is a definite must read this charmingly cute romance will leave you feeling warm and renew your belief in happily ever afters.
Book Info:

Publication: July 19, 2022 | Swift & Lewis Publishing LLC | Soul Mates in Romeo #6
When East Coast elite and wealthy bachelor Gavin Williams wakes up in a rural West Virginia hospital, he doesn't remember who he is or where he's from.
He doesn't remember his heiress fiancée, his luxury homes, his exotic travels, or his private plane.
And he especially doesn't remember insulting local country-girl and fiery redhead Jamie Sutton, smashing her dreams, and leaving her in a pinch.
So when a redhead in overalls stands over his hospital bed and convincingly tells him he loves banjos, hound dogs, and rustling chickens, what's he supposed to do?
Suddenly Gavin is scrambling to fit into a country life that doesn't feel familiar and that can't possibly be his. A wife? Kids? A chicken coop?
His life is full of holes and secrets, desires and dreams, and as Gavin learns more he begins to wonder—will he ever remember? And what happens when he does?