Today, HJ is pleased to share with you

Sariah Wilson's

new release: 

Cinder-Nanny

What could come between a nanny and an earl in a fairy-tale love story? A reality check—in an endearing and witty romance by Sariah Wilson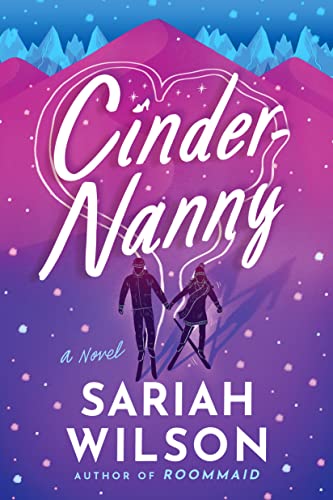 With her sister's medical bills mounting, Diana Parker can't say no to a high-paying opportunity like this: accompany a wealthy couple to Aspen and nanny their precocious five-year-old son for three months. Necessary qualifications? She must know how to ski and teach math, speak fluent French, excel at social graces, and hold a master's degree in childhood development. Who'll be the wiser that Diana's only skill is packing for Colorado?
So far, so good—having a con woman for a mother has turned out to be a benefit, even if Diana has complicated feelings about telling lies. But she's doing this for her sister. And the perks—like a ticket to a lavish charity fundraiser, a new gown, and a Prince Charming–adjacent earl named Griffin Windsor—are pretty irresistible. Diana can't deny the Cinderella vibe.
Wary of gold diggers and scandal, England's most eligible bachelor is nevertheless falling for Diana, and sweeping the not-quite princess off her feet.
The warmer their relationship becomes, the slipperier the slopes are for Diana. Sooner or later, she'll have to come clean. When that happens, does an honest-to-goodness happy ending stand a chance?
Enjoy an exclusive excerpt from Cinder-Nanny 
CHAPTER SIX (partial)
"No. There's nowhere else I have to be. Tomorrow I've got to spend time with a five-year-old, but tonight I'm free."
My eyes widened in shock at my own stupidity. Again, it was like he'd hit me with some kind of truth serum and I was confessing things I'd planned to keep quiet about. Because I liked that—thanks to my couture dress and designer shoes—he thought I was like him. Moved in the same circles. How could he not come to the wrong conclusion? It would be kind of hard to keep up the illusion if he knew I was a nanny.
Although maybe that would be the right move. He would quickly excuse himself and I could sneak past Margery Brown and go back to the hotel and focus all of my energy on the Crawfords.
Why didn't I want that to happen? Why did I want to stay in this romantic room with the snow falling outside and the roaring fire next to us and this impossibly sexy man sitting near me?
Huh. I think I just answered my own question.
"Five-year-old?" he repeated. "Wait, were you at the playground at the Royal Paramount yesterday?"
"Um, yes?" How did he know that?
"Is that a question or an answer?"
"An answer."
He grinned, and it was utterly disarming. "I saw you there. That's three times in two days we've been in the same place at the same time. I think we were fated to meet, Miss Diana Parker."
I had been feeling the exact same way for the last couple of days—but it was entirely different hearing him say what I'd been thinking.
"That or you're moonlighting from earl-ing as a stalker," I told him.
"No. Definitely fate."
"I don't believe in fate." Karma, yes. But fate? Fate was a fickle wench who had no place in my life.
"One doesn't have to believe in something for it to be true." His entire body shifted toward me and for one panicked second I thought he was going to kiss me. For reasons I couldn't have explained, I could not go there with him. I didn't think I'd ever recover.
Where was the tough girl? The one my mother had so carefully cultivated? Who could hurt people without thinking twice? The one with no heart to hurt? Something about this man made me feel all exposed and vulnerable. As if the act of accepting this job and coming out to Colorado had made me leave all of my old armor out on the battlefield so that this entire exchange was starting to make me feel a little shaky.
Griffin seemed to pick up on this as he leaned the opposite direction, against the back of the couch. Making a lot of space. Which was both a relief and a disappointment. "Does that mean you're staying at the Royal Paramount?"
"Yes. In the Presidential Suite." I didn't know why I'd added that last bit on.
Okay, in the spirit of radical honesty (at least when it came to admitting things to myself), yes, I did know why: I was trying to impress him.
And from the raise of his eyebrows, it seemed to have worked.
I assured myself that I wasn't technically lying about anything. Whatever conclusion he jumped to was out of my control, right?
Yeah, I wasn't buying it, either.
"We tried to get that particular suite, but it was already taken."
"That's not surprising. Apparently the Crawfords reserved it well in advance." I sucked in a big breath. So much for not tipping my hand.
"Who are the Crawfords?"
My employers. "The people I'm staying with."
"Friends."
In a manner of speaking . . . "Yes."
"Ah. Is that where the five-year-old comes in?"
I seized on that explanation. "Yes. Milo. He's a great kid. A total hypochondriac, but fun."
"I may understand that better than you think." I waited for him to explain. Was he a hypochondriac? Knew someone else who was? But instead he asked, "Is this your first time in Aspen?"
"Yes!" It was kind of a relief to have something that felt so nonconfrontational and possibly not threatening to my secret identity.
"It's the first time for me, too. Perhaps we could help each other explore."
That put all kinds of inappropriate images in my head as I imagined exploring him. I cleared my throat. I couldn't commit to spending any kind of time with him when I was here for a job. I pulled out one of my tried-and-true maneuvers and focused the conversation back on him so that he'd forget all about me. "Are you staying at the Royal Paramount as well?"
His expression let me know that he recognized my subject change, but thankfully he let it slide. A part of me was impressed that he seemed to pick up so easily on what I was doing. "Yes. I needed a place to hide, and an old chum of mine from Oxford"—he put a big emphasis on the word, apparently to mess with me—"recommended we join him here."
"Hiding? From what?" Or who?
"The paparazzi. This and that." He waved his hand as if it were unimportant, but there was so much he wasn't saying.
I both did and didn't want to know what it was. "I guess we all have secrets." Some worse than others.
"Indeed?" he asked.
"And how's that hiding thing working out for you?"
"Until today? Very well."
"I won't tell anyone."
"I know." He held my gaze for a moment and I saw something there I didn't recognize. I didn't like that he wasn't easy for me to read. "My mate from Oxford is why I'm here tonight. His wife's involved with this charity and they asked me to come. I had been really regretting it until I met you."
My breath caught and this time there was no mistaking his implication. The way he caressed the last few words he said had me totally enthralled, wondering what he would say next.
Definitely dangerous. Alice or no Alice, this night needed to come to an end. I wasn't strong enough to resist this guy forever and I had a very serious commitment over the next few months and would not have the time to be hanging out with a bored earl.
Because after my most recent "relationship," I had promised myself that going forward I was only going to date guys where there could be something more. Someone I could have an actual future with. And since that wasn't the case here, it seemed pointless.
Not to mention that much like the real Cinderella, this prince had no idea I was basically a servant, and this would all go away the second he found out. I was already hard-core crushing on this guy—I didn't need to add painful emotions when he inevitably left. I had to be responsible and mature. "Your friends are probably wondering where you are. You should get back to them. I'll just call my driver and have him meet me out front. It was really nice to meet you."
I stood up and he shot out of his seat so quickly we almost slammed into each other. There was this moment that hung heavy between us, where his breath was mine and I was so aware of every inch of him that I couldn't process anything beyond his nearness. My limbs felt thick and heavy and my stomach tightened in anticipation. My mouth tingled with want.
I stepped around the coffee table to put an object between us because of how tempted I was to fuse my lips against his.
If I'd doubted whether I could be honestly attracted to a nice guy before, well, that matter had been thoroughly settled. I felt like I couldn't catch my breath.
"What about a drink? With me?" he asked, and there was a tinge of desperation in his voice that I related to all too well.
"I don't think that's a good idea," I told him. I got out my phone and the driver's card and sent a text. He responded immediately, saying he'd be here in ten minutes. "My driver's on his way. So, good night then."
"Wait, that's it?"
"Why do you sound so surprised?" Surely he'd been turned down at some point in his life. And I hadn't been flirting, right? Definitely bantering, but that was just the polite thing to do. I wasn't putting out any "ask me on a date" vibes, was I? Although . . . I had felt conflicted and confused by his prettiness and he might have picked up on it, but I was shutting things down now. Nothing good could come from this. We had our fun, and now it was time to go our separate ways. "I don't think tonight went the way you thought it did."
Griffin looked thoroughly dumbfounded. "You're saying I didn't win you over with my wit and dashing good looks?"
Completely, but this wasn't what I was in Aspen for. "Sorry." Lie, huge lie, but it felt necessary. Because it wouldn't take much from him to get me to change my mind.

Excerpted from Cinder-Nanny by Sariah Wilson with permission from the publisher, Montlake. Copyright © 2022 by Sariah Wilson.
Excerpt. ©Sariah Wilson. Posted by arrangement with the publisher. All rights reserved.


Giveaway:

One print copy of Cinder-Nanny (US only)
To enter Giveaway: Please complete the Rafflecopter form and post a comment to this Q:

What did you think of the excerpt spotlighted here? Leave a comment with your thoughts on the book…
Meet the Author:
Sariah Wilson is the author of CINDER-NANNY (June 21, 2022; Montlake). A passionate believer in happily-ever-afters, Sariah and her own soulmate live in Utah with their four children and the two family cats. Her belief in true love has inspired many other standalone novels including ROOMMAID (2020), THE SEAT FILLER (2021) and THE PAID BRIDESMAID (2022), and several bestselling romance series, including End of the Line (THE FRIEND ZONE, JUST A BOYFRIEND); Lovestruck (#STARSTRUCK, #MOONSTRUCK, #AWESTRUCK); Ugly Stepsisters (THE UGLY STEPSISTER STRIKES BACK; PROMPOSAL), and Royals of Monterra (ROYAL DATE, ROYAL CHASE, ROYAL GAMES, ROYAL DESIGN). You can connect with Sariah online at sariahwilson.com.