In Bali with the Single Dad by Annie O'Neil is a lovely story. GP and pediatric surgeon Dr.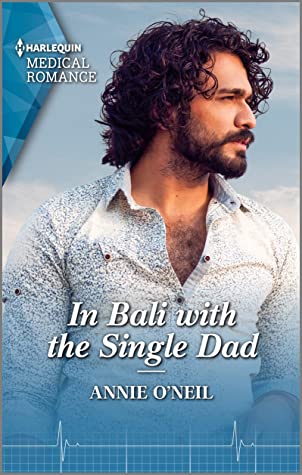 Rebecca Stone, went to Bali with a broken heart, no job and a fierce determination of change her life; she will stop trusting in spreadsheets and plans and live out of her comfort zone. When her new friend almost got drowned, she meets orthopedic surgeon Dr. Noah Cameron, who's now in charge of the island's clinic. Since the clinic usually gets voluntary help from foreign doctors who visit Bali during their vacations, Noah's cousin offers a three-month job. Without nothing in UK waiting for her—except her grandmother, always encouraging her to follow what the universe gives her—Rebecca accepts the job.
Soon Noah and Rebecca feel attracted to each other, but that attraction comes in the wrong moment. Not only Rebecca has to heal her broken heart, Noah has to decide if he's going to keep the clinic open or return to Sydney, to his renowned orthopedic surgeon job. The catch? Whatever his decision is, there's something he couldn't avoid: his deceased sister and brother-in-law assigned him as the guardian of his two adorable nieces, which need reassurance in their lives. Will Rebecca and Noah's growing feelings towards each other will give them more problems, or their happily ever after?
I enjoyed this book very much. Noah and Rebecca are wonderful and strong characters, well developed and with big hearts. Both are very much alike. Rebecca is a very skilled surgeon but she doesn't know who she really is. Her insecurities leads her to live a strictly planned life, losing herself in what others expects from her.
" 'What scares you the most?' he asked.
'That I'll lose myself in you.'
'Is that what happened in your last relationship?'
She nodded. 'I changed my life in a big way to make that relationship happen, and the idea of having to start all over again if this goes wrong—'
'We dont even know what "this" is yet' "
Noah has his own insecurities, too. How can he be a good father figure to his nieces, dealing with their loss of their parents? Also, he has guilt issues towards his deceased sister and some resentment against his father. He also suffered loss and betrayal, and that scares him a lot because taking risks isn't an option anymore.
"He completely lost himself in her touch. Her caresses. The way she kissed. Soft and then urgent. Insatiable then teasing. It was like playing Russian roulette with his sanity. He'd never lost control with or for a woman before, but something about Rebecca made him believe he could trust her with everything. His body. His intellect. His heart.

But was the trust strong enough to risk his fragile new beginning with the girls?"
That said, both understand each other like no one in the world. Their chemistry is fantastic, their love so passionate and intense but full of meaning. Their emotions flows smoothly, making this couple an authentic one.
The story has few secondary characters, but Rebecca's grandmother has a lot influence in her life. Nanny Bea's wisdom quotes are incredible! On the opposite side, the animosity between Noah and his father is what drives Noah's actions during most of the story. Not to mention Isla and Ruby; those lovable girls are so cute I wanna adopt them!!
A story with artful quotes, great storytelling and easy language, specifically in the medical terms. Easy reading and a fantastic setting (who doesn't like a paradise as a background for a romantic story?), my first book from this author gave me a great reading experience.
Book Info:

Publication: May 24, 2022 | Harlequin Medical Romance |
Award-winning author Annie O'Neil whisks you away to beautiful Bali with a doctor in need of an escape and a fresh start on the horizon…
A GP in need of escape…
…Finds a fresh start in Indonesia!
Floored by her ex-fiancé's betrayal, GP Rebecca is in Bali to regroup. She's not sure what her future looks like, but she's certain that she's sworn off love! Until an accident brings local doctor Noah into her life… As a new single dad to his orphaned nieces, Noah knows what it's like to have your life change instantly. Now Rebecca can't help but wonder if fate is offering them all a new happily-ever-after in paradise.
From Harlequin Medical: Life and love in the world of modern medicine.